During this unprecedented moment we must stand with and advocate for survivors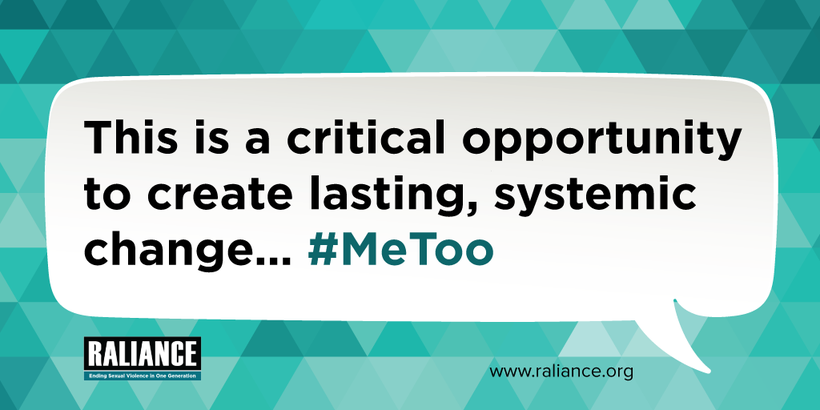 For over 20 years, I have had the honor to work alongside survivors, communities and sexual violence prevention organizations to ensure that all young people, women, and men are treated with respect and dignity. At this unprecedented moment of the courageous #MeToo survivor movement and national attention, I hope you will join me and Raliance— a national collaborative committed to ending sexual violence in one generation—in standing with survivors and advocating for the support needed for their healing. This is a critical opportunity for all of us to create lasting, systemic change by supporting survivors and encouraging disclosures; holding those who commit sexual misconduct accountable; and investing in prevention that can save our future generations from the devastation of sexual violence.
Sexual violence is a problem for people in every community from Congressional and state legislators, to students and teachers, to farmworkers and janitors. Sexual violence thrives in conditions of secrecy and inequality and is often an expression of sexism, racism, classism, ableism, and/or homophobia.
We must hold everyone who causes harm accountable, keeping the needs of survivors central. And we have to acknowledge that offenders are often our co-workers, friends and family, and that they can do positive things in public while engaging in abusive behavior in private. Fame and talent do not lessen their accountability. This does not make them less liable nor does it make the impact on victims less traumatic. At Raliance, we focus on preventing sexual violence and meeting the needs of those who have been victimized. Now is the time to make that happen.
While the criminal legal system may be an option for some cases and some survivors, we cannot prosecute our way out of such a pervasive problem.
This system has turned away many survivors and we cannot leave them with no other alternative to justice. Social, educational and employment sanctions; treatment; and community-oriented justice are also possible solutions. Sexual violence takes many forms (from non-touching harassment to actual physical assaults); there is no 'one size fits all' solution to this problem.
Hearing and seeing so many accounts of sexual violence can be overwhelming and painful for survivors. It's tempting for those who have not experienced sexual violence to look away or stay silent, but that has been a major part of the problem.
Survivors need our outspoken support in order to disclose sexual violence.
The onus is on all of us. Everyone has a role to play in promoting a culture of accountability where we are each guided by the values of respect and looking out for one another. We each have the responsibility to speak up and step in.
We must also go beyond reacting to individual cases to finding solutions that prevent sexual violence. Prevention is possible, and we know what works. It requires more than "checking a box." Corporations and government dollars are better spent on culture change and prevention than on paying out settlements and legal fees. We call on leaders to invest with us in systemic change.
We feel the urgency to solve this problem.
We must remember our compassion for others as we boldly envision and work for real change. Through the courage of survivors speaking up and saying "Me, too", we believe that great strides are being made. I hope you will join Raliance and me in the movement to end sexual violence because we won't go back.
This post was published on the now-closed HuffPost Contributor platform. Contributors control their own work and posted freely to our site. If you need to flag this entry as abusive,
send us an email
.