The burn, the blaze, the crackle, the heartache. All of that and more may be what we think about in association with the 1992 LA Uprising. Except the meaning of those words have been flipped now. I hope. May 4 marks the end of this notable period that followed the injustice of the Rodney King trial.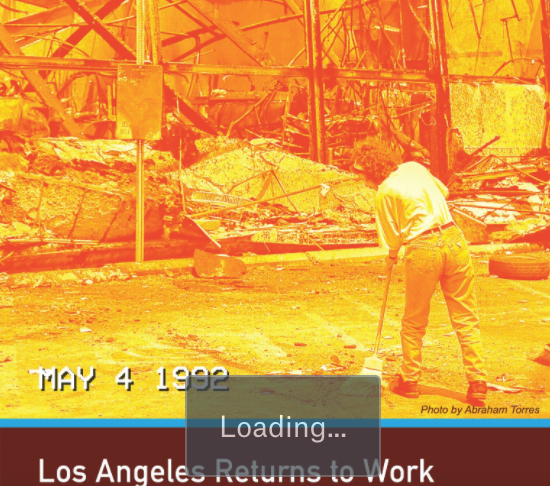 This notion of energies transferred from then to now struck me when our team at Big Bowl of Ideas was asked to create a timeline exhibit for the dynamic South LA organization Community Coalition. Thankfully, it was not to be a rote or clinical listing of bullet points (as we've seen for the last few days in media coverage) but rather, an emotional retelling that also put that week 25 years ago into context of what happened before and after it for communities of color, the economy, race discrimination and police accountability.
For their month-long recognition, exhibit and discussion series entitled, "Re-Imagine Justice", we created an installation called 'Heard/Unheard, ' an art display that told the story of South LA before, during, and after the 1992 LA Uprising.
The Heard vs. The Unheard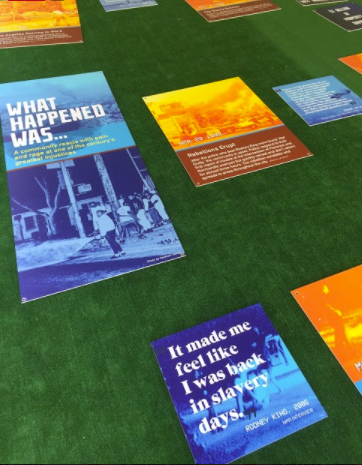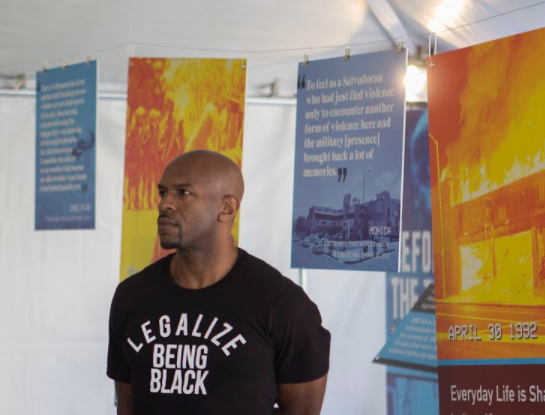 When many outside of the South LA community talk about the 1992 Uprisings, what is often 'heard' is that which has often been repeated in media loops for two decades (which got regurgitated again for the 25th Anniversary) about mayhem, destruction, as if with no prompting. What is often 'unheard' is the context and environment that led to the uprisings, the pain of neglect and the energy for justice that has been channeled for South LA in the decades since.
Many of us know Rodney King, but not nearly enough of us know about Latasha Harlin. She was fatally shot by Soon Ja Du, a Korean-American grocery store owner. Latasha was 15 years old. Du accused her of trying to steal a $1.79 bottle of orange juice. This happened less than two weeks after the Rodney King beating, ensuring community anger was already smoldering. She would have to be among those for which we should say her name.

With each year this time, we almost always hear police blotter numbers like "6 days 55 deaths and 2000 injured," but we don't hear about some others that seemed to fall off from headlines. For example, during the 6 days, there were over 16,000 arrests. Of those arrested, 1200 were undocumented immigrants who were starting to populate South LA. And those 40% were in turn handed over by LAPD to INS (the ICE of its time). Where are those stories?
That's ironic given this example by a woman named Monica of immigrant engagement with the moment as told to Jorge Rivas for Colorlines: "To feel as a Salvadoran who had just left violence only to encounter another form of violence here and the military brought back a lot of memories." We featured this quote on a panel as it gave us a chance to surface voices not always heard.
Rebuilding Ain't That Easy Though
For nearly 30 years, Community Coalition has provided a space to elevate South LA's voice and empower residents to take control over the future of their neighborhoods. They, along with others like SCOPE LA (Strategic Concepts in Organizing and Policy Education), LAANE (Los Angeles Alliance for a New Economy) and UMMA Clinic (University Muslim Medical Association) saw a better future and began to pursue it. In fact, it was during the rebuilding phase after the LA Uprising where Community Coalition led one of their groundbreaking campaigns, "Rebuild South Central Without Liquor Stores," which resulted in the closure of 150 liquor stores in South L.A. after the 1992 civil unrest.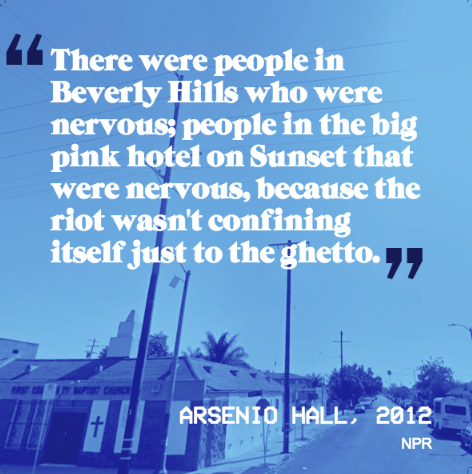 As participants entered the art installation, we created a space for them to see facts as well as the feelings that have marked us for 25 years and likely will pulse through us for 25 more. This is important, as we have not fully healed from 25 years ago and yet, more salt is placed in the wound. Certain scary samenesses remain. How we react however is different.
In 'The Fire Next Time" James Baldwin wrote "It demands great spiritual resilience not to hate the hater whose foot is on your neck, and an even greater miracle of perception and charity not to teach your child to hate." That reminder has never rung more true than now.
The events that led to and during the 1992 LA Uprising not only forced the Los Angeles community to take a long hard look in the mirror, but it ignited a fire across country. Suddenly, we were all looking into abuse of power and calling for resignations. No longer did we stand idly quiet when racially profiled. We'd seen where neglect and misunderstanding targets of oppression had led to in 1992, and we were determined to be different. Then somewhere down the line, we heard the names Trayvon Martin, Mike Brown, Sandra Bland, Eric Garner, Walter Scott and realized that 25 years was a long time ago but we've still got work to do.
The energy that came from a place of anger and near self-destruction is now channeled more constructively more often than not, when an unjustified death occurs. With the spark of the Black Lives Matter movement, we are more likely to see protests at City Hall, the blocking of freeways and the disruption of presidential campaign events – where decision-makers and passive accomplices dwell – rather than at home.
The fiery plea from Public Enemy, Ice Cube and Big Daddy Kane of "Burn Hollywood Burn" has morphed to #OscarsSoWhite, yielding immediate results a year later though owing to that early battle cry. The anger still burns as black and brown America seethe with each report from a police body or dash cam that goes unchecked with justice. But a blaze is more likely to be a blaze of words from a young spoken word poet in LA (like those that are part of the youth program Get Lit) than in front of a liquor store. And the crackle of political glass ceilings by way of organizing and developing young leaders of color into the next vanguard for justice happens more than that of burnt wood. Burn. Blaze. Crackle. Heartache. The remix.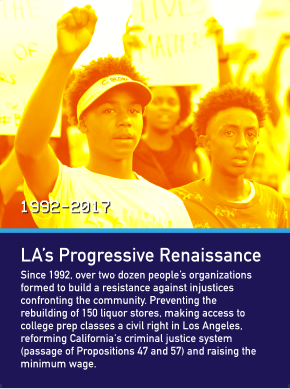 Understanding the stories, heard and unheard, in moments like the 1992 LA Uprising gives us the ugly reminder that real change doesn't happen in media packages and listicles that try to sum it up quickly before we move on to our favorite reality TV show. It's critical that we understand the truth of stories like these because they ultimately remind us of how capable we are to change an entire system. I don't know about you, but I'm looking to a fiery 2042.
To see all of the panels in the Heard/Unheard timeline installation for Community Coalition, click here.
This post was published on the now-closed HuffPost Contributor platform. Contributors control their own work and posted freely to our site. If you need to flag this entry as abusive,
send us an email
.