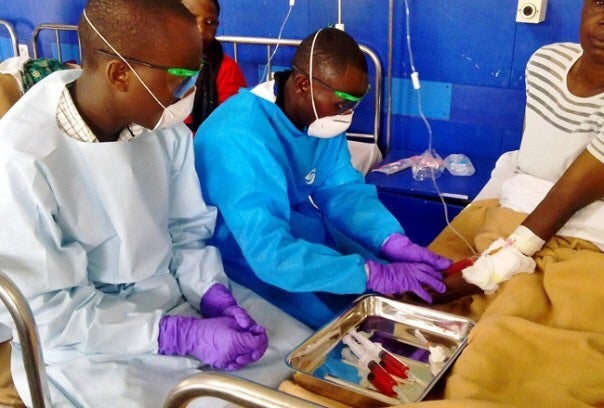 It is too expensive, too complicated, or simply not Africa's priority. But the problem of cancer on the continent is real and, believe it or not, more African women die of cancer than complications from pregnancy. Over 250,000 African women lost their lives to cancer in 2012—the equivalent of one African woman losing her life every three seconds. The recent commemoration of World Cancer Day is a challenge to us as Africans and the global community to recognize this problem and face it head on.
Despite these mismatched priorities, Cancer is not a disease of only Western or developed countries. According to the World Health Organization (WHO), 455,695 people in the African region died from cancer in 2012. Many of us living on the continent have had a relative, a friend, a neighbor, a work colleague or a national leader affected by cancer. Almost no one has been untouched by the disease. If despite this, you believe that Africa has other, bigger public health problems to deal with, consider the following. Not only has cancer overtaken complications related to pregnancy and childbirth as a killer of African women, but in Botswana research suggests that cancers kill more people with HIV than tuberculosis, a leading HIV-related condition in a country with one of the highest HIV prevalence in the world. The cancer problem will only get worse as Africa develops and people live longer. It is estimated that if the current trends continue unchecked, Africa will experience a doubling of new cancer cases by 2030 – among the steepest increases to be seen in all regions of the world.
We are headed towards a health crisis, and we are not doing enough.
Despite the fact that 80% of cancer death and disability occurs in developing countries, only 5% of global cancer resources are spent there. While there are exemplary programs that prevent cervical cancer through vaccination and screenings, national expansion of these programs has not been widely achieved. Also, cancer efforts tend to focus on prevention alone, and the few treatment centers are inaccessible to many patients in need.
The result is that cancers are more deadly in Africa and in poorer countries than in richer parts of the world. While over 80% of American children with acute leukemia are cured, fewer than 35% of those in developing countries have access to care - never mind cure. The chances of a woman with breast cancer surviving for five years following diagnosis are 88% in the US 56% in Uganda, and significantly less in other parts of Africa.
With limited resources from abroad, we must ask ourselves, "what can we do?" Those who worry about the complexity of the task at hand have reason to. What can be done with too few specialized health professionals, limited pathology services, and medicine prices beyond reach of the national budgets of most African countries?
The constraints are real, but not insurmountable. In fact, we faced similar challenges at the beginning of the HIV pandemic, and ultimately overcame them. Rather than paralyze us, they should challenge us to innovate, advocate, and build bridges so that we can act.
We can start with cancers that are common and for which there are effective treatments. We can also prioritize detecting cancer early, which boosts the return on health investment as treatment will have higher success rates. We can adapt treatment regimens, procure off-patent drugs and use public-private partnerships to reduce the cost of treatment faced by governments. We can also innovate by training non-specialized health professionals in early cancer warning signs to help reach patients in rural communities and diagnose the disease earlier. We can use technologies such as smart phones and the internet to give local providers the support of specialists from anywhere in the world.
Some countries are already doing innovative work. The Academic Model for the Prevention and Treatment of HIV (AMPATH)-Kenya's cancer program based at Moi University teaching hospital was established in 2002 with an initial focus on HIV-related cancers. Today the program offers chemotherapy services to over 400 patients per month, as well as training for healthcare providers. Another example is the Butaro Cancer Center of Excellence in Rwanda, which was the first public rural center of its kind in 2012 to offer comprehensive cancer care. To date, Butaro has served over 4,500 patients, and has done so without an on-site oncologist. Last month, Botswana's President officiated the groundbreaking of the first ever comprehensive network in the region for treatment of childhood cancers and blood disorders. This venture includes public-private partnerships with Ministries of Health, pharmaceutical companies and leading expertise from US academic institutions, and will result in the establishment of centers providing quality care, training and research in three countries (Botswana, Malawi and Uganda).
We need to make these examples more visible, and adapt and apply them throughout the continent to more rapidly expand access to desperately needed care.
Cancer can no longer be ignored. In the words of Former World Bank managing director Dr Ngozi Okonjo-Iweala, "… Africa is now in serious danger of sleepwalking into a cancer crisis."
We need to wake up and act now.
Dr Neo Tapela is a physician and public health specialist heading the NCD program at Botswana Ministry of Health and Wellness, and is an Aspen New Voices Fellow. She is former director of NCD program at PIH-Rwanda, and faculty at Harvard Medical School. She writes in her own capacity as a global health activist. Follow her on Twitter @NeoTapela
This post was published on the now-closed HuffPost Contributor platform. Contributors control their own work and posted freely to our site. If you need to flag this entry as abusive,
send us an email
.