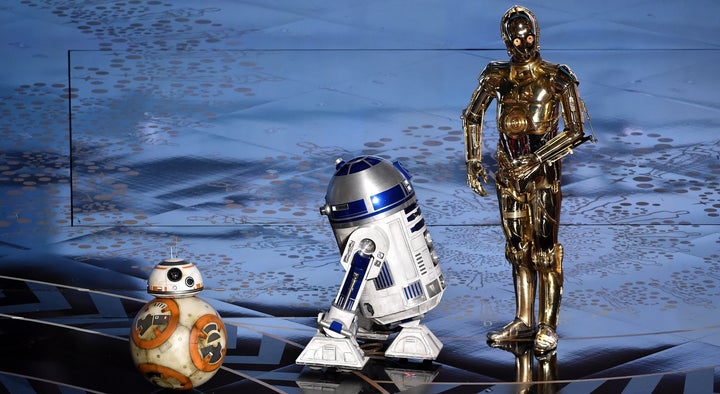 You've most likely felt the pangs that come with the knowledge that your life has already peaked. It's hard to come to terms with the fact that your remaining days until death will just be a series of relative lows.
Nine-year-old actor Jacob Tremblay already proved he's a great actor on screen when he starred in "Room," but now it's also known that he can deftly portray the role of "hapless mortal human" in the great tragedy called real life.
At the 88th annual Oscars on Sunday, the robots from "Star Wars: The Force Awakens" took the stage. Everybody's inner-child freaked out, but Tremblay -- who is an actual child -- peaked. 
It's rare that a person's greatest moment comes so early in life, but to also get it on camera -- with all the existential disappointment that comes with learning nothing is ever as great as you hoped -- is really something special.
When Tremblay realized who had taken the stage, he began to smile to himself and excitedly mouthed something like, "Oh!" Then when he stood up to get a better look for himself, he clearly saw that sometimes even the most anticipated happiness isn't all it's cracked up to be.
Normally, a young kid getting to see the "Star Wars" robots in person would be the clear highlight of an entire lifetime. 
It's unlikely Tremblay will ever be this high ever again. Due to his talent, he's sure to have a long and successful career either acting or pursuing whatever dream he evolves into desiring. But living "Star Wars" dreams at the age of 9 is a tough one to beat.
Perhaps when Tremblay is President of the United States and invites the first known aliens into the White House, he will think back fondly to his younger days when he thought space robots were already real.
He'll smile with nostalgia, remembering his peak moment and then try to negotiate mercy to keep the aliens from swallowing the world.
BEFORE YOU GO
PHOTO GALLERY
Best-Dressed Oscars 2016