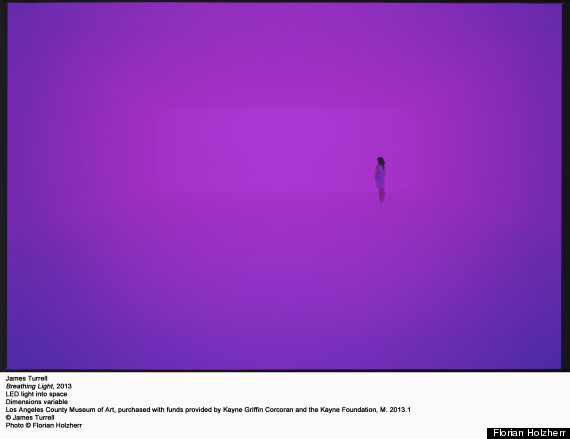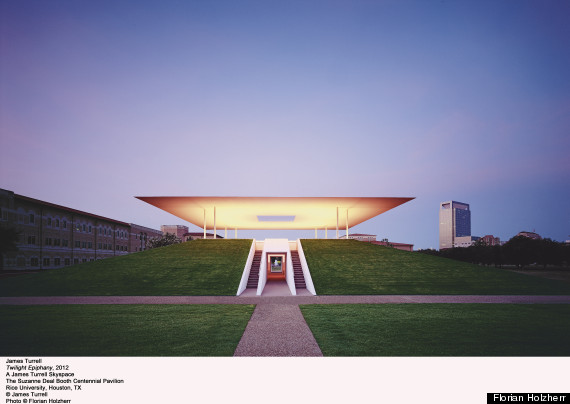 Unless the artist is Picasso or Warhol, both of those deceased creators legendarily prolific, it is rare for two important American museums to feature simultaneous major exhibitions of a solo artist's work. Over the past few months, three world-class U.S. repositories of fine art have displayed the extraordinary mélange of physics and art that is the unique oeuvre of James Turrell. The trio that has been playing overlapping samples of Turrell includes The Solomon R. Guggenheim in New York, the Los Angeles County Museum of Art and the Houston Museum of Fine Arts; all are enormous shows dedicated to the 70-year-old revelatory sculptor of light.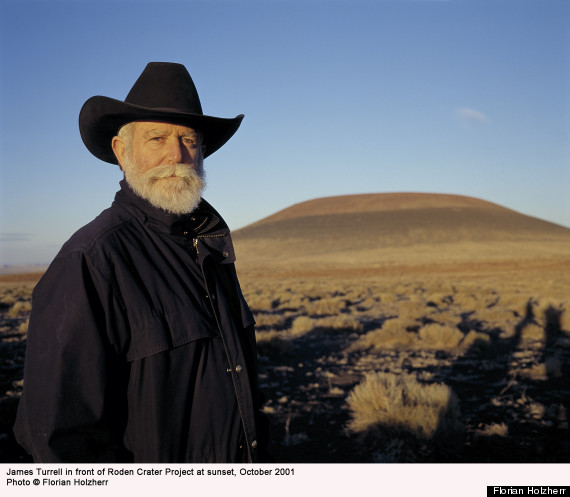 While I was unable to travel to Houston, I did encounter both New York and Los Angeles and although there were some similar elements, my experience as a regular museumgoer (not a press previewer or an opening night denizen) was very different at the two venues. The LACMA exhibit is the more extensive show, as befits Terrell's hometown. It is his first major retrospective and is housed in two separate buildings on the LACMA campus. The Guggenheim's presentation, while also quite impressive, is a lesser event that magically ends with the most spectacular bang.
In New York, I experienced long waits, snaking lines to enter. Once inside, starting down the spiraling exhibition space on the fifth floor, I waited 45 minutes before gaining access to a room showing "Iltar" from 1976, a misty ambient lit rectangle, actually a void, embraced by two rounded shapes on either side. Standing in that long slow cue circling the curly innards of the Guggenheim, the line bound museum denizens faced eight large empty gallery spaces. I did not understand why the Guggenheim curators failed to fill those spaces with James Turrell data. Those galleries could have been places to hang his fine prints and drawings. Or they could have showcased images of his 65 Skyspaces, breathtaking blends of architecture and light, now installed in more than twenty countries. Or the galleries might have displayed plans for his most iconic work, "Roden Crater," the extinct volcano in Arizona laced with tunnels and observatories. Leaving long-waiting museumgoers with nothing to look at and plenty of available pale grey wall space seems counterintuitive.
I headed down to the second level and witnessed several other early pieces including the intriguing geometric six sided corner projection from 1967, "Afrum I(White)" which looks tangible, and Turrell's etchings, "First Light," striking, seemingly light-infused works from 1989-90. Both a similar "Afrum" and the etchings are at LACMA.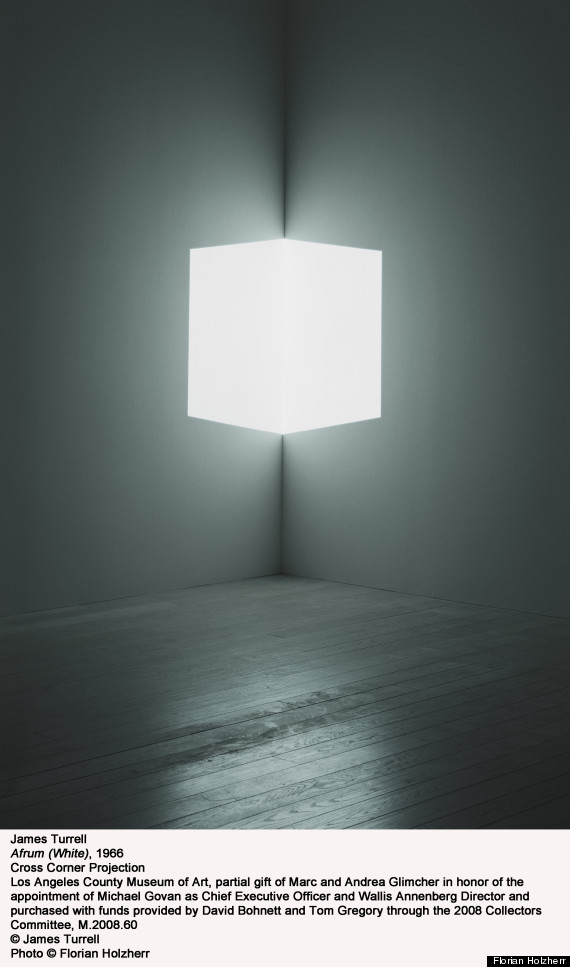 But it was in the Guggenheim's lobby where I was dazzled, delighted and satiated as myriad colors and a cone-shaped scrim transformed the museum's rotunda. "Aten Reign" is a seamless celestial blending of natural and artificial light. Here, viewers were strewn across floor pads, staring up at the museum's concentric circular levels. Here I could dream. Here Turrell was transcendent. Here my perception was deeply challenged, my body and mind and spirit lulled and provoked.
The LACMA show is better organized and a more intimate experience. When you purchase a ticket, and it is recommended that you do so in advance, you are assigned a specific entry time. (You can stay as long as you like.) While the guards are careful to only allow a small number of viewers into any of the eleven darkened rooms, I only had to wait in line once, and that was for Turrell's newest installation in the retrospective, "Breathing Light" (2013) and I waited merely ten minutes including time for donning white paper booties. I climbed a platform with six others and faced a giant oval screen. I felt like I was enveloped in the pre-HAL-takes-charge voyage of 2001: A Space Odyssey and that I could slip into an aqua, then magenta, pool of luminosity. My paper clad feet seemed cloud-covered and heavy, although there were no gravitational changes in the room, just rounded sides and a foggy floor catalyzing that immersive illusion.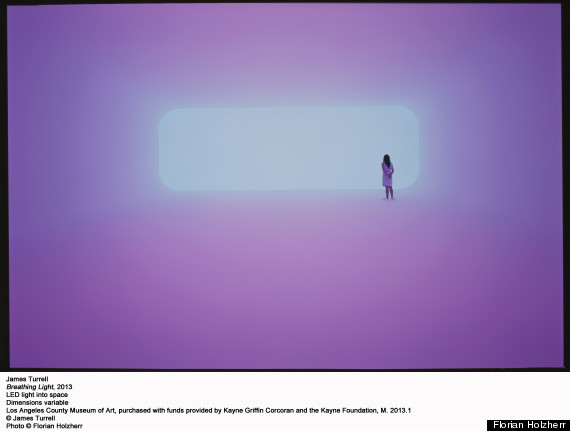 At LACMA, there were recommended minimum viewing times for each room so eyes might adjust to the unique lighting. For example, five minutes was the minimum suggested viewing time for the disorienting "St. Elmo's Light," an illuminated void from 1992. Viewers were asked to stand back at least five feet from Turrell's glass holograms. The outstanding fluorescent and LED "Key Lime" from 1994 resembles an immersive 3D Rothko giant Christmas card and I was mesmerized by "Raemar Pink White" (1969), an early example of Turrell's use of colored light, a huge pink screen with light emerging from its borders.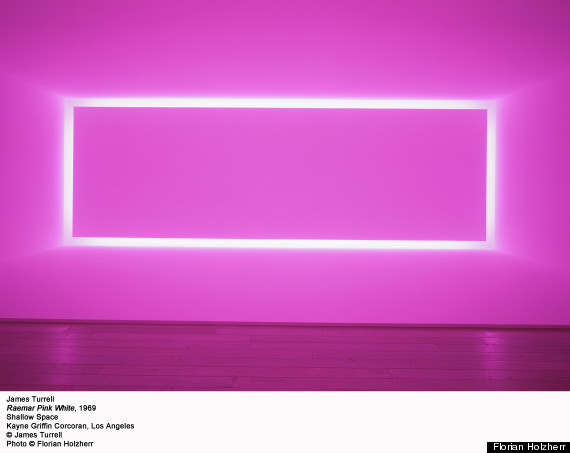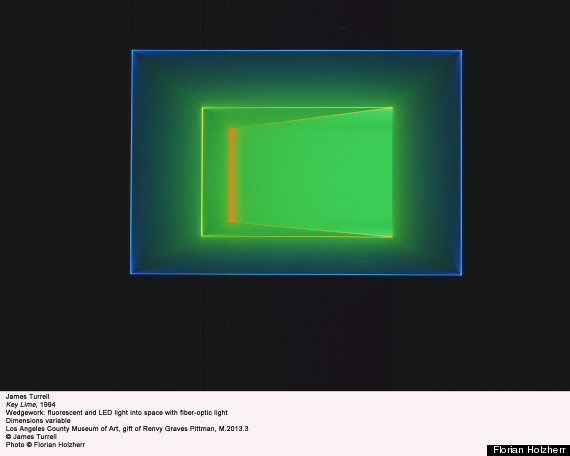 There are side rooms where videos of the eloquent white bearded James Turrell (he seems to favor a certain blue and white polo shirt) speak to the spectator. In one, he is seated on a bench in a private enclosed windowless Skyspace with a rectangular opening in the ceiling, framing the heavens, along with his wife and a couple I recognize as the Brentwood uber-collectors, Mandy and Cliff Einstein (Cliff Einstein gave a terrific lecture on collecting at last year's LA Art Show), the owners of "Second Meeting," this particular Skyspace structure built over a small pond. Turrell states, "We don't normally look at light" and adds, "For me, it was important that people come to value light as we value gold, silver, painting, objects." He cherishes light as a physical presence.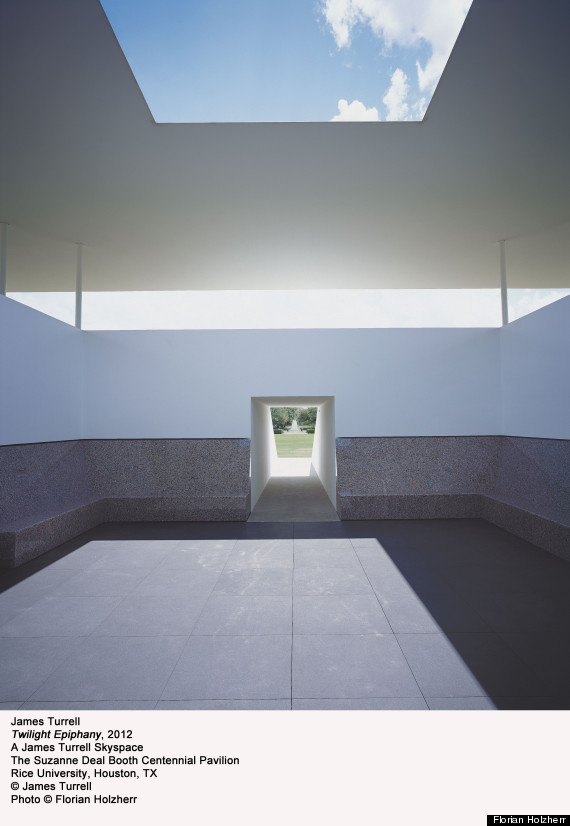 There are photographs of Turrell works that dwell in Argentina, China, Switzerland, Australia, Mexico, Italy and various American cities, all phenomenally different, but all somehow a mixture of light and architecture. Elaborate models for his masterpiece, "Roden Crater," forty years in the making and yet unfinished, are in another room. It's intriguing to see his meticulous handwriting in notes related to lighting a 1999 construction in Naoshima, Japan called "Backside of the Moon. " Terrell uses the word "pale-ing" to refer to his colors growing lighter.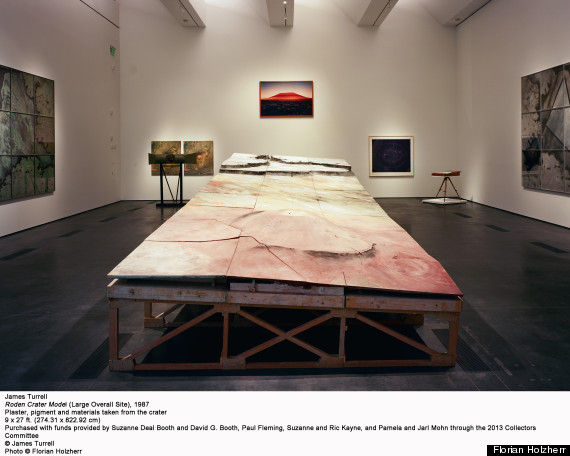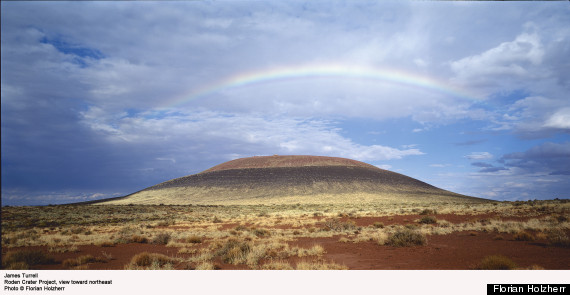 The LACMA show is impeccable...if only it could replicate the Guggenheim's Frank Lloyd Wright atrium, it would be perfection. The artist wants the viewer to physically feel the light. And I did!
James Turrell: A Retrospective
LACMA, through April 6, 2014
The Guggenheim show closed this week.