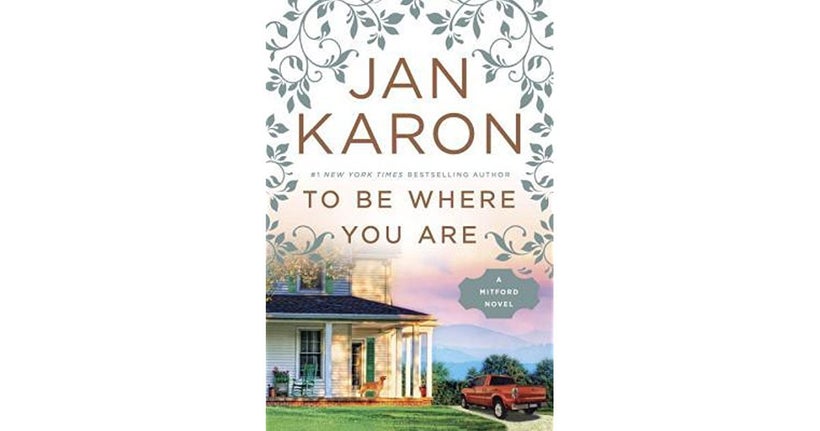 Book Review - Jackie K Cooper
TO BE WHERE YOU ARE by Jan Karon
Jan Karon writes about things she knows, and she knows people. Especially the inhabitants of Mitford, North Carolina. In her fourteenth "Mitford" book, TO BE WHERE YOU ARE, she continues the stories of the people who live, love, work and die there. It is a world that seems as outdated as it could possibly be, but it is also a world which we hope still exists.
The focus of the book is primarily on Father Tim Kavanaugh, now retired. He and his wife Cynthis are adjusting to their retired state but it has not been an easy adjustment. Father Tim still feels he should be doing something. Enjoying rest and relaxation just doesn't come easy. Of course the people of Mitford still come to him for advice and counseling, even though Father Brad who replaced Tim is well liked and even loved.
Also sharing the spotlight of the story are local veterinarian Dooley and his new wife Lace. They are not only newly married they are also new foster parents to an adorable four year old little boy known as Jack Tyler. He is their greatest joy and greatest worry. They want to be the best parents he could possibly have; they think he deserves that. But they have everyday life problems which include money problems and that makes things tough at times.
These four people plus scores of others find their stories unfolding in the pages of this book. Karon knows what makes them tick and she manages to capture the variety of personalities in this town and make them all believable. It is like reading stories about your neighbors and getting all the details.
The book is easy to read and easy to enjoy. That is its strength and that is its weakness. You enjoy the stories but they enter your mind in an almost too simplistic way. Plus they are so clean and sanitized. The Mitford citizens have problems but they are not too serious and the reader knows it will all work out for the best.
Even though I offer that criticism I must admit I feel bad about carping regarding such a positive element to the story. A lot of people feel today's novels are too profane, too sensational, too quick to head for the most negative aspects of our lives. And here is a book that does none of that. Karon writes in a positive manner, putting forth salutes to what is the best in our makeup. Her motives and skills in doing this should be commended.
If you want to visit a place that is an almost modern day paradise then open the pages of TO BE WHERE YOU ARE. It is a different type of story from most you are offered in this day and time. That will either be a plus or a negative to you the reader.
TO BE WHERE YOU ARE is published by G P Putnam's Sons. It contains 304 pages and sells for $28.00.
Jackie K Cooper - www.jackiekcooper.com
This post was published on the now-closed HuffPost Contributor platform. Contributors control their own work and posted freely to our site. If you need to flag this entry as abusive,
send us an email
.