One of the fondest memories of my three years living in Japan was a hot springs pool in the mountains.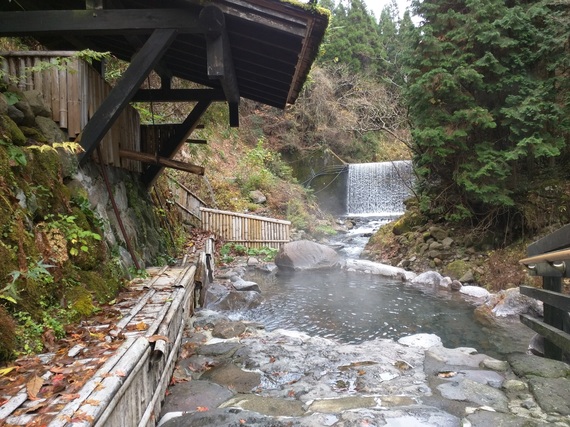 My Tokyo girlfriend took me to a quaint old Japanese inn beside a small waterfall. It was so isolated that we had to take a train, then a bus, then hike the last mile just as night was falling. We changed into robes and straw sandals, then walked out the back. A steep mountain slope rose up from one bank of the river, and we climbed a few stairs and stepped into a small pool that had been carved by hand out of the rock of the mountainside.
The pool was fed by a natural hot spring and was gloriously warm, as steam rose into the chill night air. As we viewed the waterfall and listened to its steady roar, I thought things could not get more perfect than this. But then it started to snow big, fluffy white flakes that wafted down onto our eyelashes and melted in the warm water. Ever since then I have sought to re-live that unforgettable experience.
In Kyushu's Kurokawa Hot Springs, I was not disappointed. My intrepid search began with a visit to the local cop, to whom I earnestly explained my unforgettable experience in awkward, halting Japanese. He interrupted me part-way through and said nonchalantly, "Oh, what you're describing is a 'doukutsuburo.' Go take a look at the Iwato Buro Baths, down by the river."
I was delighted that my priceless experience had a name, and the cop was right: Iwato Buro had a view of the rushing river, and was carved out of a natural cave. The sunlight glinted off the rocky cave walls and the warm steamy water was so mysterious and mystical that I almost expected to sit down beside a samurai or a Buddhist priest.
For those who seek a more refined, upscale view of nature, the nearby Kai Aso Resort will exceed your expectations.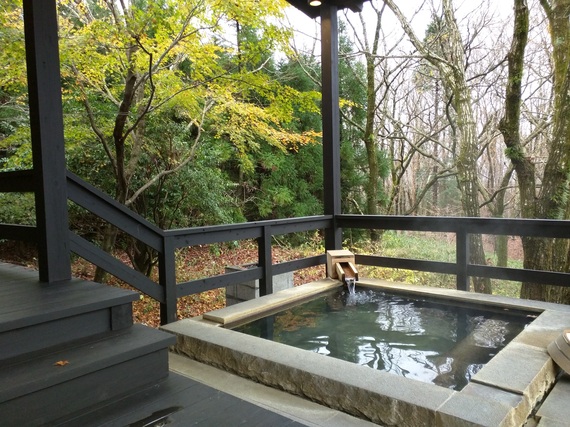 Each room of this resort has its own outdoor hot spring tub with a view onto the lovely forest.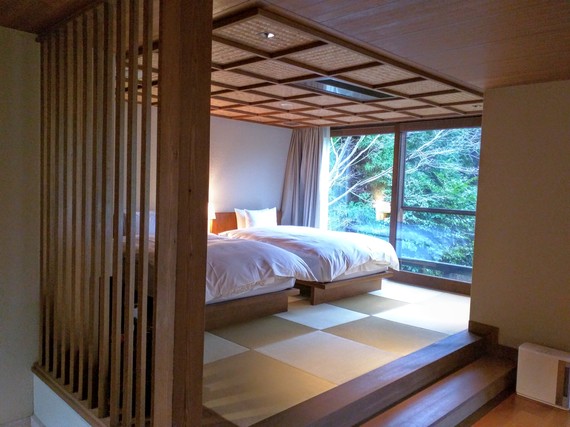 The decor is traditional Japanese hardwood, and the beds were uber-comfy.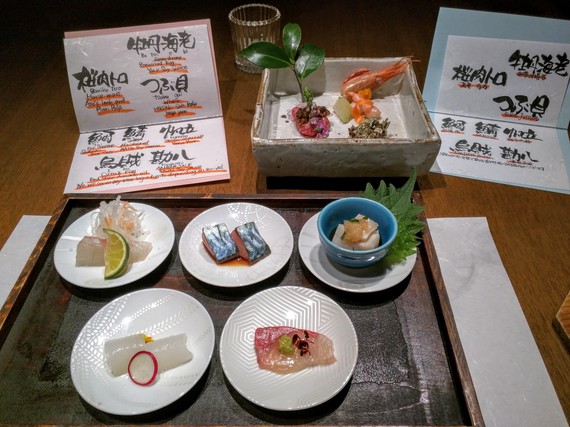 But the highlight of Kai Aso was the menu of "kaiseki" cuisine, which consists of many seasonal, organic foods served in beautiful dishes reminiscent of the tea ceremony from which this cuisine originates.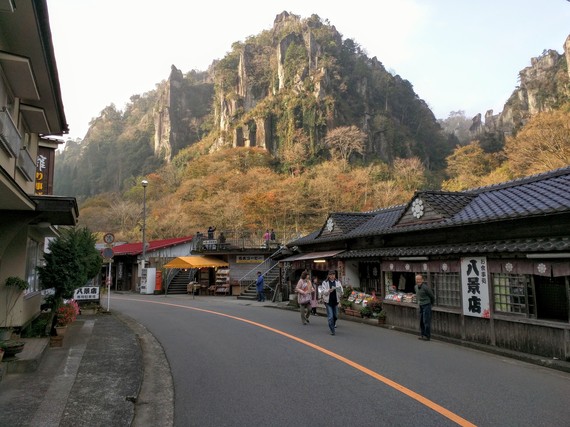 For those who seek the best of both worlds, the Funoki Inn in Yabakei combines a traditional Japanese-style inn with mouth-watering French cuisine prepared by a Japanese chef who studied in Paris for three years. The shuttle van from Bungo Mori train station takes you through a gorgeous valley where a whitewater creek rushes alongside the narrow road, and steep mountains thrust up to the sky on both sides. The inn's hot spring bath also enjoys a picture-postcard view of the neighboring forest.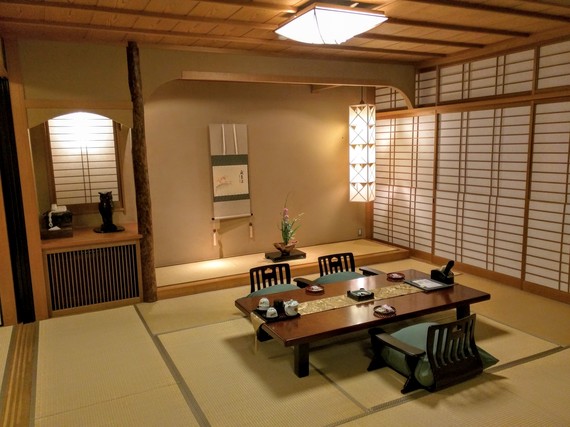 The Roppokan Inn near Harazuru has been owned by the same family for 11 generations. I have never stayed in a larger or more beautiful room (measuring 22 straw mats!).
The Yamame Sanso Restaurant and Gallery is on a beautiful, winding road through a valley gorge, and believe me--it's worth going out of your way for: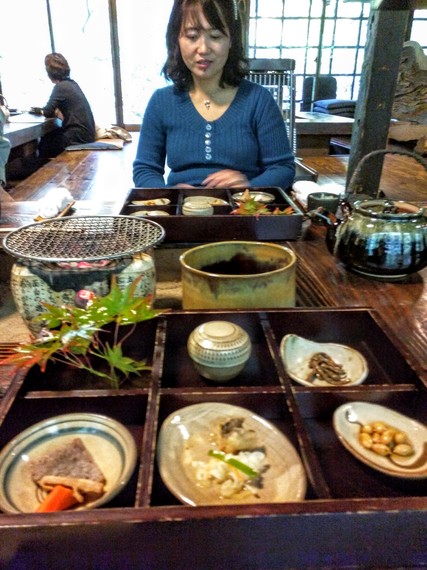 I have always loved both France and Japan for their attention to the aesthetic. We often rush through everyday events without thinking, but the French and Japanese specialize in savoring the sight and sound of each moment we live, heightening our senses to become more conscious of the now. The Japanese have the perfect expression to describe this art of living: "Ichi go, ichi e" means "only one moment for this one encounter." I have seen few restaurants that capture this aesthetic like Yamame Sanso does.
Sumo wrestling is the most unique of Japanese sports. I watched it on TV for years, but last November was the first time I ever saw sumo live, and the venue was perfect: no city takes sumo more seriously than Fukuoka, and their November tournament is a must-see event for the locals.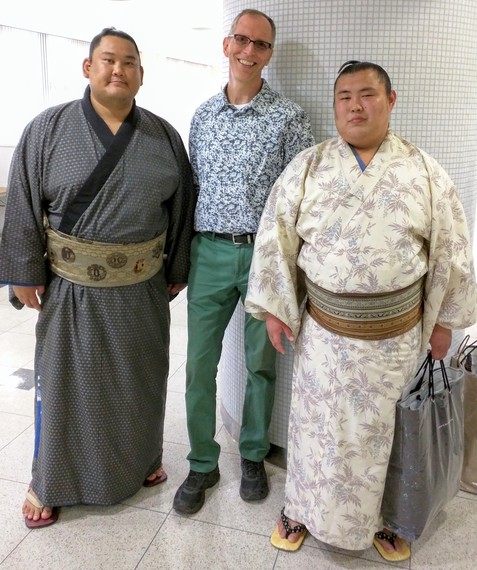 As I walked into the venue, these two huge sumo wrestlers offered to pose with me for a photo that I now cherish.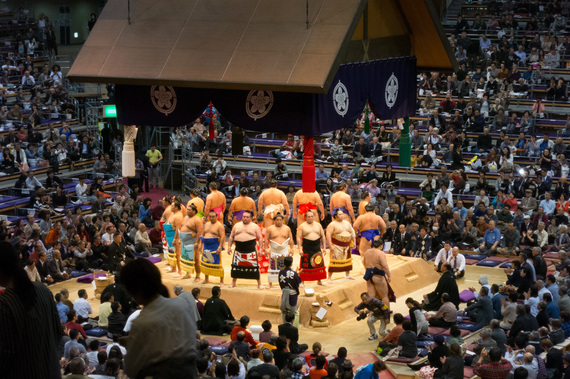 I found my seat and was immediately enthralled by the pageantry of the rituals in the ring, and then two gargantuan, almost naked bodies crashed into each other. The unique sound of flesh pounding into flesh is unforgettable, and the violence is somehow raw and yet beautifully ritualized at the same time.
When I later interviewed Hidegoro Shikimori (below), the coach of the Shikihide sumo team, I was surprised to learn that the ideal strategy in a sumo match is to enter the ring with absolutely nothing in your head. Even though wrestlers carefully study their opponent's tactics in depth, you can't enter the ring with a clear plan because you have no idea what tactic your opponent will try first on that particular day. Coach Shikimori said, "The sumo wrestler strives to move in the same way as water trickles: hitting objects, flowing around them, sometimes flowing over them."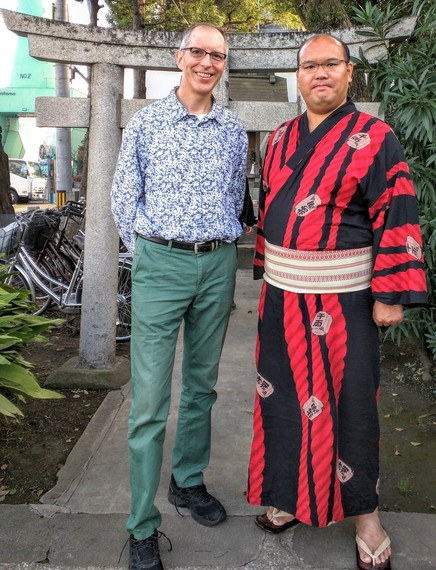 He used jazz as a metaphor: "You spend thousands of hours practising scales and chords so that you can walk onto the stage full of skill and technique, but in the moment you create music, your head empties and you listen to an instinctive, inner voice that guides your fingers. Sumo is the same. We seek the way of the inner voice in our brief, fleeting battle."
My favorite stay in Fukuoka was the hotel Il Palazzo, a modern hotel with beautiful rooms, of which the highlight was a beautiful bath: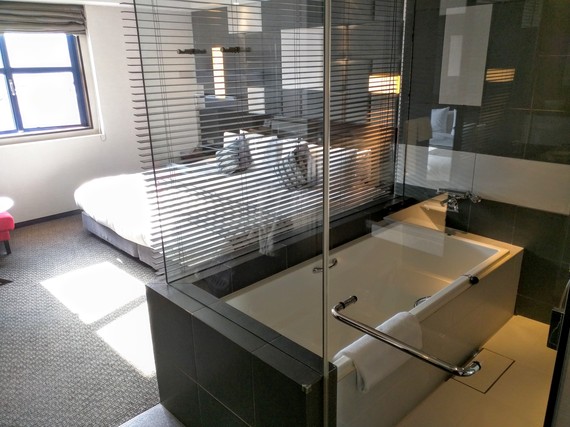 My most convenient hotel was The Hakata Green Hotel, which is a newly renovated space that is walking distance from Fukuoka's main train station, which is likely to be a main hub in your Kyushu travel plans.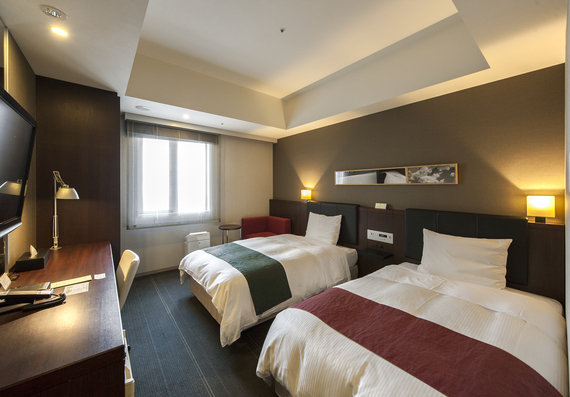 Morale is sky-high among the staff, and the views from the upper floors are stunning.
For sight-seeing in Fukuoka, I highly recommend: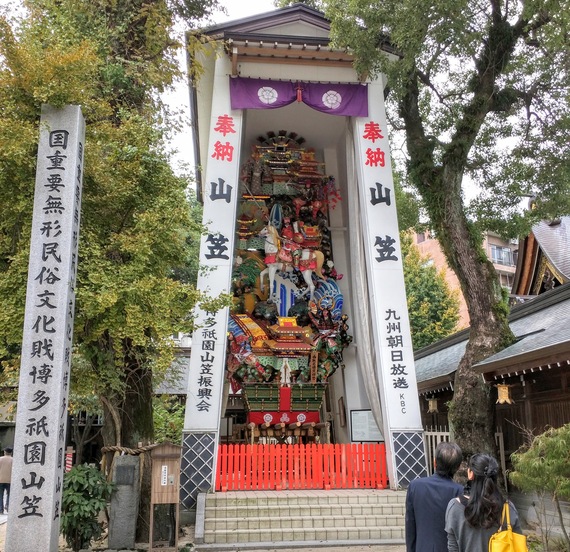 Kushida Shrine, which displays an amazing portable shrine that an intrepid group of men carry over 3 miles each year during their annual religious parade.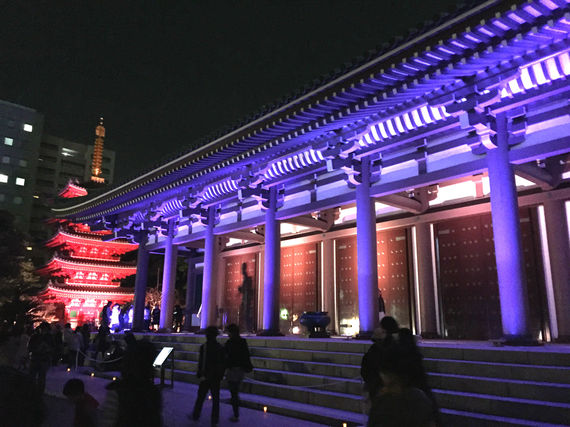 Tochoji temple has stunning architecture and the largest statue of a seated Buddha in Japan. The display allows you to enter the "mysterious rings of hell" under the statue--unforgettable.
Bayside Place Hakata has a fresh market, a hot spring bath, and impressive views from its tower.
For drinking and dining, I recommend: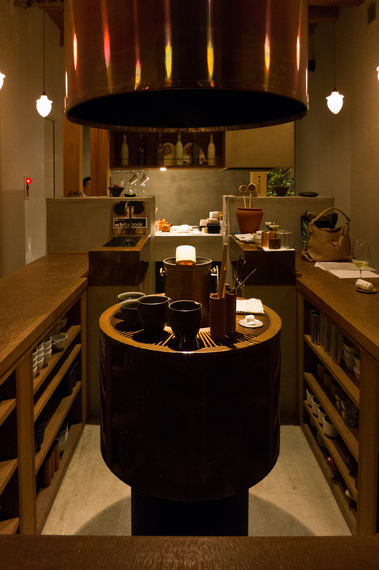 The green tea bar Yorozu. After completing an apprenticeship of many years under a famous tea master, Suguru Tokubuchi now takes great pride in his own philosophy of tea.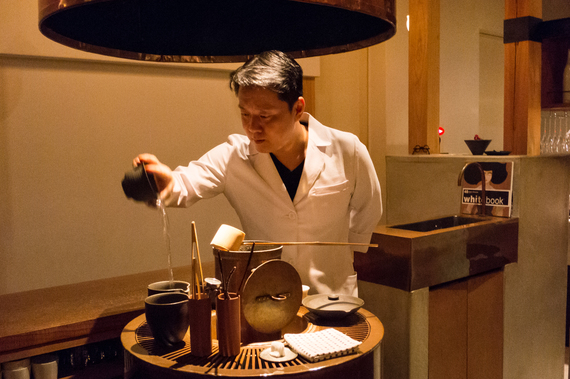 What many Westerners don't realize is that the key to Japanese tea ceremony is not the rituals themselves. It is the focused, conscious care with which one conducts those rituals that gives one an awareness of each passing moment, bringing a sense of wonder and awe to our daily lives.
Fukuoka is one of the few remaining cities in Japan that still offers food stalls ("yatai"), and the yatai named "Chusuke" in front of the Bank of Japan downtown has been going strong for 29 years, run by the same husband-and-wife team.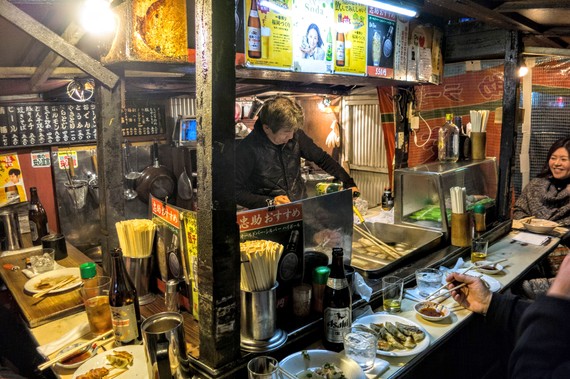 Ask for their mini-gyoza (pork and veggie dumplings), their Oden tofu, Yakitori (grilled chicken on skewers), or Tonkotsu Ramen, a thin-noodle ramen with pork soup base.
Near Fukuoka is a must-see shrine known as Dazaifu, a Shinto shrine built in 905 and re-built after a fire in 1591: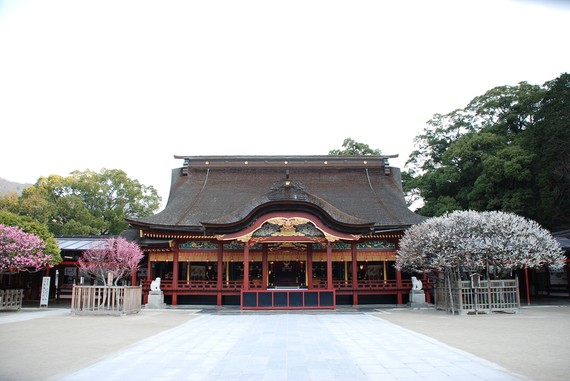 Right next to Dazaifu is the absolutely stunning Kyushu National Museum: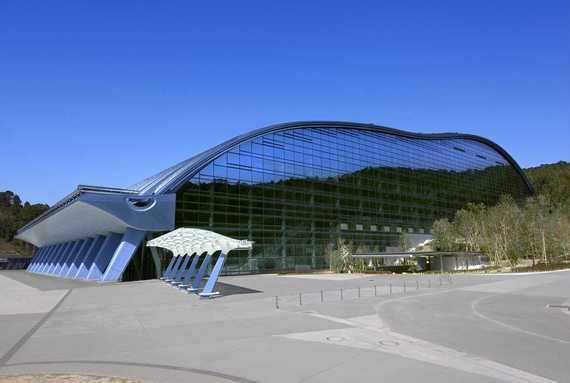 I have never seen a more beautiful and accessible introduction to Japanese traditional art. I often feel as though I have to read a history book before I can understand what I see before me, but Kyushu National Museum does an outstanding job of making its art accessible to the layperson.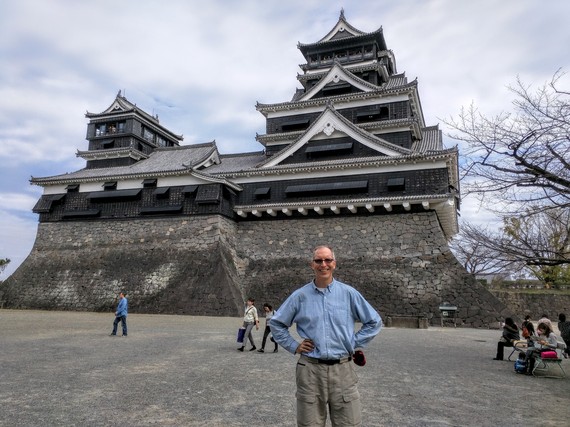 In Kumamoto City, the Kumamoto Castle was amazing, but don't follow the crowds. Instead, climb the Uta tower that has yet to be renovated. It still has the original, 400 year-old floors and gives you a superior view of the main towers that all the tourists climb. Plan to be there during the daily Samurai show at 2:30 PM.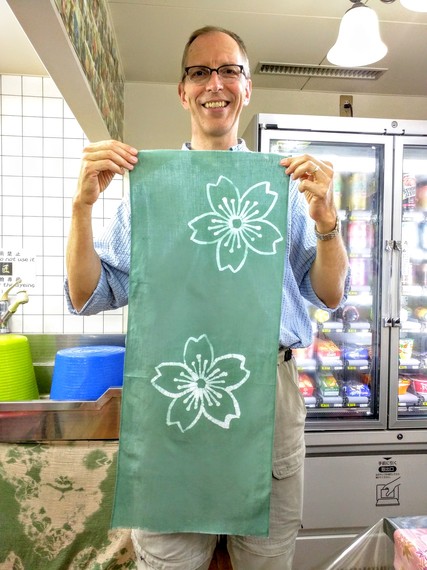 The Nakashimaya Hostel in Kumamoto City teaches the ancient craft of dying cloth and was a fun visit.
So many travelers to Japan limit themselves to the traditional tourist route of Tokyo, Kyoto and maybe Hiroshima. Kyushu is off the beaten path, but immensely rewarding for the intrepid traveler.