WASHINGTON ― After congressional Democrats faced a backlash over their opposition to a Democratic candidate in Houston, Gov. Jay Inslee of Washington, chairman of the Democratic Governors Association, said Friday that he didn't expect the DGA to break with its policy of staying neutral in gubernatorial primaries.
"I don't see a likelihood that we will change our historic pattern of allowing people to make a choice of a Democratic candidate. It's been quite successful," Inslee said at a Friday news conference alongside Democratic Govs. Tom Wolf (Pa.) and Dan Malloy (Conn.). The governors were announcing a $20 million investment in Democratic gubernatorial bids aimed at electing candidates who can help reverse GOP gerrymandering.
"We have very competitive primaries with very highly qualified candidates. And we think that's actually a healthy thing," Inslee added.
But the assembled Democratic governors did not categorically rule out publicly opposing or endorsing a candidate in a Democratic primary.
"If there's a nuisance candidate and it's clearly intended to be a nuisance candidate, that's a different decision than when it's a viable primary," Malloy said.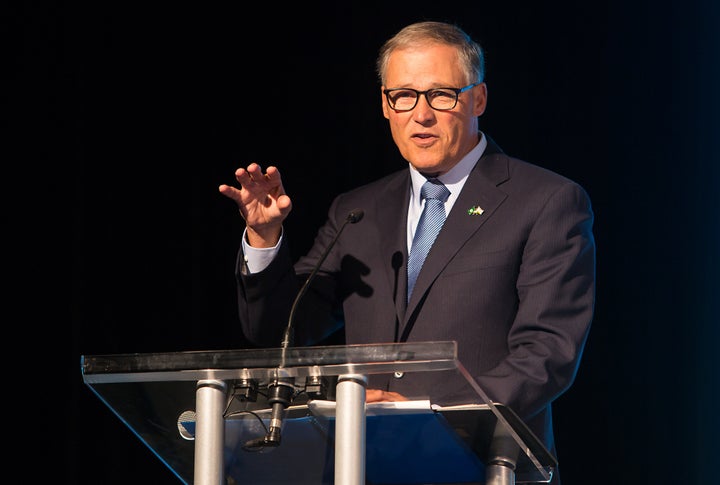 The comments by Inslee and Malloy follow the controversy that has erupted over the involvement of the Democratic Congressional Campaign Committee, which helps elect House Democrats, in contentious primary races.
The DCCC was criticized Thursday night for denouncing the candidacy of Laura Moser, a progressive running for Texas' 7th Congressional District seat. The only other candidate the DCCC has disparaged on its website is Rick Saccone, the Republican running in a March 13 special election in Pennsylvania's 18th District.
For progressive activists in the Democratic Party base, the negative comments about Moser, which include calling her a "Washington insider" and questioning her devotion to Texas, reflect a troubling trend in which party leaders ― and outside groups closely tied to them, such as EMILY's List ― try to stifle non-conformist candidates based on their supposed lack of general election viability. In practice however, critics lament, the establishment favorites often fare more poorly against Republicans than maverick candidates with grassroots followings.
The Democratic Senatorial Campaign Committee, which elects Senate Democrats, has also meddled in Democratic primaries. For example, in March 2016, the DSCC endorsed Katie McGinty over Joe Sestak for Pennsylvania Senate. McGinty went on to lose by a larger margin than Hillary Clinton did in the state. 
A spokesman for the DSCC did not immediately respond to a question about whether it still reserves the right to back or oppose candidates in the primary.
Inslee and Malloy argued Friday that staying neutral in primaries is ultimately better for the party's general election prospects.
"I don't think Democrats are as afraid of primaries as some people think we are," Malloy said. "Testing our candidates in some situations is the right thing to do. I got elected through a primary."
The two governors both claimed that the Democratic gubernatorial primary in Virginia between Ralph Northam and Tom Perriello boosted turnout in the general election. Northam became governor.
"The longer I'm in this, the more I understand [that] getting people excited who will come out to vote is very important. And frankly, primaries help that," Inslee said.
BEFORE YOU GO
PHOTO GALLERY
U.S. State Capitol Buildings