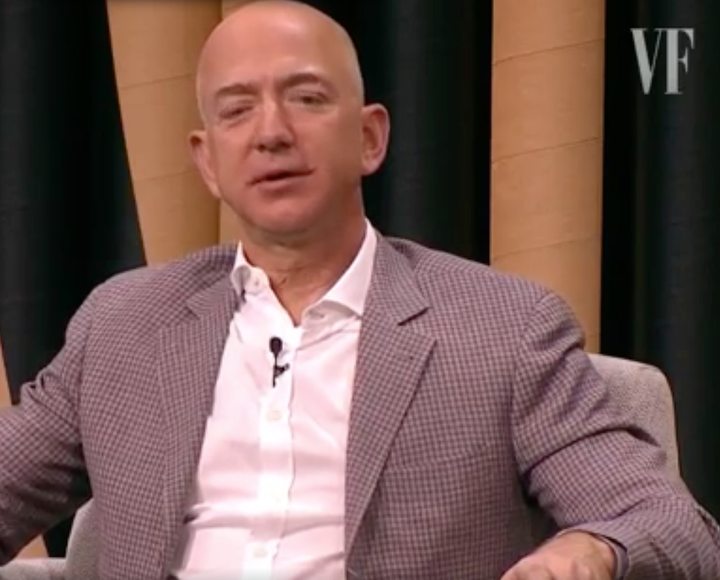 Amazon CEO Jeff Bezos called out Donald Trump on Thursday for his treatment of the media and more broadly for "eroding" American democracy.
"It's not just going after the media, and threatening retribution for those who scrutinize him, it is also saying that he may not give a graceful concession speech," Bezos said when asked about Trump at the Vanity Fair New Establishment conference in San Francisco. "That erodes our democracy around the edges. Saying that he might lock up his opponent. ... These aren't acceptable behaviors."
Bezos also defended a controversial fellow billionaire and Facebook board member, Peter Thiel, who's come under fire for supporting Trump. Previously, Bezos has had less than kind things to say about Thiel, who co-founded PayPal and Palantir, a data analytics firm valued at about $20 billion.
Bezos has called out Trump before. His defense of Thiel, though, was perhaps more surprising. Many in the tech industry have called for Thiel to step down from Facebook's board in light of his recent $1.25 million donation to the Trump campaign.
Clearly, Bezos doesn't agree with Thiel.
"Peter Thiel is a contrarian, first and foremost," he said in Thursday's interview. "You just have to remember that contrarians are usually wrong."
However, if Thiel were on Amazon's board, Bezos said he would not fire him for holding controversial views. "It's way too divisive to say if you have an opinion, you can't sit on my board. That makes no sense," Bezos said.
His comments echoed those of Facebook CEO Mark Zuckerberg who said he is keeping Thiel on the company's board of directors because he cares about a diversity of opinions.
Not everyone agrees. Trump's misogyny and racism carries over to his supporters and donors, many in the industry argue. These hateful stances aren't simply "viewpoints" or "opinions."
"What's that saying? 'Seek revenge and you should dig two graves ― one for yourself.' You have to ask yourself how you want to spend your time," Bezos said in May at a tech conference hosted by Recode. "The best defense against speech you don't like about yourself as a public figure is to develop a thick skin."
Late last year, Bezos also helpfully offered to send Trump into outer space. On Thursday, he made clear the offer was still open: "I have a rocket company, so the capability is there."