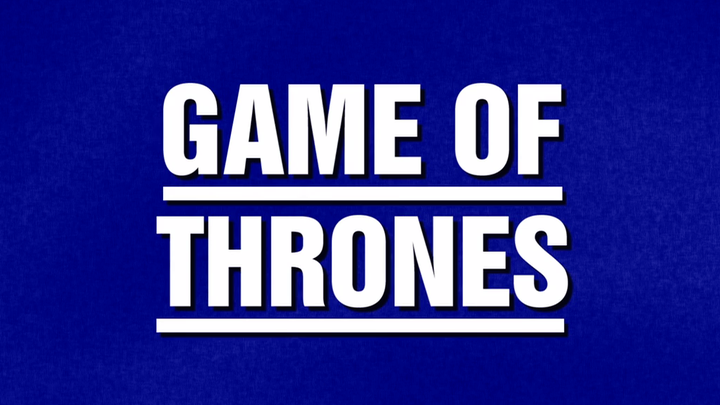 When you play a game of "Jeopardy," you win or you die fail miserably because you know nothing. Well, until now ...
On Monday, the game show broke out special a "Game of Thrones"-themed board, bringing joy to all the Seven Kingdoms with categories including "A Song Of 'Ice' & 'Fire,'" "The North Remembers" and "Always Pay Your Debts." 
Fans online loved it, even suggesting other categories like "A Storm of 'S' Words." So would we finally find out answers to some of our biggest "Game of Thrones" questions? Like, "Who are ... Jon Snow's parents?" "When is ... winter coming?" and "Where are ... my dragons?"
Unfortunately, no. Besides having a category specifically about "Game of Thrones," the other categories had normal smart-people questions about things like Alaska and the Red Army. Boo, Red Army! Still, the lack of "GoT"-themed answers didn't throw returning champ Matt Jackson. He completely dominated, including rattling off correct responses in the "Game of Thrones" category, to bring his 12-day winnings total to nearly $400,000. 
At this pace, Jackson will have more than the Iron Bank in no time, so all we can say is Braavos, sir! Braavos!
PHOTO GALLERY
"Game Of Thrones"