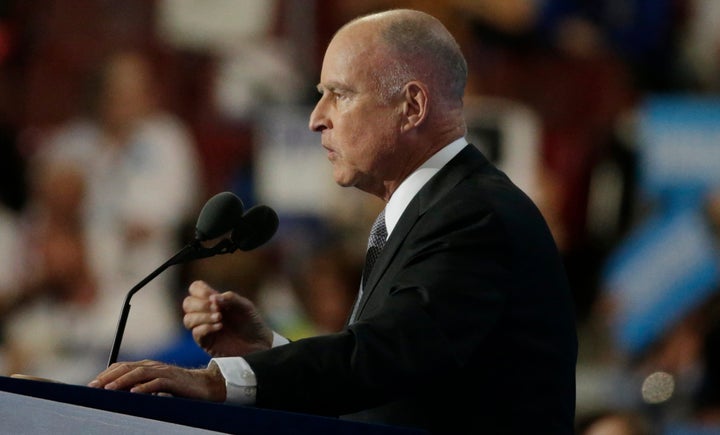 SAN FRANCISCO ― California Gov. Jerry Brown (D) made the case Thursday that President Donald Trump's anti-environment rhetoric could actually be a blessing for climate advocacy.
The president's indifference to the existence of man-made global warming may inspire other people to step up and support sustainable actions, Brown said. 
"Actually, Trump is one of the most positive things that has happened in the climate movement," the governor declared at the Ceres Conference, where business leaders and investors had gathered in downtown San Francisco to discuss sustainability and climate issues. "He's given climate denial really a bad name." 
Brown said the "obvious absurdity of what is now being proposed in Washington" is so apparent that "thoughtful, ordinary people are going to react, and react in positive ways and a series of steps that will really get on the sustainable path." 
Trump's anti-climate actions have included appointing climate science denier Scott Pruitt to run the Environmental Protection Agency and rolling back some of President Barack Obama's policies aimed at curbing greenhouse gas emissions. But Brown said Trump is just one of many challenges facing environmental advocates. 
"Trump is only one of our problems, and he's not the biggest problem," Brown said. "That's not to say he's not a big problem. ... The biggest problem is waking up to the truth of our situation and responding in a thoughtful and wise way." 
Mindless optimism, Brown argued, isn't acceptable at this point. 
"It's not fine," he said. "It's not getting fine." 
He urged the business community to act on its own, citing developments like zero-emission cars. He also called on the audience to press lawmakers to find the "political will" to address climate change, noting that Republicans need to be on board to achieve real national progress.
"Know that there's time, but that time is running out, so it's absolutely imperative that you do everything you can," he said. 
Brown is one of the nation's most prominent climate advocates. He represented the United States during the Paris climate talks in 2015 and has pushed through sweeping reforms in California to reduce emissions.
He is also a fierce critic of the president and has vowed to fight Trump on climate policy. In March, he called Trump's executive order upending Obama-era climate policies a "colossal mistake." In his January state of the state address, he warned of the dangers of giving in to climate denial.
"We've got the scientists, we've got the lawyers, and we're ready to fight. We're ready to defend," Brown said in December. "If Trump turns off the satellites, California will launch its own damn satellite."
Brown's remarks came two days ahead of the People's Climate March planned in Washington and other cities around the country. Thousands are expected to attend the rallies in opposition to Trump's climate policies.