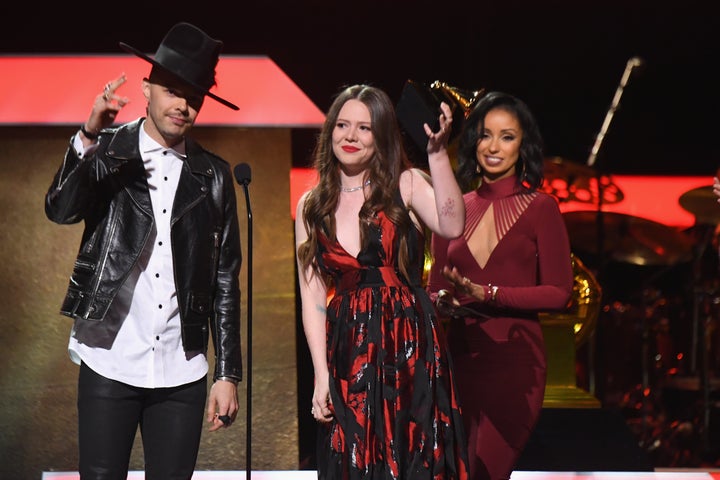 The brother and sister duo took home a golden gramophone for Best Latin Pop Album for their LP "Un Besito Más," the chart-topping group's first Grammy ever. The win was emotional for the siblings because of the album's connection to their late father, who died in 2013. 
 "Oh my God, I'm going to try not to make it a habit to cry every time," Joy Huerta said on behalf of the group. "We want to thank God, our fans, the Academy. This means so much to us. The name of the album 'Un Besito Más' is a song we wrote for our daddy who passed away."
And ahead of the live ceremony that was filled with messages of political resistance, Jesse & Joy dedicated their Grammy to Hispanics and marginalized groups in the United States. 
"We are so proud to be Mexican-American, so this goes to all the Hispanics out there in this country," Joy Huerta said. "To every minority group, we are with you, we stand with you."
The duo, who earned their first Grammy nomination in 2013 for their album "¿Con Quién Se queda el Perro?," also shared a message of unity via a press release shortly after their win.
"We are overwhelmed with joy and honored to receive such recognition for this album, which has been so special to us and dedicated to the memory of our dear father," the group said in their press statement. "Our world is faced with difficult times and we are just grateful that as Mexican-Americans our music can be heard across the globe and hopefully make a positive impact towards human love and respect regardless of race, nationality or religion."
BEFORE YOU GO