Despite his sharp criticisms and deep concerns about President Donald Trump, former Vice President Joe Biden said he remains hopeful the Republican will be successful and recognize the gravity of his office.
Biden said his hope that Trump "would rise to the office" contributes to his and former President Barack Obama's decisions to only weigh in on him when they feel it is necessary, focusing on policy issues or Trump's unsupported allegation that Obama ordered wiretapping of his campaign. 
"If you've noticed, Barack and I have not gone after him personally. We've not gotten into that mosh pit . We have taken issue with him when we think he's wrong, which is ―to be very blunt about it ― most of the time," Biden said to laughter from the Philadelphia audience sitting in on the interview.
"But here's the thing: He is not ideological in my view,'' Biden said. "Barack and I talked about it, and the hope was that he would be able to find some common ground, he would reach out, but it seems as though his leadership style has gotten in the way of what, intellectually, I don't think he has a problem with."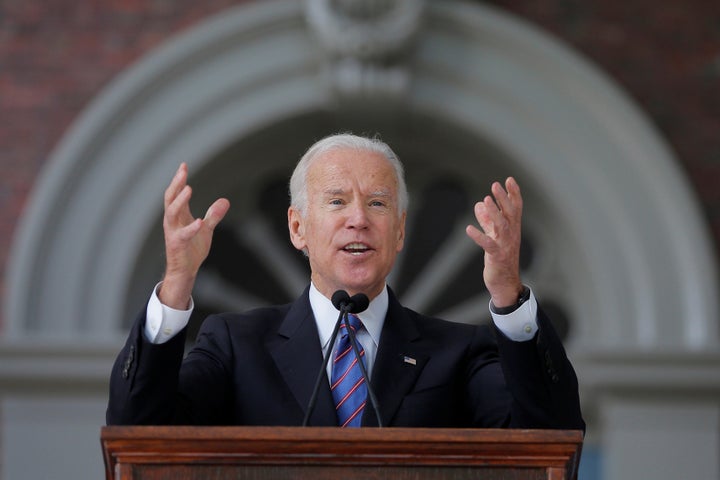 When asked his thoughts as he watched Trump take the oath of office in January, Biden said he hoped ― and still does ― that Trump acknowledges his lack of political experience and tries to become more informed.
"I was hoping that he would know what he didn't know, and not let the bravado get in the way of acknowledging what he didn't know and reaching out to really talented people to fill the void for him," Biden said. "I was hoping he would step up, in a way. And I still hope that will happen, as reality sinks in."
"I mean, here's a man who said he was surprised, and I believe him ― he was genuinely surprised that being president was as difficult as running a real estate empire," he added, before pausing to make the sign of the cross.
"For our radio audience, can I just say you just crossed yourself?" Gross said.
Biden said he believes Trump has damaged the presidency's image on the world stage, particularly through his demeanor. When asked about Trump's prolific use of Twitter, the one-time Democratic senator did not mince words.
"There's a difference between using the modern media and the means of communication than there is being irresponsible or irrational in the way you do it and just venting," Biden said. "You know, words matter. Words matter. When presidents speak, the world listens."
He added that when Trump "gets up at 3 or 4 o'clock in the morning and tweets vitriol ... it fundamentally alters the view of the character of the presidency in the rest of the world."
"There was no direct evidence that we could find of them actually able to manipulate the actual machines and/or voter rolls," he said.
Obama was right to keep his administration silent on the matter because "we would have been accused of being engaged in trying to manipulate the election by using information that was not self-evident to the public, and required the release of classified information to prove," he said.
As a result, it would been "far worse" to disclose the Russian interference than keep quiet about it, he said.
Warning that such interference would continue, Biden chided Republicans for not being "apoplectic" about Russian President Vladimir Putin and his government "trying to fundamentally alter our democratic processes."
He seemed to echo fired FBI director James Comey, who warned in Senate testimony last week that the issue was "about as unfake as you can possibly get" ― a clear reference to Trump, who has called Russian interference "fake news."
Biden said the Russian effort is "real and it's not going to stop. Mark my words."
BEFORE YOU GO
PHOTO GALLERY
A Million Miles With VP Joe Biden