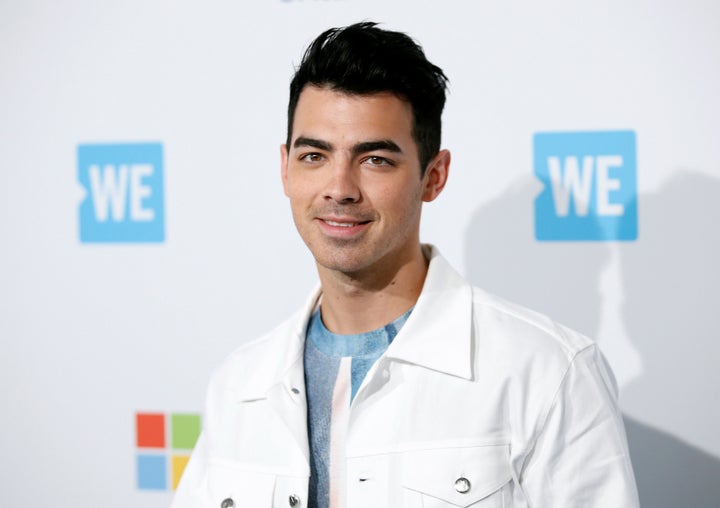 Thanks to his boy-next-door charm and a slew of catchy pop tunes, Joe Jonas has garnered a substantial gay fanbase. If Jonas opted to follow in the footsteps of his younger brother, Nick, and play a gay role on television or in a movie, he has some definite ideas on who his romantic interests could be.
The 27-year-old actor-singer jokingly professed his interest in starring opposite an "older, mature" man in a new interview with PrideSource. "I'd say for sure Daniel Craig. I think Matthew McConaughey is a hunk of a man," he said. "I'd have to go with George Clooney."
The DNCE frontman, who has been romantically linked to "Game of Thrones" star Sophie Turner in recent weeks, didn't hold back throughout the rest of the interview. He and his DNCE bandmates made a deliberate choice to spice things up on their debut album with songs like "Be Mean," which rivals Rihanna's "S&M" as a pop anthem for, well, S&M. 
"It's definitely fun when you bring some whips and leather and whatever you may be into ― a little bit of S&M ― into the bedroom," he said. "I wrote it about me and someone I was getting wild with, and maybe [we] busted some outfits out ― you know, you get a little crazy. It's a fun song, and I hope people can have fun with it and learn from it."
Although Jonas identifies as straight, he said he's totally "cool" with gay men who view him as a sex symbol. "I take it as a compliment... At the end of the day, for me, it goes back to the music, and DNCE has done a lot of cool concerts, like Pride shows," he said. "If we can put a smile on your face, that's what's important to us. And look, our gay fans are awesome and we want to give back in every way we can, so we're putting on shows for them."
As far as the persistent rumors about his own sexuality are concerned, Jonas wasn't vexed, acknowledging his longtime admiration for Barbra Streisand, as well as being in touch his "feminine side."
"Some of the best friends in my life are gay, and we don't look at each other any differently, and it's not like there's any separation of who we are as people. Love is love," he said. "And if you have a problem with that, then you can just get out of this world ― first trip to the moon, first trip to space ― because I honestly feel like life's too short to worry about dumb things like that."  
Head here to read the full PrideSource interview with Joe Jonas. 
BEFORE YOU GO
PHOTO GALLERY
Celebrities Who've Faced Gay Rumors