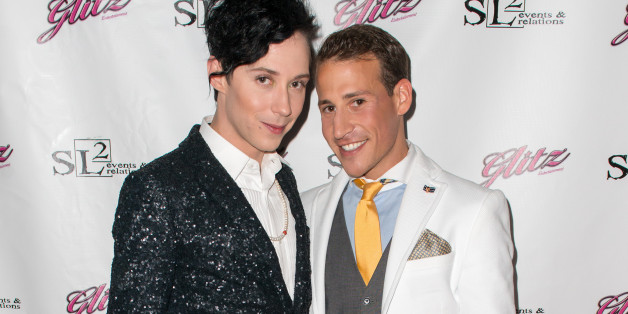 UPDATE: Johnny Weir dismissed these reports in a statement to Access Hollywood, noting: "I had hope and Victor and I were talking about reconciliation, but it was for not."
U.S. Olympic figure skater Johnny Weir is reportedly reconciling with his estranged husband, Victor Voronov.
The New York Post's Page Six, the Daily Mail and TMZ are just three of the many outlets reporting that Weir has decided to call off divorce proceedings with Voronov just weeks after their very public split.
After shooting an unspecified television show over the weekend, Weir is reportedly set to move back into the couple's New Jersey home April 14, but with a set of conditions. Weir must publicly apologize for everything said about Voronov in the press and must agree, in writing, to no longer let his mother interfere with the couple's finances, TMZ is reporting.
Further details of the reported reconciliation are scarce, but if true, it could be the latest twist in what was becoming an increasingly messy situation. Last month,Voronov said he was blindsided by news that Weir had filed for divorce, and then accused his husband of having "committed multiple acts of adultery, including having sex with a Chicago club owner and sexting with a porn star," according to a previous TMZ report.
Meanwhile, Voronov's attorney, Susan Reach Winters, told People magazine that her client "gave up his job for the marriage and moved to New Jersey at Johnny's request," and does not have any income, assets or resources as a result.
Meanwhile, Weir told Access Hollywood that he was "losing" himself and his life objectives by staying in the marriage, shortly after announcing the split on Twitter.
During his recent NBC commentary stint in Sochi, Weir recalled, "My husband was behaving very erratically. The majority of the time off camera I was in tears." Nonetheless, he denied most of Voronov's accusations, noting, "The worst he could do would be to post naked photos that we have between each other and I look flawless."
News of the split came weeks after Weir appeared in a New Jersey courtroom on charges of domestic violence against his husband of two years. At the time, Voronov alleged that Weir had bitten him during a dispute. The charges have since been dismissed, according to Radar Online.
BEFORE YOU GO
PHOTO GALLERY
Celebrities Who Have Come Out As LGBT