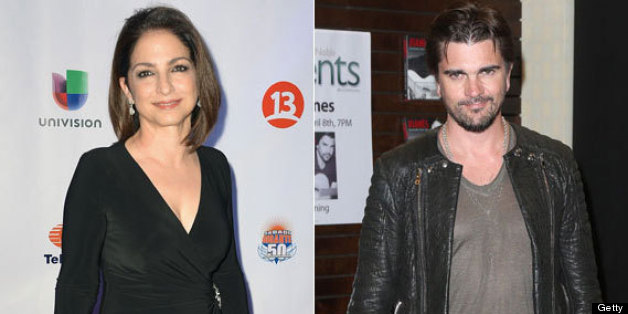 Gloria Estefan, Juanes, Alejandro Sanz, and more Hispanic stars come together to become one voice against violence in the United States.
In a moment when the Senate is looking to pass a meaningful gun violence legislation, the campaign "Voices Against Violence" was born to give Americans a tool to make a social impact.
Created by Tony Bennett and his son Danny, the programs also aims to make it easier for people to call their members of Congress and representatives and demand action.
In partnership with the Brady Campaign to Prevent Gun Violence, the initiative asks supporters to text "MYVOICE" to 877877 and later enter their zip code. A voice message recorded by singer Paul McCartney will be heard when a text is sent, and the local senator assigned to that zip code area will be immediately contacted. (Entire instructions here.)
Other celebrities like Romeo Santos, Vicentico, Ana Carolina, Josh Groban, Alec Baldwin, kd lang, Rosie O'Donnell, Mia Farrow, and Maria Cuomo Cole are also part of the campaign, hoping to create real change.
A poll released last month by Latino Decisions revealed that a solid majority of Latino voters support gun control measures and tend to favor gun restrictions regardless of their party affiliation.
Results showed a whopping 84 percent of Hispanics in the U.S. said they supported requiring background checks before letting people buy guns, 69 percent favored establishing a national database of gunowners and 64 percent opposed allowing the mentally ill to buy guns.
BEFORE YOU GO
PHOTO GALLERY
27 Reasons Why U.S. Shouldn't Lead War On Drugs