Another article about the live interview series AOL BUILD and Hulu comedy series Difficult People? Why yes, yes it is. AOL BUILD and Difficult People are both incredible, streaming TV shows. If you asked me two weeks ago, I would tell you that streaming TV is the future of television. I'd say that soon, Amazon could compete against NBC, not just Netflix.
If you asked me today, I'd say streaming TV is TV. We are here, now. I am so sorry if this is something you were not ready for. 
Ok, you know the movie about the unsinkable Titanic ship?
Traditional news and cable television is the ship in Titanic.
When Netflix cast Kevin Spacey in House of Cards, the Titanic hit the iceberg. Netflix was making great original shows. With the assistance of my Apple TV, I could watch them right on my TV. The Titanic started sinking. Fast forward to 2016. The Emmy Awards are not just recognizing, but embracing digital media. Facebook Live debuted. This week on AOL BUILD, there is 25 LIVE shows.
What is this analogy again? Traditional news and cable television is the ship in Titanic. 2016 is the part where the Titanic breaks in half. THE SHIP IS SINKING REAL FAST NOW!

APRIL 19, 3:30PM EDT

KEVIN SPACEY

On a December morning in 1970, the King of Rock 'n Roll showed up on the lawn of the White House to request a meeting with the most powerful man in the world, President Nixon. Starring Academy Award® nominee Michael Shannon as Elvis Presley and two-time Academy Award® winner Kevin Spacey as Richard Nixon, comes the untold true story behind this revealing, yet humorous moment in the Oval Office forever immortalized in the most requested photograph in the National Archives.
Seriously, there was an entire page dedicated to it in today's Equinox NY Times.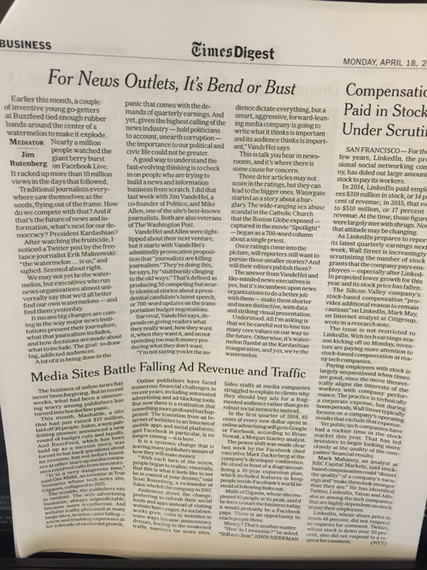 We'll know soon who boarded the life boats and who froze to death. I know that AOL BUILD sailed away a long time ago.
What were we talking about again? Oh yes! Vulture Festival.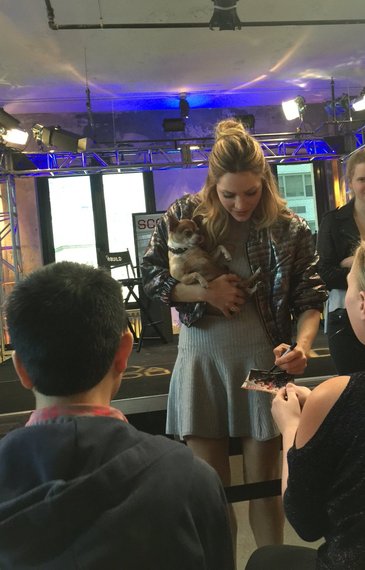 On Mondays, I work on other projects, but I just had to stop by AOL BUILD for Katharine McPhee. Katharine was AMAZING and brought her adorable dog! She even stopped to pose with fans after which was SO nice because she is very busy. I am a huge Smash fan.
This morning, when New York Magazine PR tweeted the Vulture Festival lineup, I clicked right away. I scrolled down the list of stars. Googled an unfamiliar "Jonathan Groff." The first star who I actually clicked on to see their corresponding event was Ivy herself, Megan Hilty. Now, you might think this can't get better. BUT, Hilty's event is....a Difficult People LIVE TABLE READ. Now, this isn't just Julie, Billy and Megan. COLE is coming. Andrea Martin. Amy Poehler. Scott King's friend, NATHAN LANE! I can't. If anyone reading this has an access code, please email or DM it to me. This is the entire official description:
1:30 to 3 p.m.: DIFFICULT PEOPLE:  TABLE READ

Join the stars and guest stars of Hulu's Difficult People as they conduct an exclusive live table read of the cast's favorite episode of the upcoming second season, followed by a panel discussion with the cast led by Vulture editor E. Alex Jung. Talent includes Amy Poehler, Julie Klausner, Billy Eichner, James Urbaniak, Nathan Lane, Cole Escola, Shakina Nayfack, Andrea Martin, Megan Hilty, Scott King, and John Early. Milk Studios (450 West 15th Street). Tickets $40 (includes an hour in the Vulture Lounge with complimentary drinks following the event). 
Here's more information on the Chris Gethard Vulture Festival event:
1:30 p.m. to 3 p.m.: CHRIS GETHARD'S BEAUTIFUL/ANONYMOUS PODCAST

Join Vulture in the Casper Podcast Lounge for an exclusive live taping of Chris Gethard's Beautiful/Anonymous podcast. Casper Podcast Lounge (440 West 15th Street). Tickets $25 (includes an hour of complimentary drinks following the event).