Editor's note: This is a satire piece.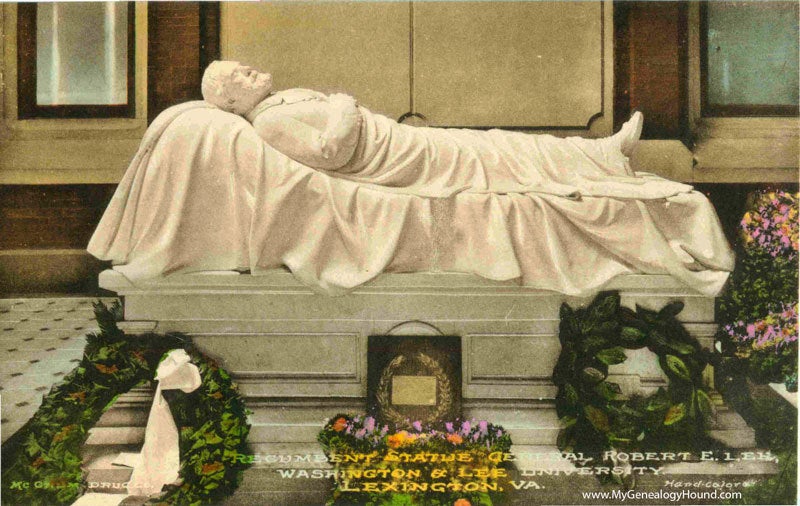 Archivists at the venerable Washington & Lee University in Lexington, Virginia have just discovered a long-forgotten application, submitted in 1966, by a young Donald Trump. The application, leaked to me by an anonymous W&L staffer, reveals for the first time that Trump's interest in historical monuments goes back at least 50 years.
At the time Trump was a sophomore at Fordham University in New York City. He applied to transfer to Washington & Lee, one of the nation's oldest and most prestigious institutions of higher education, founded in 1749 as Augusta Academy. In 1796, George Washington endowed the struggling school with a gift of stock, which led the school's leaders to rename it Washington College. In 1865, after his surrender at Appomattox, Confederate General Robert E. Lee was named the college's president, serving until his death in 1870, when the college was renamed Washington and Lee University.
As part of his transfer application, Trump wrote the following letter:
"I want to attend Washington & Lee because it is named after the two people in American history I most admire — George Washington and Robert E. Lee. You are the only college in the nation to have statues of both men on your campus. I am eager to see these statues and I hope they will always be there and never removed. I am also eager to visit the campus' Lee Chapel, where the great patriot is buried. I've heard some misguided people call General Lee a traitor to this country. Those people are losers. Sad.
President Washington and General Lee were both great men, much better than Frederick Douglass. They both fought in the Civil War. It was a very bloody war. Both sides equally share the blame for all the killing. Both the Union and the Confederacy were noble causes.
My father, who was arrested at a KKK riot in New York in 1927, was not a racist. Like many people who attended Klan rallies, he was (and still is) a good person. I am a good person, too, and I hope you will let me come to Washington & Lee.
I intend to major in Black Studies and then go into my family's real estate business. If you ever read a story in the New York Times that my apartment buildings discriminate against black tenants, don't believe it. It is fake news.
Some day I will become even richer than my millionaire father. If you admit me, I will donate a lot of money to Washington & Lee for a new dormitory called Trump Hall. I hope that members of the student Klan Club, the campus Jewish Hillel group, and the Black Student Association will all live there together and get along. You can see that I'm a uniter, not a divider.
By the way, I'd like part of my donation to be used to erect a statue of myself in front of Trump Hall. I hope you will invite me to visit it when I become president of the United States. You will be proud to call me an alum of Washington & Lee. I will be a great president. I will make America great again, just like George Washington and Robert E. Lee."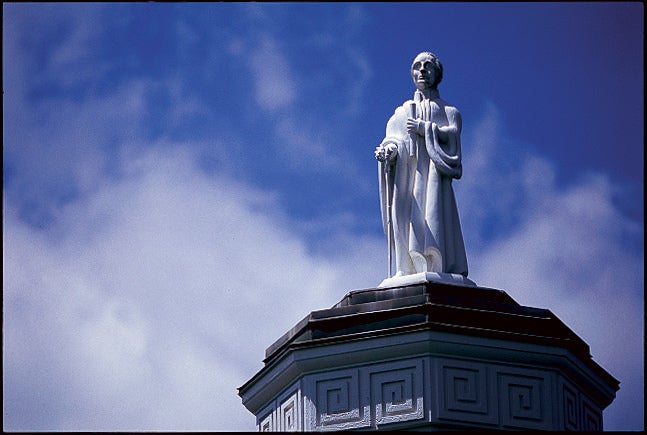 Washington & Lee's admissions department rejected Trump's application. Instead, he used his family connections to transfer to the University of Pennsylvania, even though, according to biographer Gwenda Blair, he lacked the grades required of most students accepted to Penn. Trump graduated from Penn in 1968. He would later claim (or at least not deny claims) that he graduated first in his class. That's a lie.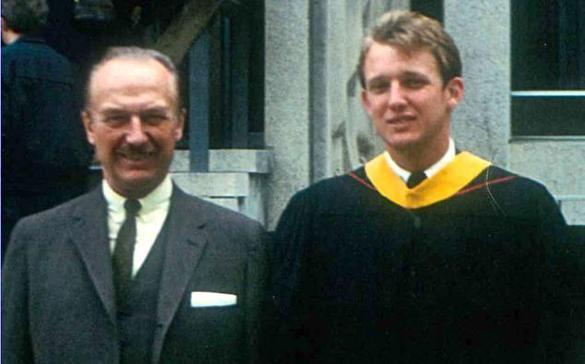 Trump today might be dismayed by the university's recent rejection of some of the physical symbols of its Confederate past. In 2014, in response to protests by black students and their allies, the university officially expressed regret for the school's past ownership of slaves and promised to remove Confederate flags from the main chamber of its Lee Chapel. In 2015 the university denied the Stonewall Brigade of the Sons of Confederate Veterans access to Lee Chapel, ending a longtime tradition of the group using the building to commemorate Lee-Jackson Day.
Peter Dreier is professor of politics at Occidental College. His latest book is The 100 Greatest Americans of the 20th Century: A Social Justice Hall of Fame (Nation Books).
This post was published on the now-closed HuffPost Contributor platform. Contributors control their own work and posted freely to our site. If you need to flag this entry as abusive,
send us an email
.