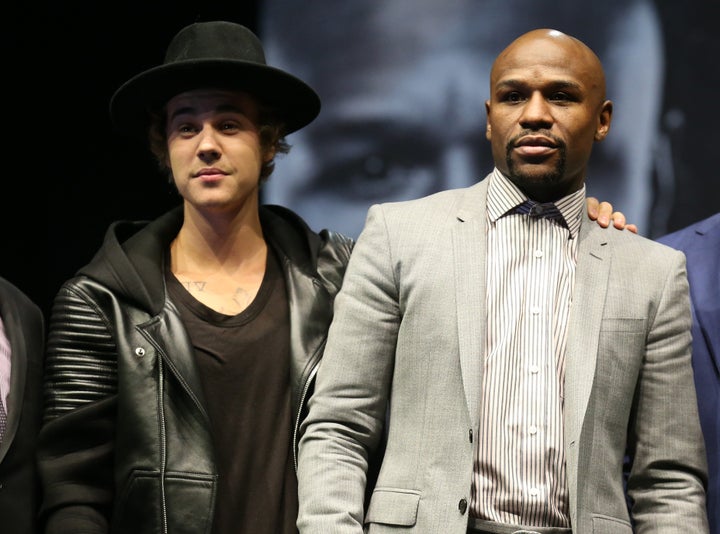 When he was asked whether being around Floyd Mayweather made him an "easy target" for criticism, Bieber responded:
With Floyd, he's just an image. I think he may not do the best job at being humble, but that's not his job. I mean, it's good to see people that are just humble and cool and down-to-earth and chill, but he's trying to get pay-per-view numbers. He's saying wild stuff just for attention. When people can just stop being stupid -- sorry to say that -- but when people can stop reading into it so much and just look at the fact that he's doing this for entertainment ...
As Bieber points out, Mayweather's extravagant persona is part of his job as a boxer. There is nothing innately wrong with Mayweather, one of the best boxers ever, bragging about his abilities in the ring. Many of boxing's all-time greats have used their colorful and braggadocious personalities to sell fights. So when Mayweather posts an Instagram of himself packing stacks of cash before a fight, he's not only boosting his own ego, but also selling himself. 
The bigger problem with Mayweather is that some constantly overlook or disregard his extensive history of domestic abuse with multiple women, including the mother of his children. When Bieber says that Mayweather is "just an image" and that people need to "stop being stupid," he's thinking of him as a boxer and entertainer first, which passively serves to willfully ignore his public record of violence against women.
Whether Bieber wants to acknowledge it or not, Mayweather's violent history is the defining part of his "image" -- not what he did for a job.