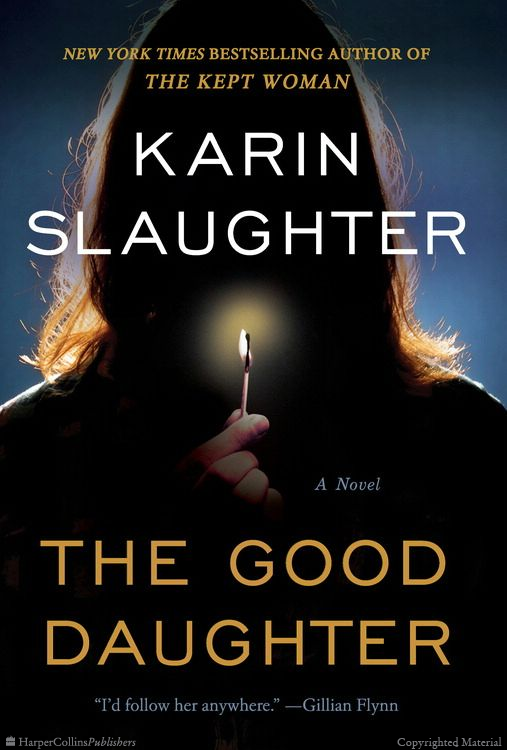 Book Review - Jackie K Cooper
THE GOOD DAUGHTER by Karin Slaughter
Karin Slaughter continues to amaze us all with her inventive plots and her in depth characters. She has done it over and over in the past but never has she been as emotionally involving as she is in her new novel THE GOOD DAUGHTER. Don't worry, the raw and gritty Karin Slaughter is still on view but in this book she lets her emotions loose as she tells a story that focuses on the bond between sisters, the idolization daughters feel for their mothers, and the fragile but strong relationship daughters have with their fathers.
The story itself is filled with horrific acts. Two men attack a family in their home with intent to murder . A teen age girl shoots her principal and a little girl at the local school. A local man is stabbed repeatedly as he goes out to collect his mail from the mailbox. These stories are all related and all take place in the small town of Pikeville, Georgia.
Karin Slaughter writes about this town and these people with ease and understanding. She knows the bigots and the bullies, as well as the protectors and defenders within the borders of this southern setting. She captures the heartbreak of a motherless child and the loneliness of a daughter estranged from her father.
If you are interested only in a surface story then you are looking in the wrong book. Slaughter digs deep inside the souls of her characters and reveals their strengths and their weaknesses. She writes about relationships and studies the rise and falls that can occur. She does it in a way as to not assign guilt but to assign hope. It is a beautiful thing to read and will surprise Slaughter-ites with the way it touches hearts.
The plot of THE GOOD DAUGHTER is so complex and so complete I do not want to reveal even the slightest detail of what unfolds. The reader should be able to start the book with no knowledge or inclination as to what lies ahead. You will be captured on page one and will be fascinated all the way through. There is no way you won't be impacted by what Slaughter lays out.
I have been a Karin Slaughter fan since the beginning of time. I love that raw quality of her writing that might scare others off. She tells it like it is in graphic detail letting the blood flow and the bones crunch. Still she always finds the heart of the story and wraps up the gory details in family ties.
There have been many, many books from Karin Slaughter that I have praised with the richest of adjectives BUT I have never loved one of her books like I love THE GOOD DAUGHTER. It is Karin Slaughter at her very best. It is wonderfully written and unexpectedly touching.
THE GOOD DAUGHTER is published by HarperCollins. It contains 512 pages and sells for $27.99.
This post was published on the now-closed HuffPost Contributor platform. Contributors control their own work and posted freely to our site. If you need to flag this entry as abusive,
send us an email
.