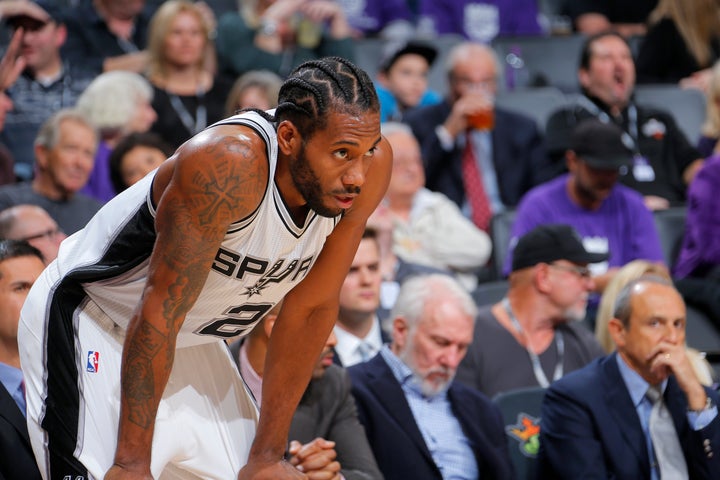 The first week of the NBA season has been dominated by talk of two players in particular: the New Orleans Pelicans' Anthony Davis, who is averaging an eye-popping 37.7 points, 12.3 rebounds and 3 blocks per game; and the Oklahoma City Thunder's Russell Westbrook, who is somehow averaging an even more unconscionable 38.7 points, 11.7 assists and 12.3 rebounds. 
But despite their gaudy numbers, neither Davis nor Westbrook have registered the highest player efficiency rating through the season's first handful of games, according to ESPN. That honor goes to Kawhi Leonard of the San Antonio Spurs. The winner of the league's last two Defensive Player of the Year awards is now making the leap on the other end of the floor in his first season since Tim Duncan retired, and he's doing it despite hitting threes at the lowest rate of his career so far. How can a player in a shooting slump from behind the arc still be the league's most efficient offensive player? Simply put, by mastering the art of getting to the line, and capitalizing once he's there. 
Leonard reportedly spent his offseason studying video to try and figure out how he can get to the free throw line more often, and from the opening tip of the 2016–2017 season, it appears the work has paid off. Leonard got to the line 15 times in the Spurs' opening night demolition of the Golden State Warriors through a series of moves teammate Manu Ginóbili described as "Harden-like" ― a nod to the Houston Rockets' conniving guard.
But once there, Leonard made all 15, too, on his way to a career high 35 points. In the three games after that, little changed, as he got to the line 25 more times, and made 23 of his free throws there. Through four games, he's shooting 10 free throws a game and making 95 percent of them.
Usually a player is great at getting to the line or hitting shots once there. Leonard does both at an elite level, which has almost single-handedly propelled him to the top of aggregate stats like offensive win shares. And even though the season is young, there are strong signs this isn't a fluke, but rather just the latest phase of a career-long trend. In almost all of his first five seasons, both Leonard's free throw percentage and attempts per game have gone up. This year, his first as the Spurs' unambiguous offensive focal point, he has simply taken yet another step.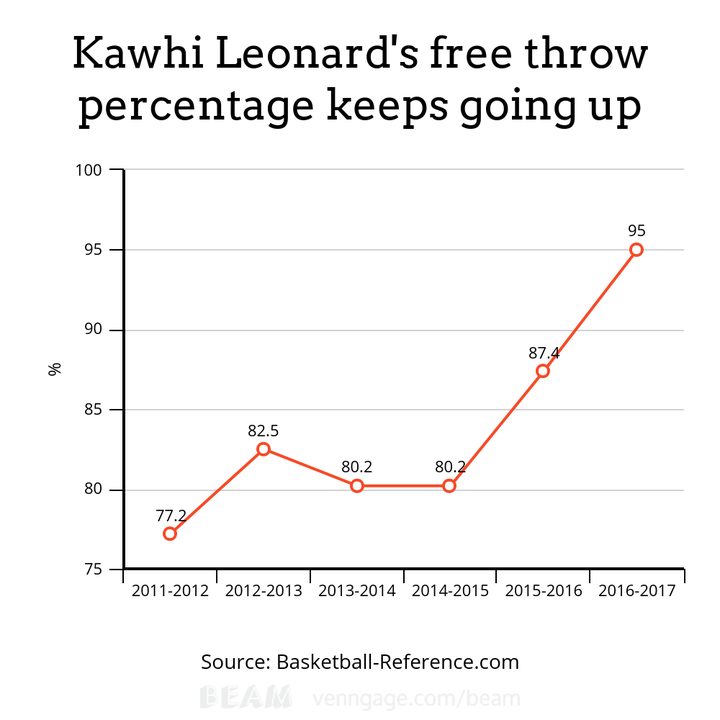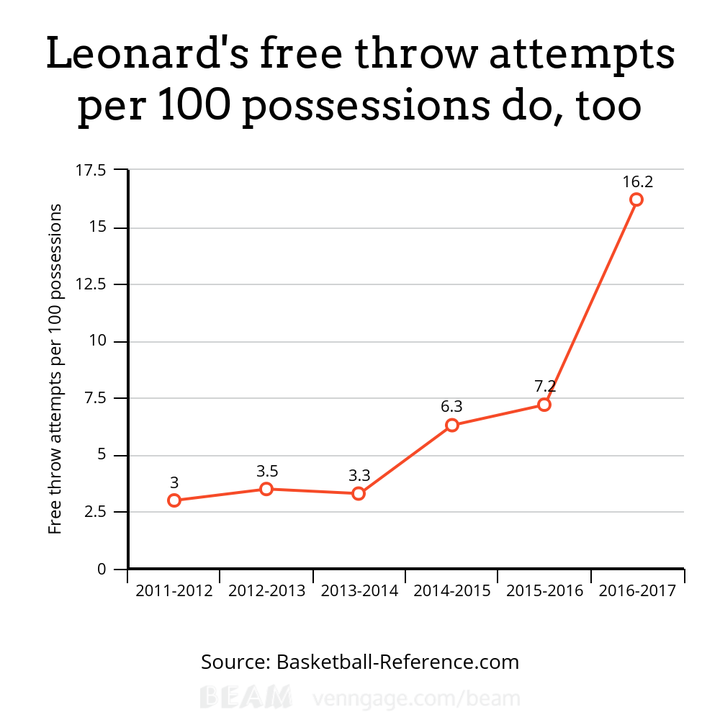 Now, if Leonard misses a shot, fans and Leonard alike are shocked. When Leonard missed one of his two free throws this season during a game against the Miami Heat on Sunday night, a Reddit user felt compelled to upload the video and title it "Kawhibot experiences a glitch in the matrix."
Compared to the league's other sparkling stars, like Davis, Westbrook, Stephen Curry and LeBron James, Kawhibot's robotic efficiency at the line is boring. In fact, his most noteworthy highlight of the season so far came on the other end of the court, when he stripped the Sacramento Kings' Ben McLemore not once but twice in a row, leaving Kings coach Dave Joerger no choice but to pull his guard. 
But boring or not, Leonard's offensive statistics speak for themselves. Leonard is averaging 32 points per 36 minutes through four games, up from 23 last year, and two-thirds of that increase can be attributed to free throws alone. Combined with his ultra-natural defensive ability and an uptick in his assist numbers (4.9 assists per 36 minutes, compared to 2.8 last year), Leonard is now first in win shares, win shares per 48 minutes and offensive win shares (although he's still second in offensive plus/minus behind Russell "Now I do what I want" Westbrook). 
Leonard, who already finished second in MVP voting behind Stephen Curry last season, has said he doesn't think much about individual awards. His team is doing well in the only stat he says he cares about: wins. But at 4–0, with a win over the Warriors, the Spurs forward is making the case that however many people Davis and Westbrook are able to jump over this season, his quiet efficiency at the line might make Leonard the league's most valuable player. 
Now, just imagine if he starts hitting his threes again, too. 
BEFORE YOU GO
PHOTO GALLERY
Great Pictures From 2016 NBA Draft