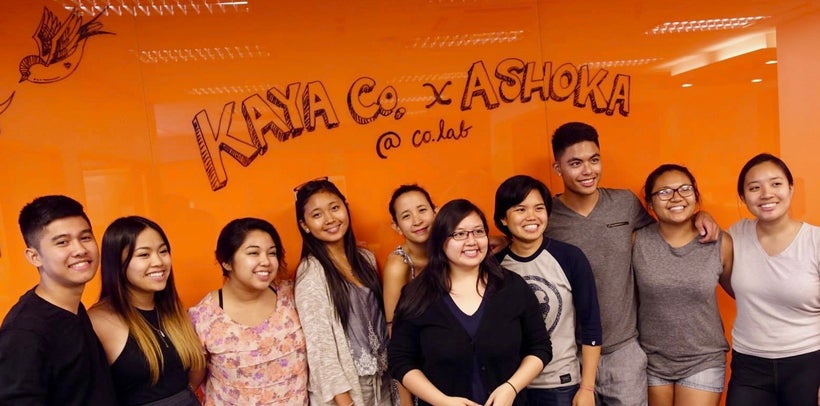 Amid social and geopolitical headlines, a buildup of innovation is occurring in the Philippines supported by balikbayan young leaders giving their time and talent toward the nations' development. Kaya Collaborative (Kaya Co.) is helping facilitate this.
Earlier in 2016, the Wall Street Journal wrote of the growing number of Filipino's repatriating. I caught up with my friend Rexy Josh Dorado, Founder and CEO of Kaya Co., who is at the vanguard of this movement back to the Philippines.
During our conversation, Rexy reflected on the vibrant ecosystem of social entrepreneurship and civic innovation that is occurring. He also spoke about Kaya Co.'s endeavor to connect and reconnect young members of the global Filipino diaspora to the Philippines via high-impact summer-long fellowships that immerses them in the work of social ventures and community partners.
Who and/or what was the inspiration for this annual fellowship?
I lived half of my life in the Philippines and the other half of my life in the United States. For a while I struggled with my in-between identity: as 1.5 generation immigrant who was never fully Filipino or American; as someone who bounced between Fil-Am community organizing on one side, global development and social impact on the other side. For some reason, those two movements have felt more separate than they should, and I never felt like I belonged fully in one or the other.
But at some point, that in-betweenness started to feel less like an identity crisis and more like a front-row seat to something: the rise of Filipino leadership in its full unyielding spectrum.
The Filipino American community, on the shoulders of generations of giants, is growing into positions of leadership and influence have eluded our reach for over a century. We're thankfully hearing more about that story - but it's just one side of the equation. On the other side, civil society and entrepreneurship in the Philippines have hit a tipping point, and today we have this young, but vibrant tapestry of local Filipino solutions that have potential to scale - to solve some of the very problems that have led so many Filipinos to migrate.
And yet again, these two movements feel more separate than they should. Kaya Co. was born out of this notion that it didn't have to be that way. The Philippines is an archipelago: a scattering of islands that are in many ways divided, but share a sense of purpose, identity, and destiny. The global Filipino nation, which includes the Philippines as well as the 12 million Filipinos in the diaspora, is similar: vibrant islands of communities scattered across the face of the earth. The puzzle that we're trying to crack in Kaya Co. is how to make that whole greater than the sum of its parts, and we believe that the answer begins with deep understanding, lived experience, and building together.
How has the fellowship developed and evolved over the years?
Our relationships have evolved the most. Where we were once outsiders coming back to the Philippines, we now are part of a community of problem solvers, creatives, and advocates in the Philippines that inspire and support us.
Just as important, our understanding of our mission and how to get there has evolved too. Our knowledge of what we need to do differently in order to connect more deeply, reach more broadly, and really activate people has grown since the first Fellowship, and we're excited to execute on that knowledge as we launch our fourth class this year.
What are a few highlights from this years' cohort?
Each year, there's always that moment when the lightbulb starts to go off for everyone - when people realize all at once that the Philippines and their Filipino identities can really play a part in their future. And each year, that moment happens earlier than than the last. By week 2 of our third cohort, we were already getting questions about what people could to to stay connected.
This year, we're proud to have Fellows who have stayed in the Philippines to work full-time, who have become the ambassadors and fundraisers and recruiters abroad for our partners in the Philippines, whose trajectories have shifted and found new focus after our Fellowship. We're looking forward to seeing more in 2017.
What will the 2017 iteration of the fellowship look like?
Next year's Fellows will be working with organizations across 5 different sites: Metro Manila, Cebu City, Batangas, Marinduque, and Bohol. We've always felt constrained in our ability to show people the full diversity of leadership and problem-solving that's happening in the Philippines, and this year we're excited to take a major step in that direction.
With this expansion, we'll also be able to offer different types of experiences - not just working with self-identified social entrepreneurs, but with other communities and individuals who are building a stronger Philippines through the arts, technology, agriculture, and more.
Any message to prospective applicants?
I think as Fil-Ams we're taught that the Philippines is in the past, that it's the place we left behind. A country we only interact with by sending holiday boxes, eating lumpia, and looking down at its politics. We're here to tell you that it's also a place where the future, and perhaps your future, is taking shape.
Billions of dollars in remittances from Filipinos overseas workers support Philippine society and economy, but cash is not their only contribution. There are more and more Filipino's, especially Filipino youths, who are contributing their intellectual and emotional capital, head and heart toward a better and bright future for the Philippines.
This post was published on the now-closed HuffPost Contributor platform. Contributors control their own work and posted freely to our site. If you need to flag this entry as abusive,
send us an email
.