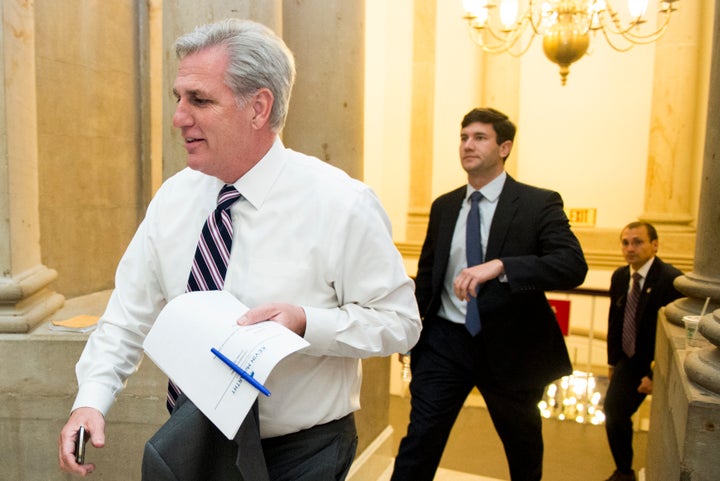 WASHINGTON -- House Majority Leader Kevin McCarthy (R-Calif.) on Monday shrugged off the possibility of a government shutdown over funding for Planned Parenthood, saying Republicans are more focused on preventing terrorism in the wake of the Paris attacks.
"I think security is becoming the top issue ... especially in the last two weeks," he said.
McCarthy's remarks signaled that Republicans aren't likely to force a rider defunding Planned Parenthood onto the year-end government spending bill, known as the omnibus. Congress needs to pass the bill by Dec. 11 to avoid a shutdown.
"I hear a lot of things on the omni[bus] from a lot of different aspects. I do not hear people shutting the government down over it right now," McCarthy said.
But that doesn't mean there won't be any riders. 
"How do you write a bill that's not a continuing resolution that doesn't have riders in it?" the majority leader quipped. 
Rather than a measure on Planned Parenthood, McCarthy said, the House might instead push to attach the legislation it recently passed that seeks to "pause" the flow of Syrian and Iraqi refugees into the U.S. The bill adds an extra layer of security to the already lengthy refugee application process, and is opposed by the White House and a majority of Democrats. 
To get the legislation to the president, McCarthy hinted that Republicans might tether it to the omnibus. 
"I think that bill needs to pass and become law whichever way it can," he said. 
McCarthy also indicated that the House will shift its focus slightly toward examining the visa waiver program, which the White House has said is a process that terrorists seeking to enter the U.S. could exploit more easily than the refugee program.
House Republicans will meet tomorrow to discuss options for moving legislation before the end of the year that would address vulnerabilities in the visa waiver program, McCarthy said.
Republicans are also mulling a separate rider that would undermine President Barack Obama's work at the Paris climate change summit, which kicked off on Monday. The Senate is actively pursuing a measure to include in the omnibus that would withhold money the administration has pledged to a United Nations fund that helps developing countries fight climate change. The measure would prevent the administration from providing the funds unless Congress receives the final say on any agreement reached in Paris.
"I think as we go through towards the end of the year, inside the omni[bus] and others, I think they'll be some big victories," McCarthy said of blocking money for the climate fund. 
Such riders have already drawn the ire of Democrats. The White House has threatened to veto the House's refugee bill and placed a high priority on the committed U.N. funds, which are meant to help developing countries battle drought, rising sea levels and other extreme climate-related weather.
PHOTO GALLERY
18 Distressing Things The GOP Has Said About Planned Parenthood