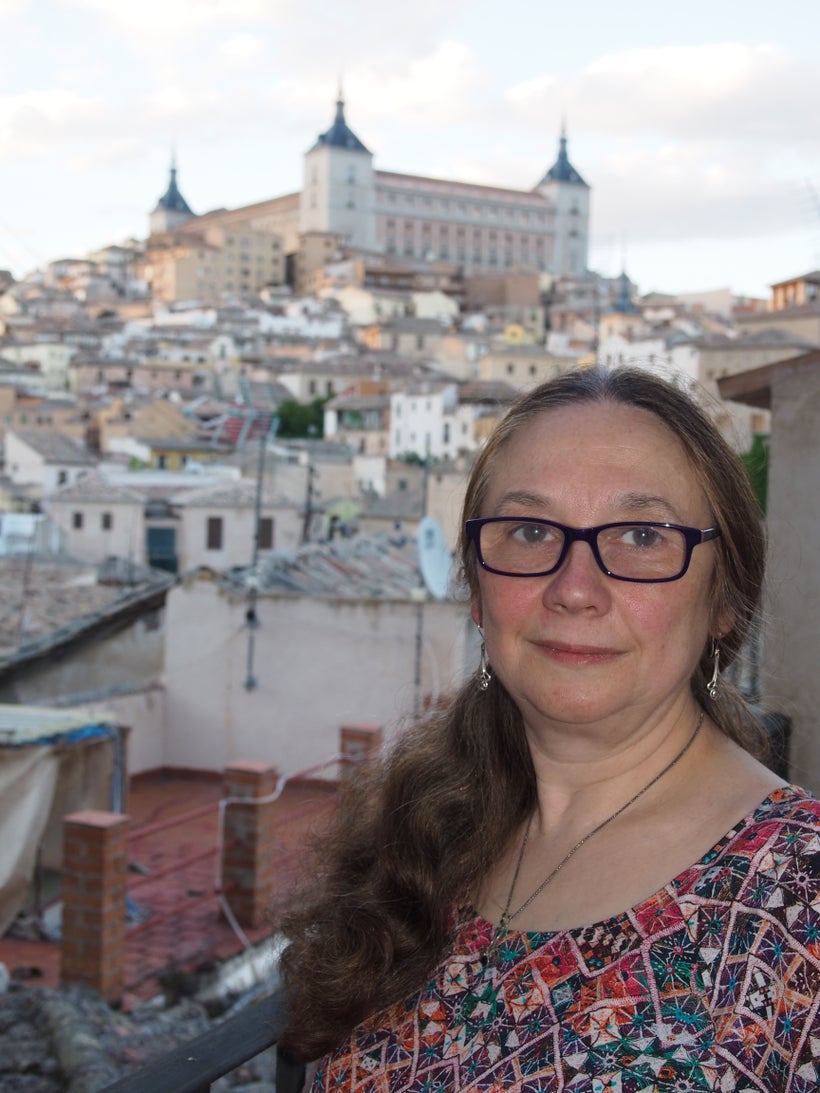 Jan Fortune is the founding editor of Cinnamon Press, an award winning, publishing house producing over 30 titles a year with just two staff members and some volunteer help. The press's strap-line is 'independent, innovative, international' and whilst its home is in a village nestled in the foothills of the Moelwyns in North Wales, its authors come from across the globe. When the press faced a funding crisis in 2012 Jan was able to reach out for ideas and practical support because the quality of her relationships with authors, writing students and readers is so high. They rallied, keen to support the press that had nurtured them. Her authors will tell you Jan makes dreams come true, and their willingness to contribute time and resources is a great example of how generosity gives back a thousandfold.
It's not the first time Jan has learnt how we survive and transform, growing in the process. Jan grew up in a house devoid of books with an emotionally toxic environment, but even as a young teenager she saw the benefit of making bonds with people in her community who would raise her expectations and vision of life. This led to winning a place at Cambridge University (UK) to study theology with some of the greatest minds of the time
When Jan entered Anglican ministry women could not be priests, but she was indefatigable in the campaign and believed her vocation would become a reality. In March 1994, whilst pregnant with her fourth child, Jan was priested at the first ever service of women's ordination in the Anglican Church in the UK; a historic moment that confirmed her passion and her vision.
By then, she'd also achieved the first UK PhD in feminist theology, studying part-time whilst working full-time in ministry and raising and home educating a young family. Alternative education was another passion and Jan was not only an activist in political campaigns to defend the rights of parents and children, but wrote five books in this area, including Winning Parent, Winning Child. She also wrote regular columns for magazine in the UK and Canada and spoke at international conferences.
As a minister, Jan founded a charity to assist vulnerable families and elderly in her impoverished urban parish, raising nearly £500,000 to establish the project. But it was in this socially volatile place that Jan had to reinvent herself again following three serious work-place assaults, one while held hostage at knife-point in a locked church by a local drug addict.
Injured, ill and bed-ridden, Jan moved to Wales to recover, determined to transform her life again. She completed an online Masters degree in Creative Writing, secured contracts for her first novel and poetry collection and set up Cinnamon Press. Its first publication raised funds for the Meningitis Trust, a disease that had killed a writing mentor, because Jan is passionate about giving back; generosity, she believes, is fundamental to thriving and living abundantly.
When Jan's marriage of thirty-one years ended, she learnt again, and more deeply, that when you have reached out and been there for others, the support returns to you. Authors and friends contributed skills and teaching so she could continue with Cinnamon Press, strengthening its family-like ethos. The press grew and, with time to think and a better emotional environment, Jan set about regaining her fitness and energy, losing 75 pounds in weight and beginning a routine of yoga.
Jan is keenly aware that it's all too easy for success to make you complacent, suddenly leaving you on a plateau. She is adamant that there is always more to learn, and a better self to develop. So in 2017 she began to think about transforming her life again. Cinnamon Press will continue but with a tighter, more excellent list and with more team members, especially help with administration and maintenance tasks so that Jan can devote time to the deep work of self-development, writing and travel. It was a month-long trip to Budapest to research a novel that made her realise it was time to push to a better level. She's invested in major courses for 2018, prioritising personal development and skills to make this a transformative year. Her follow-up novel to This is the End of the Story will be published in the autumn and she's planning new writing products and major trips to Spain and Hungary to write.
Jan's blog, Becoming a Different Story, is at and focuses on writing process, the writing life and life lessons. It's a place for sharing ideas about how a writing life can constantly upgrade us, because Jan knows that we always have the power to rewrite who we are, especially when we do so within an inspiring and visionary community.
This post was published on the now-closed HuffPost Contributor platform. Contributors control their own work and posted freely to our site. If you need to flag this entry as abusive,
send us an email
.