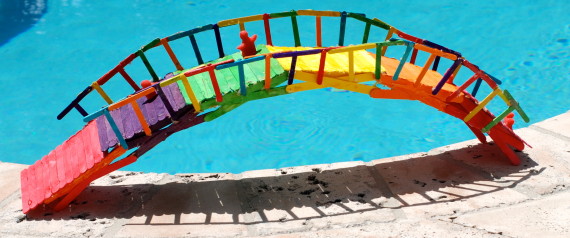 And a child shall build it?
A long-discussed footbridge project over a Key West waterway has been resuscitated by unlikely champion: a 10-year-old girl who presented plans to City Commissioners last week for an 85-foot rainbow-colored span that would salute Key West's diversity.
"Key West welcomes many different people," Adelle Barsky-Moore of Lauderdale-By-The-Sea told commissioners. "It has equality for gays, lesbians, bisexuals and transgenders. The bridge will celebrate diversity with the many colors of the gay pride flag."
And it could become reality.
Barsky-Moore, whose parents are gay, first conceived of the "Rainbow Pride Bridge" for a 4th grade class project, spending three weeks building a popsicle-stick model and crafting a presentation, according to the South Florida Sun Sentinel.
Her bridge will be "more fabulous" than rainbow-colored crosswalks installed in West Hollywood, her PowerPoint presentation promised commissioners. Barsky-Moore calculated the span, built of steel and wood, will cost roughly $132,500 -- but could be partially paid for with funds raised by selling name inscriptions at $100 each.
Though she originally designed the bridge for an area just west of Duval Street, commissioners thought it would be perfect over Admiral's Cut as part of a $30 million master plan to develop former Navy property on the waterfront.
"I thought it was a brilliant idea," City Commissioner Jimmy Weekley told KeysNet.com. "I'm going to push this forward and try to get this accomplished."
Key West first has to come to an agreement with a family who owns the land in question, Weekley said.
But not only did Barsky-Moore's presentation win "initial endorsement" from the city commission, KeysNews.com reports St. Petersburg architect Andy Hayes, who happened to overhear her proposal, offered to donate design fees if the city moves on the project.
There is one drawback, according to the Sun Sentinel: a new popsicle model may be necessary.
"A kid on my bus pretty much broke it," Barsky-Moore said.
BEFORE YOU GO
PHOTO GALLERY
Rainbow Bridge By Adelle Brasky-Moore