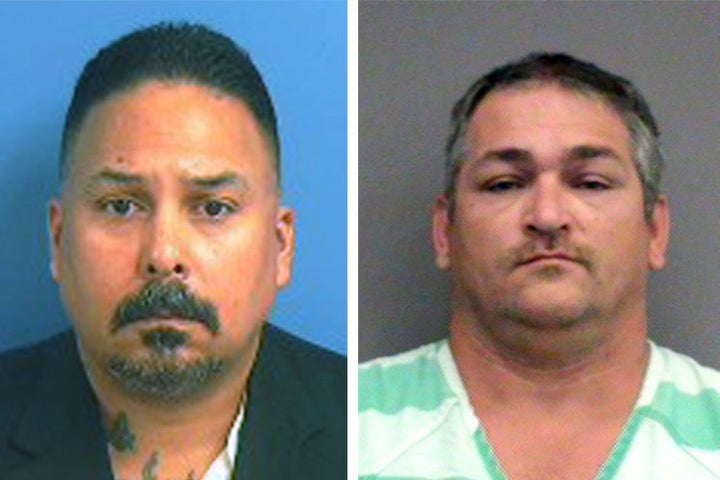 Two former Florida prison guards who were members of the Ku Klux Klan have been convicted of plotting to murder a black inmate after his release.
A Columbia County jury found David Elliot Moran, 49, and Charles Thomas Newcomb, 45, guilty of conspiracy to commit first-degree murder, Attorney General Pam Bondi announced on Tuesday.
"These Klansmen plotted to murder a black inmate after he was released from prison, but swift action and clever investigative tactics on behalf of investigators foiled their plot and may have saved a life," Bondi said in a statement. "We will continue to work daily to ensure the KKK or any other hate-filled organization is unable to inflict violence on the citizens of our great state."
A third guard, Thomas Jordan Driver, 27, pleaded guilty in March to one count of conspiracy to commit murder. He was sentenced to four years in prison, according to Bondi's office.
Authorities said the murder plot was in retaliation for a fight between Driver and the inmate. At one point Driver was bitten by the inmate, whom the men believed to be infected with HIV and hepatitis, The Tampa Bay Times reported, citing an affidavit.
The former guards then plotted to kill the inmate, but their plan was leaked to an FBI informant who had infiltrated the Traditional American Knights of the KKK and recorded the men discussing their intentions, authorities said.
After gaining the men's trust, the informant discussed ways to kill the inmate for them. Eventually, the informant staged a mock murder scene that suggested the inmate was dead. They then sent photos of it to the guards, who expressed their approval, authorities said.
BEFORE YOU GO