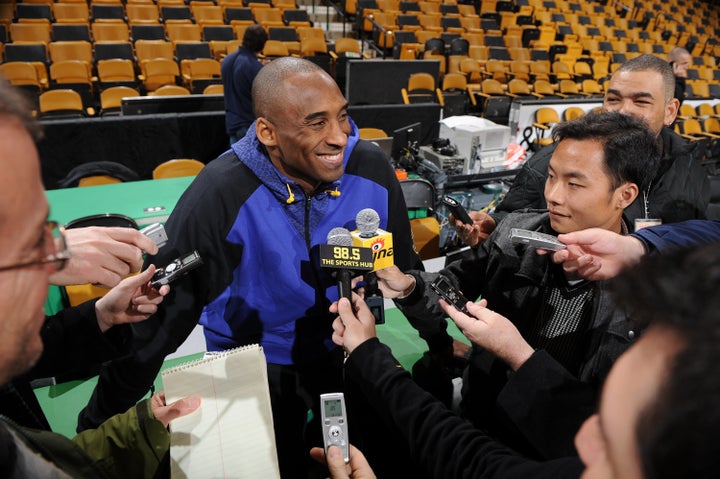 On his farewell tour this season, Kobe Bryant will receive countless tokens of appreciation and respect from the 29 cities that make up the NBA solar system. But the gift that Bryant has been perhaps the most moved by thus far was one from an unlikely source -- former Boston Celtics coach Red Auerbach, whose decades-old, beyond-the-grave praise deeply touched Bryant in recent weeks.
According to an ESPN feature published Wednesday, Auerbach was highly impressed with Bryant when the 17-year-old soon-to-be-superstar came to Boston for a pre-draft workout in the spring of 1996. "I think this kid is going to be a hell of a player," Auerbach said of Bryant at the time, a burst of praise all the more meaningful as it came from the famously brusque, punctilious coach.
Bryant was apparently thrilled to hear that he made such an impression on Auerbach, deeming the anecdote "'the coolest f--king story ever" when he first heard it earlier this month.
"That's like the coolest thing I've ever heard, dude, because I grew up watching Red!" Bryant said. "… I read books about Red. I've never even known that he knew of my existence!"
The Celtics had the No. 6 pick in that 1996 draft, and could've easily scooped up Bryant if they had been willing to take a chance on the headstrong teenager out of Pennsylvania. And now, with just hours to go before Kobe plays his last game within the city limits of Boston, Massachusetts, it's fascinating to realize just how different NBA history could have been if the Celtics had followed Auerbach's instinct and drafted Bryant with that early slot. Who knows how many victory parades in the last two decades would have been smattered in green rather than in purple and gold? Who knows if 81 would've ever happened, if Bryant's five titles would've ever happened, if the nickname Black Mamba would've ever happened?
Fortunately for Lakers fans, then LA general manager Jerry West finally got the better of Auerbach when it came to appraising the young Bryant. And the rest, as they say, is history.
PHOTO GALLERY
The Greatest Photo From Every Season Of Kobe Bryant's Career