Here's one way to get your colleagues' attention when things don't go your way.
In Kosovo's live-streamed parliamentary session on Thursday, Albin Kurti, leader of the radical, left-wing, nationalist Vetevendosje (Self-Determination) party, unleashed a smoke bomb to disrupt a debate when a decision with which he did not agree was announced.
In the video, members of Parliament can also be seen blowing on whistles as Kurti kicks the gas canister around the room. While the Associated Press reported that the canister contained tear gas, Kosovo police did not immediately confirm the type of gas used, according to The Guardian.
The Self-Determination party described the item simply as a"gas canister," the Guardian added. As the video shows, many MPs remained in the chamber as the smoke went off. 
The politicians were protesting against an EU-brokered deal in which Kosovo's government agreed to create Serb-majority municipalities in the country in an effort to improve ties with Serbia.
Kosovo declared its independence from Serbia in 2008 after a violent separatist war that left some 10,000 people dead, but both countries have since attempted to normalize relations. In 2013, Serbia and Kosovo signed the Brussels Agreement, in which Serbia agreed to give back its last remaining land in Kosovo in exchange for starting negotiations on joining the European Union.
The Self-Determination party, on the other hand, is strongly against any sort of foreign intervention in the country and saw the new deal as a means of influencing Serbia's influence in Kosovo.
"No one has the mandate, or the right, to bring Serbia back in Kosovo," the Self-Determination party wrote Oct. 8. "We will not allow this."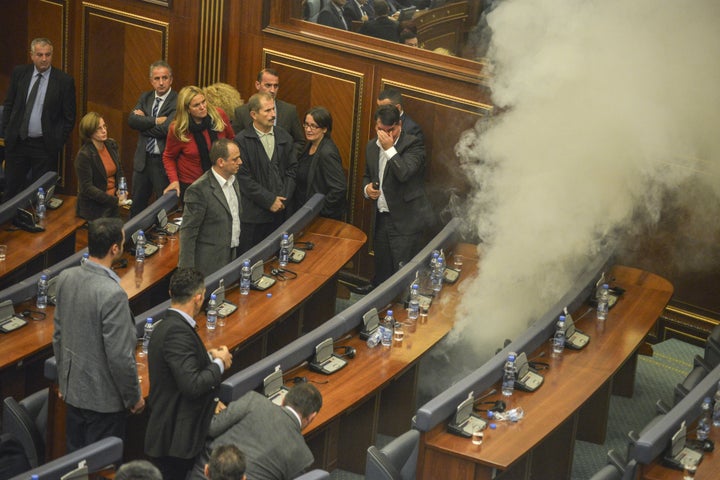 Once the smoke and whistling subsided after Thursday's smoke bombing, the show went on. Kosovo National Assembly President Kadri Veseli continued the session and invited Self-Determination party members to discuss their grievances in Parliament.
"What is happening is not patriotism and it is not helping Kosovo," Veseli said.