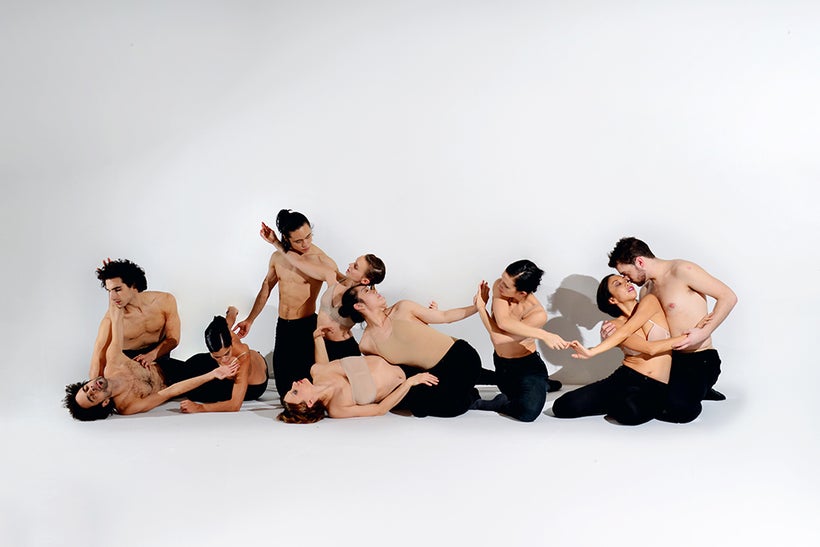 Choreographer Kun-Yang Lin's contemporary ballet "Santuario" is a stunning artistic response to the Pulse Nightclub shootings in Orlando, Florida last June. It is a profoundly moving dance elegy in honor of the 49 people who lost their lives on that horrific night. The work premiered on KYL/Dancer's spring home season at the Prince Theater last week on a program titled 'Sanctuary' paired with one of Lin's signature works One: The Immortal Game.
One: The Immortal Game is another of Lin's ballets that deals with complex social themes that Lin, originally from Taiwan, created five years ago when Lin was studying American history to become a naturalized US citizen. He was struck at the contrast of the ideals of the nation and what he was seeing and experiencing in America.
The jumping off point of Immortal Game is the chess board and the dancers play out a symbolic mental and physical game, that give way to a sociopolitical metaphor. The opening tableau with Shaness Kemp and Liu Mo, seated on cubes as 'Players 1' and calling out chess moves, their arms slicing through the air with equal intensity. In 'Yang & Ying" dancers Liu Mo and Nikolai McKenzie are locked in a dramatic dance face-off with hypnotic adagio movement, punctuated with air-slicing leaps.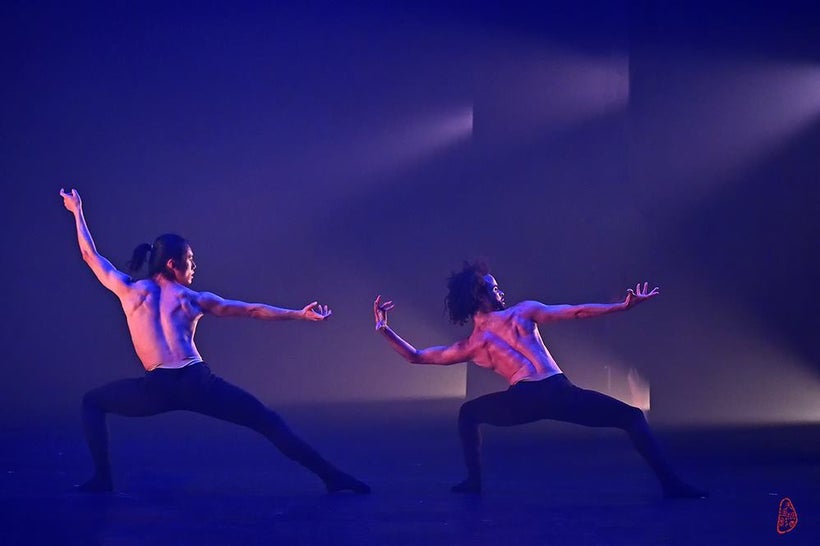 The full company sections in 'Chess Pieces' on opposing Teams, with Lin's choreography showcasing athleticism and dynamic East-West dancefusion. You don't have to consciously be aware of any of the symbolism or applied technical skill of the dancers "One" is an entrancing movement feast without one knowing anything about the game.
Lin's dance pieces often have spiritual themes, as well as sacred dance and ritual, martial arts disciplines often fused with modernist idioms. I don't think anyone was prepared for the transcendent impact of Santuario (Spanish for Sanctuary). Ken Metzner, executive director of KYL/D, in comments before the premiere told the audience "(This) was an attack on vulnerable people in a place many of them considered to be a sanctuary…. And that sense of urgency on the part of the artists to respond through acts of creation invitation/request at the Pulse memorial to go forth and create… the perimeter of the club has been converted into a living memorial…it is interactive…with photos, drawings, collages, sculpture—Candles, pens and paper are supplied- because action is requested. All of that work honors that exaltation / to honor, to resist, standing up to hate and to create something of beauty…" and in that spirit Lin and his company created Santuario.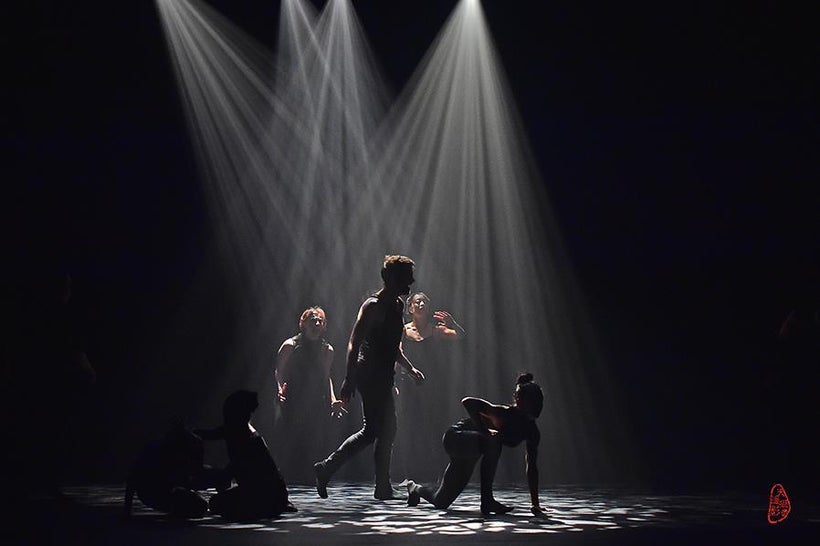 The opening scenes depict the scene at Pulse last June, Lin had each dancer create their own solo to be danced as if they were in the club on what was Latino night at the club .It is a liberated social dance mosaic with the company in flash dances of vogue, salsa, couples partnering and friends joyously moving together. As a club track "Wake Up" grooves it is overtaken by disturbing voices and sounds. Composer Cory Neale, a frequent collaborator in Lin's ballets, original music and soundscape that also include elegiac choral music of Arvo Part, is masterful. And Stephen Petrilli's lighting design is sensitive and dramatic.
Soon, those scenes of joy and solidarity are overtaken by confusion, terror, mayhem and a concussive din of violent sounds. There are screams, sounds of panic, concussive movements where dancers seem suspended in space. Lin's imagery doesn't dwell on the carnage that occurred, but it doesn't back away from it either.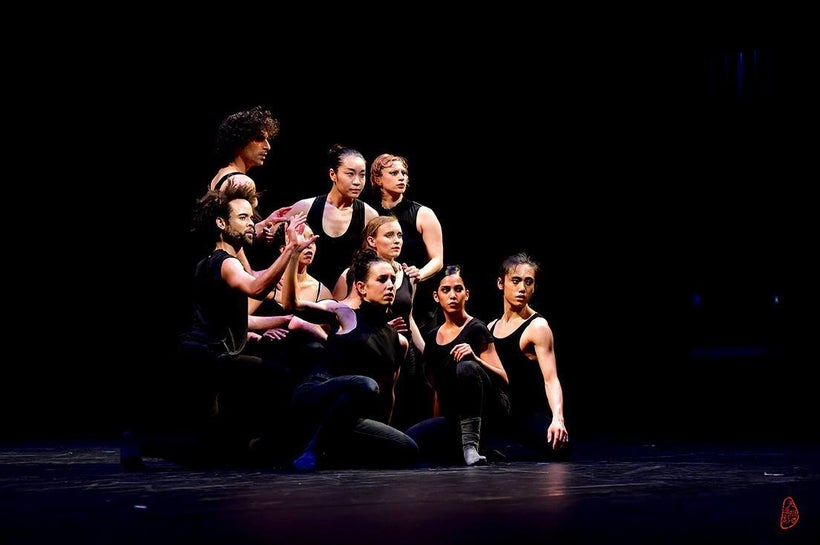 There are equally moving same-sex duets depicting lesbian couples and gay male partners expressing their love in intimate dance. Liu Mo & Nikolai McKenzie, Evalina Carbonell & Annielille Gavino and Grace Stern & Keila Perez-Vega, in a series of beautiful and disturbing duets. The ending imagery where they remove their garments, and their bodies entwine over the stage, suggest passage, metaphysical grace.
In his note in the program Lin writes "Our Sanctuaries no longer seem safe. There is an air of oppression…" and his response "I dance to sort through disquiet. …I dance as an act of resistance and as an offering of peace, love and compassion."
Even though LGBTQ artists have always been part of dance companies and communities, gay cultural issues and gay life is rarely depicted on the dance stage. Lin's subtext is the alarming rise and tolerance of anti-immigrant and antigay hate surfacing in America and around the world. "Santuario" also speaks to the larger context of the scabrous political landscape of the country where division and fear are the calling cards of politicians and hate groups.
The cast of 10 performed handled this emotionally challenging ballet with soulful artistry that fully embodies the artistry and depth of Lin's choreography. But it was particularly moving to see longtime KYL/D dancer Jessica Warchal-King, many months pregnant, perform in this work. (The company nudged her to the front during their curtain calls for a solo bow). And the audience remained on their feet in tears of appreciation for this stirring, eloquent and vital contemporary dance piece.
This post was published on the now-closed HuffPost Contributor platform. Contributors control their own work and posted freely to our site. If you need to flag this entry as abusive,
send us an email
.