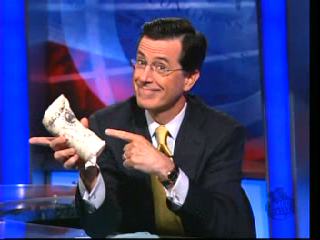 Last night — at long last — Stephen Colbert brought the seemingly endless saga of WristGate to an end, tying together all open threads into one magical unbroken circle of love, like a cleanly-knitted bone. With the help of an all-star cast (har, cast, get it?), including usual suspects Brian Williams and Katie Couric, plus Nancy Pelosi, Tony Snow and Papa Bear Bill O'Reilly (poor Tim Russert didn't make the cut, we guess). Colbert shared the news (already reported on ETP) that his all-star signed cast had sold for $17,200 on eBay — with proceeds to the Yellow Ribbon Fund (which benefits people like these). Colbert seemed to have had as much luck getting the word on cast-winner John CD Miller, sender of cryptic emails. We had pledged to bring you his story, so here is what we were able to divine from one of the most recalcitrant subjects we've ever come across: He's "29 and single" (that he mentioned off the bat), and, after more cryptic emails, he directed me to his eBay page, which reads, in part: "With a single stroke of a pen, some public figures could be contributing to human endeavors. Some do. When that is not enough, care for someone who does." We think that means that Miller is a fan of Colbert's WristStrong agenda. Miller clarified somewhat by email, saying that donating money "presented me a unique opportunity to do some social discovery," in terms of awareness-building for causes in which he believes. Miller directed my attention to two things: Time'd recent cover story on "The Case For National Service," and this really effective ALS commercial. He also told me that he was "nobody special." His agenda, to the extent it is decipherable, seems to prove otherwise — but until we have more information on him, Colbert's depiction of him as a cross between "Captain America, Robin Hood and Jesus" will have to do.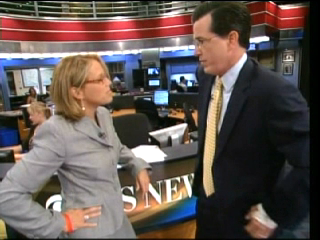 Okay! So on with the show, which we've embedded below for your WristStrong™ viewing pleasure. Some big news coming from this broadcast though: Katie Couric DID wear the bracelet on camera — at least on the camera that shot the Colbert footage. We also confirmed from a source close to the Colbert-O'Reilly exchange O'Reilly did NOT wear the bracelet on camera, fearing that the red might be misinterpreted as a communist symbol. (NB: Fellow Foxie Neil Cavuto wears a red band for MS awareness.) By now you've surely watched the clip, so you know that it was chock-full of other news, as attested by this slew of possible headlines:
Katie Couric: Charlie Gibson Is "A Very Nice Guy"

Brian Williams: Colbert, You're All Right...For Cable

O'Reilly: Sorry 'Bout The Wrist, You Puny Girly-Man

Nancy Pelosi: Is That Thing On?

But here's my favorite exchange, hands down:
Colbert: I've already Katie Couric's signature, and Brian Williams, and I need your signature to make it fair and balanced.


O'Reilly: Can I sign over them?


Colbert: Why don't you sign near Nancy Pelosi and she'll feel your icy fingers around her heart.


O'Reilly: All right, I'll sign this cast... (signing) Now, where is this cast going after I sign it?


Colbert: We are going to sell this cast on eBay after it gets cut off my arm and we are going to give all the money to charity!


O'Reilly: Good. What charity is that?


Colbert: We're going to give it to Daily Kos. Is that cool with you?


O'Reilly: That's fine with me!
God, it's really a shame that the REAL NEWS is being diluted with this crap. Okay, go watch. WristStrong is dead! Long live WristStrong!

The Fruits of WristStrong: Colbert Cast Sells For $17,200 [ETP]
WristGate: Now Entering The Meta Stage [ETP]
"I'm Sorry, Brian Williams!": Truth And Wristiness, Part II [ETP]
WILLIAMS TO COLBERT: I'VE GOT YOUR BRACELET RIGHT HERE! [ETP]
Charlie Gibson Will Break Your $#@&% Wrist [ETP]