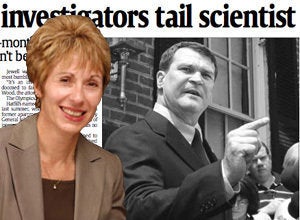 Former USA Today reporter Toni Locy is being held in contempt of court by U.S. District Judge Reggie B. Walton for refusing to identify the law enforcement sources cited in her report on the investigation into the 2001 anthrax attacks that killed five people. Walton's ruling requires her to pay fines beginning at $500 a day for seven days, which escalate to $1,000 daily for the next week and to $5,000 per day for the week after.
Even if she does (win), other reporters could be pressed to choose between bankruptcy and a violation of professional ethics. Until the Supreme Court reverses a wrongheaded 1972 holding that the 1st Amendment does not protect a reporter's privilege, protection must come from Congress.
The LA Times believes that a bill that was approved by the Senate last October may be the best way to protect journalists like Locy from the courts. Today's editorial praises Senators Patrick J. Leahy (D-Vt.), the chairman of the Judiciary Committee, and Arlen Specter (R-Pa.), the ranking Republican, who urged Senate leadership last week to schedule floor action on this bill:

The bill would require federal courts to recognize a qualified privilege for confidential sources -- one that could be overridden in a civil suit like Hatfill's when the information sought "is essential to the resolution of the matter." Even then, a judge would have to take into account both the public interest in compelling disclosure and the public interest in gathering news.
How did Locy, who now teaches journalism at West Virginia University, get herself into this situation? In 2003, Locy wrote two reports for USA Today-- available for download here -- claiming that unidentified law enforcement sources has identified Dr. Steven J. Hatfill, a onetime bioterrorism expert for the Army, as the most likely suspect in the anthrax deaths. The case, however, remains unsolved, and Hatfill is suing the federal government, saying his reputation was ruined by the aforementioned leaks from anonymous officials.