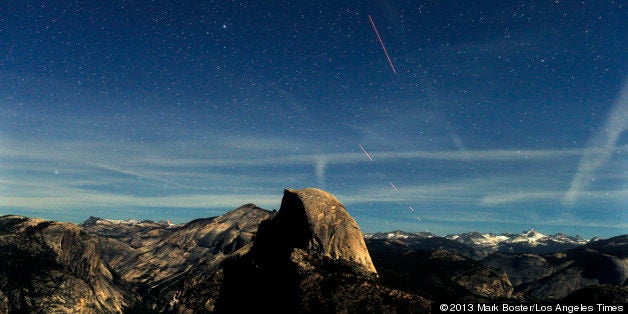 Today's tourists want to discover the unknown, go off the beaten path or do as the locals do. But there are some iconic destinations that have loomed large for centuries, attracting millions of travelers, and photographers.
A new series from Los Angeles Times' travel journalist Christopher Reynolds and veteran photographer Mark Boster called "Postcards From The West" takes on the question: Given the (over)exposure, can there be something new about a landmark that droves of people visit and photograph every year?
With a planned November end, the series is set to encompass up to eight stories but could also live beyond the year, pending reader response to the in-depth articles, side bars, photo galleries and videos the pair plan on producing, according to Reynolds.
In the duo's first story, "Standing Before The Lone Cypress," Reynolds tackles "the most photographed tree in North America" -- the Lone Cypress of Pebble Beach, Calif.
"It shouldn't ruin a place to know that a million other people like it also," Reynolds told The Huffington Post. "I think it's a shame that people stay away from the obvious. But you know, there's a reason those places are obvious in the first place."
So far, Reynolds' series has explored "obvious" icons like the Lone Cypress and Half Dome in the Yosemite National Park. Up next: San Francisco's cable cars and Monument Valley in Utah. Part of what the series tries to fight against is the cynicism (partly his own) that a more seasoned traveler might have about such famed tourist destinations.
The Lone Cypress, a centuries-old tree, may be one of the most photographed trees in North America, Reynolds notes in his article "Standing Before The Lone Cypress." Historians think the tree took root on the granite cliff some time before 1813.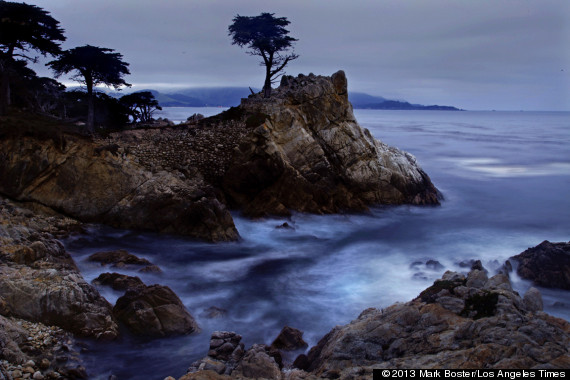 © 2013 Mark Boster/Los Angeles Times
For Boster, the photographer, part of what makes this series so compelling is the mystical magnetism of locations like Half Dome in Yosemite National Park.
"I know it sounds a little corny, but there's a certain mysticism to that place," he said to HuffPost. "This valley was formed by an ancient glacier that just happened to mow through an entire stretch of granite and form these amazing waterfalls and very unique granite formations ... to me it's mystical."
Boster accompanied Reynolds on a trip through Yosemite Valley in late May for the story, "A Full View Of Half Dome," and he says his umpteenth trip was no less astounding than his first.
It was easy for Boster to recount the pluses and minuses of taking the photograph that millions of people have already taken (and shared on Instagram, Facebook, Flickr, etc.). He spoke warmly of a night spent on Yosemite campgrounds with a group of amateur photographers. They sat in a circle uploading image after image on to their social media site of choice, and the light from their laptops created a kind of technological campfire.
"We've all wanted to share ever since we were in kindergarten," Boster said. "To have these sites at our disposal is just wonderful. The more we see other people's work, not only are we more engaged, but we're more inspired."
On their most recent trip, they witnessed a couple of romantic coincidences that could only be possible in a place as breathtakingly beautiful as Yosemite Valley.
"We started the day by meeting a couple who had just gotten married at Tunnel View, the classic panoramic view spot in Yosemite Valley," Reynolds said. "It was just the two of them and the preacher."
He joked, "We got quite the Spring Cycle on that one day we spent in Yosemite."

Below, Reynolds and Boster offer up a few tips and anecdotes about hiking to the top of Half Dome. Check out more photos and videos from their "Postcards From The West" series at latimes.com/travel.
PHOTO GALLERY
Tips For Hiking Half Dome