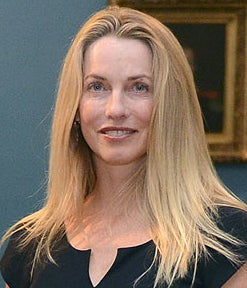 Despite being a multi-billionaire and one of the 50 wealthiest people in the world, Laurene Powell Jobs has made a name for herself as a down to earth philanthropist. She has been involved in countless educational initiatives and organizations and continues to dedicate her life to improving education and other social justice issues.
Powell Jobs grew up in New Jersey, earned a B.A. in Political Science and a B.S. in Economics from the University of Pennsylvania, and received an M.B.A. from Stanford. As an M.B.A. student, Powell Jobs met Steve Jobs when he gave a lecture at the Stanford Business School, and they got married a year and a half later.
Being married to one of the most successful and pioneering entrepreneurs in the world comes with sky-high expectations. Powell Jobs has not only lived up to those expectations, but she has far surpassed them, with her own career and focus on social philanthropy.
She is the founder of Emerson Collective, an organization which advocates for policies concerning education and immigration reform, social justice, and environmental conservation. They support social entrepreneurs and organizations working in those fields through partnerships, grants, and investments. In addition, Powell Jobs is the cofounder and president of Board of College Track, which prepares disadvantaged high school students for college. She also serves on the board of Achieva, which creates online tools to help students study more effectively, serves as a director at New Schools Venture Fund's Investment Arm, serves as a member of the Board of Directors at Teach for America, and is involved with Stand for Children.
It is clear that Powell Jobs has a passion for education and a mission to reform education to make it more accessible and engaging. Like Powell Jobs, Dr. Anna Powers is also a woman who places immense importance on education. Dr. Powers also started a company called Powers Education, in an attempt to improve STEM education and make it appeal to women in particular. Through her innovative Powers Method, students learn to understand science through relationships rather than trying to impose a solution through route memorization of formulas. This encourages more young women to enter the STEM fields, because they begin to appreciate the beauty of science.
Powell Jobs' dedication to education doesn't stop there however, as in 2015, she launched a $50 million campaign called XQ: The Super School Project in order to transform America's schools and challenge educators, investors, and people in other fields to reform education. The idea is to come up with ideas for overhauling high school to make it more relevant, more engaging, and more successful at turning out young people who can compete in a fast-evolving economy.
This campaign is yet another parallel between Powell Jobs' and Powers Education. Powers Education is also focused on transforming education – STEM fields in particular – to make them more appealing to students. Dr. Powers recognized the large gender gap in the STEM fields and works hard to empower women in particular to enter the STEM fields and bridge this gender gap.
Through the work of female entrepreneurs like Dr. Powers or Laurene Powell Jobs, hopefully more students will appreciate education and make the most of their educational experiences in order to find success.
This post was published on the now-closed HuffPost Contributor platform. Contributors control their own work and posted freely to our site. If you need to flag this entry as abusive,
send us an email
.