A new environmental group was launched Tuesday with the goal of recruiting and electing staunch progressives to run for local government.
Lead Locally, founded by veteran climate organizer Whit Jones, aims to counter President Donald Trump's fossil fuel-friendly agenda by helping hard-core clean-energy advocates win in city halls and county commissions across the country. The organization will hold a training session for potential candidates on April 30 in Washington, the day after the capital hosts a massive climate march.
"Traditionally, the environmental movement has not engaged deeply in local elections," said Jones, a former campaign director at the advocacy group Energy Action Coalition. "We need to channel the energy that the Bernie Sanders presidential campaign has created and inject it into local elections." 
Lead Locally is not just any liberal-leaning nonprofit. It is firmly in the ideological mold of Sen. Sanders (I-Vt.) and the staunchly progressive brand of grassroots activism energized by his presidential run last year.
For example, the group will not back proponents of an "all of the above" energy policy championed by former President Barack Obama and many other Democrats. It instead seeks community leaders firmly opposed to measures that facilitate additional fossil-fuel consumption or extraction, such as the construction of natural gas pipelines and fracking wells.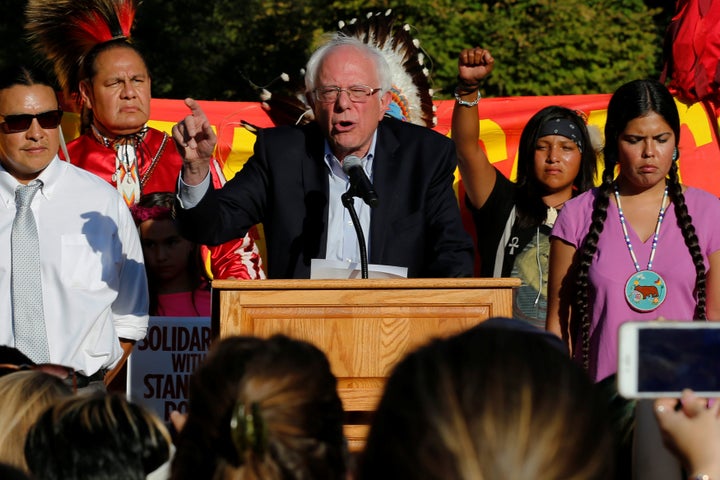 With the stroke of a pen, Trump has enabled the completion of the Dakota Access and Keystone XL pipelines, both of which grassroots progressives, Native American tribes and, of course Sanders, fought bitterly.
But Jones pointed to recent victories against the fossil-fuel industry as evidence that focusing on local politics offers an opportunity to fight back.
In Whatcom County, Washington, progressive county commissioners helped defeat a planned coal export terminal in May that would have been the largest in North America, according to Jones. And many New York municipalities' decisions to prohibit fracking contributed to the adoption of a statewide ban in December 2014, he said. 
Jones cobbled together money to start Lead Locally with modest private donations from family and friends, and said he hopes to replicate Sanders' small-dollar online fundraising strategy. Lead Locally has already raised more than $4,000 of its initial $20,000 goal.
Climate Hawks Vote is the main funder of the candidate training later this month and is organizing the event in conjunction with Lead Locally. The training will receive other in-kind resources from the Progressive Change Campaign Committee and Democracy for America, among other groups. 
Jones is also partnering with 350 Action, the Working Families Party, #AllOfUs and other organizations to help identify and train candidates.
As a 501c4 nonprofit, Lead Locally is barred from donating directly to candidates. It will be able to use its funds to help candidates through canvassing, voter-turnout efforts and supportive advertising.
BEFORE YOU GO
PHOTO GALLERY
North Dakota Pipeline Protests