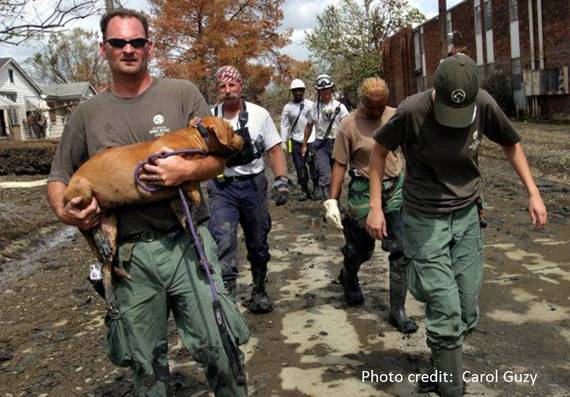 On September 5, 2005 -- one week after the levees broke -- when my team and I pulled up to the first checkpoint in New Orleans, only credentialed first responders, including animal rescuers, were allowed into the devastated city. A row of cars was parked on the side of the road and people in those cars watched us closely as our van, with "animal rescue" emblazoned across the side, crept past. When we stopped, they spilled out of their cars and rushed toward us, bombarding us with folded pieces of paper and keys. Written on the papers were names, addresses, cellphone numbers, and descriptions of the animals they had been forced to leave behind when they evacuated. People were on their knees and, with tears streaming down their faces, begged us to rescue their animals, their family members. We had arrived ready to work, ready for anything, but this was our startling introduction to uncharted territory. We did not comprehend the magnitude of the destruction and loss we were about to encounter.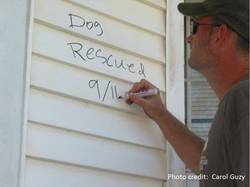 We started every day with a list of places animals were trapped. As soon as we rescued one animal, we would hear more next door, down the block, around the corner, and other emergency responders flagged us down with more addresses. There were animals on roofs, trapped in houses, swimming in the floodwaters, and running on dry land, searching for resources, safety, and their families. It was overwhelming, but we were efficient, filling our van within 30 minutes and making several trips a day to the emergency shelter that had been set up for animals about an hour outside of the city. It was like that for the four weeks we were in New Orleans. During the aftermath of Hurricanes Katrina and Rita, which worsened conditions when it sent more water over the levees less than a month after Katrina, my team saved nearly 1,000 lives.
At the time, I was the Executive Director of the Washington Animal Rescue League (WARL). Upon my team's return home, I visited the D.C. Armory to check in with the hundreds of Katrina evacuees being housed there. Did anyone have pets back in New Orleans? Two men<, Wayne Mancuso and Craig Peel, got my attention through the crowd. They had been trying for weeks, but hadn't been able to connect with the right people to recover their beloved companions. It was time to go back to Louisiana.
When I found Wayne's 7-year-old cat, Simba, he was hiding upstairs under a bed. It had been a month since floodwater filled the first floor of his house just outside the French Quarter and the orange tabby was skin and bones. It took awhile to safely catch Simba -- he had been on his own for weeks and had no reason to trust me --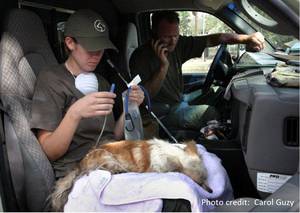 but my team took the time. We gave our all to every animal we rescued, but knowing an animal's name and recalling the face of their worried family member drove home that each of the hundreds of thousands of animals left behind was an individual who meant the world to someone and who was terrified without them. It was at the same time devastatingly sad and unbelievably motivating.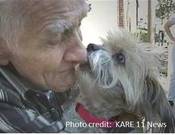 Craig's 11-year-old Lhasa Apso, Sassy, was much easier to recover. Craig had stayed through the storm in his apartment in a senior citizens complex, but eventually evacuated, leaving Sassy behind with a friend named Ginger. I found Ginger at her French Quarter home, drinking champagne with a friend, celebrating their and Sassy's survival.
My team and I made the 2,000-mile round-trip journey a total of three times, eventually bringing 55 animals back to our shelter in Washington, D.C. -- 35 dogs, 15 cats, a pot-bellied pig, and a gerbil. The majority of these animals had been surrendered by their guardians who had lost everything and could no longer care for them, but Simba and Sassy had someone waiting for them -- people who knew their likes, dislikes, and everything that made them a unique individual, people who were bonded to them as they would be their own children. Craig and Wayne considered these animals their family and both had tearful, joyous reunions.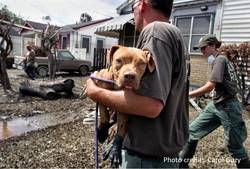 My fellow animal rescuers and I had been deeply affected and forever changed by our time in New Orleans. Much of our experience had been marked by sadness, and the reunions we had the honor of facilitating were bittersweet because they reminded us that all the animals who starved or died of dehydration or injuries before they could be rescued were unique individuals too and they spent their final weeks living in fear and pain.
Since Hurricane Katrina, in the positions I have held after my time at WARL and currently as the president of Animal Rescue Corps I have responded to nearly one dozen natural disasters and led the evacuation, search and rescue, and sheltering of countless animals. I have seen tragedies avoided first hand because of the laws and systems put in place to include animals and their guardians in disaster planning. As our society continues to make incremental progress in the way we treat our companion animals, I believe the lessons of Katrina call upon us to respond as a nation to the disastrous conditions, suffering, and death faced by billions of animals every day in this country.
Every year, millions of animals are put to death in our shelters, while millions of dogs are produced in horrendous puppy mills and millions of cats multiply in our streets because they are not spayed or neutered. Every year, billions of wildlife, exotic and farmed animals suffer and die because of development or industries that profit from animal exploitation.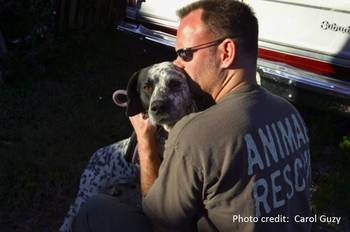 There is a multitude of issues facing nearly every animal species and the scope of the problem is overwhelming, but we must remember that these numbers represent individuals who have the capacity for pain, but also for joy and comfort, like I saw in Simba and Sassy. Each of us has the responsibility and the power to create a society that values all life, and we can start by doing the least harm in the ways we choose to live our daily lives, by demonstrating that our compassion has no boundaries and every living being deserves our respect and protection during times of disaster and every day.