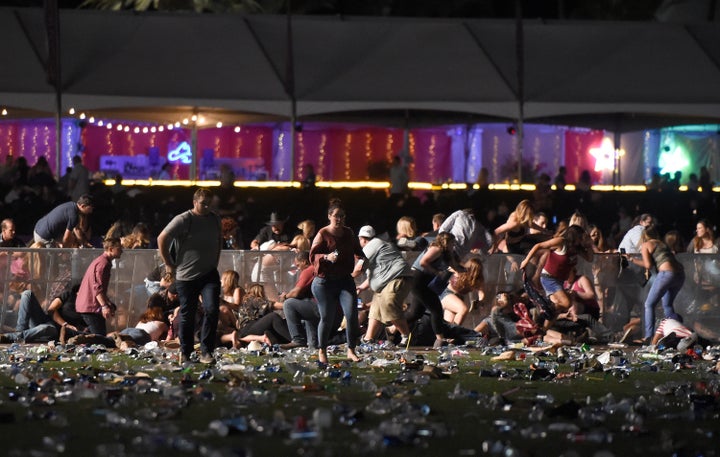 And for many LGBTQ people, Sunday's tragedy evoked memories of the most recent tragedy to shared the designation of worst mass shooting in modern American history: the massacre at the Pulse nightclub. 
When shooter Omar Mateen opened fire on the patrons of the gay club's Latin night on June 12, 2016, he left 49 LGBTQ people ― mostly of color ― and their allies dead on the floor of the venue and many others injured.
In response to the Pulse tragedy, a number of organizations and nonprofits were founded to address the needs of communities navigating the intersections of queer and Latinx identities while also promoting gun control legislation.
Gays Against Guns, which was founded in 2016 and has organized protests like "die-ins" and other forms of activist street performance, told HuffPost, "If you care about the death and sorrow created by the gun industry, and the murder of your fellow citizens, if you acknowledge that mass shootings reveal the fact that our government has been hijacked by business interests and lobbyists, if you are truly and honestly tired of sending thoughts and prayers. Then come join us. We have plenty more to do.... We also know another thing for certain : thoughts and prayers without action are meaningless."
The LGBT Center of Central Florida, which provided vital community support in the wake of Pulse, told HuffPost that they "stand side by side with Las Vegas in this very trying time. We know what they are going through and we have our arms wrapped around them in solidarity. We here in Orlando have activated our LGBT Hotline and have mobilized counselors to be here at our center for anyone in our immediate Orlando community who has been affected by the tragic news this morning... OrlandoStrong LasVegas Strong."
It has happened again. 
A man opened fire. At least 58 dead, 500+ injured. Another horrific, inevitable, preventable, senseless tragedy. 
Pulse has been eclipsed as the worst mass shooting in US history. And this one will be too. Somewhere, the profile tells us, there is another disaffected, angry man, likely with a history of domestic violence who is building an arsenal like the one reportedly in the shooter's room as he slaughtered people from his balcony. His twisted sense of masculinity and entitlement coupled with an internet that feeds his petty grievances into a noble mission in his deluded mind. Had everyone at the concert been armed they could not have stopped the killing. He opened fire at his leisure from a tactically superior vantage point. More guns aren't making us more safe. More military-style weaponry is killing us with regularity.
One Orlando Alliance,  a coalition of mostly LGBTQ+ organizations in Central Florida created after Pulse, also expressed sympathy and support for those affected by the events in Las Vegas, telling HuffPost that "our hearts are with the people of Las Vegas who have been shaken by this horrific and senseless tragedy. Although divided by distance, we are united in offering our compassion, our love and our support. We were deeply touched by the heartfelt outpouring of support from Las Vegas following the Pulse nightclub tragedy. We stand ready to assist the people of Las Vegas as they navigate the aftermath of this tragedy and begin the healing process." 
Want to know how to help the victims and families of the Las Vegas massacre? Head here.