Another year has come and gone and I am cruising into my forties faster than I would like to admit. Instead of focusing on the number, I go into party planning mode to avoid dwelling on the fact that I'm not getting any younger. With age, I care less and less about material objects and long more and more for wonderful experiences. Every year my husband asks what do you want for your birthday? I rack my brain searching for something and most often come up blank. I typically answer like this, "I really do not need anything, but would love more splendid memories from wonderful experiences with people I adore".
And what a splendid memory was created this year, when I was able to celebrate with some of my most favorite people, dining on lobster in the sky. The irony... it was National Lobster Eve! Who knew!
We recently moved and got a puppy so going out wasn't really a choice. In our new home, we are fortunate to have a lovely terrace and so I thought, "wouldn't it be fabulous to have a lobster dinner under the stars?". So off I went, planning away.
As always I set out to find food as well as novel items that were American made. I ordered outdoor dinner table essentials including cups, bowls and plates from Preserve, flexible wine glasses from Govino and a gorgeous seersucker cotton tablecloth from Dot and Army.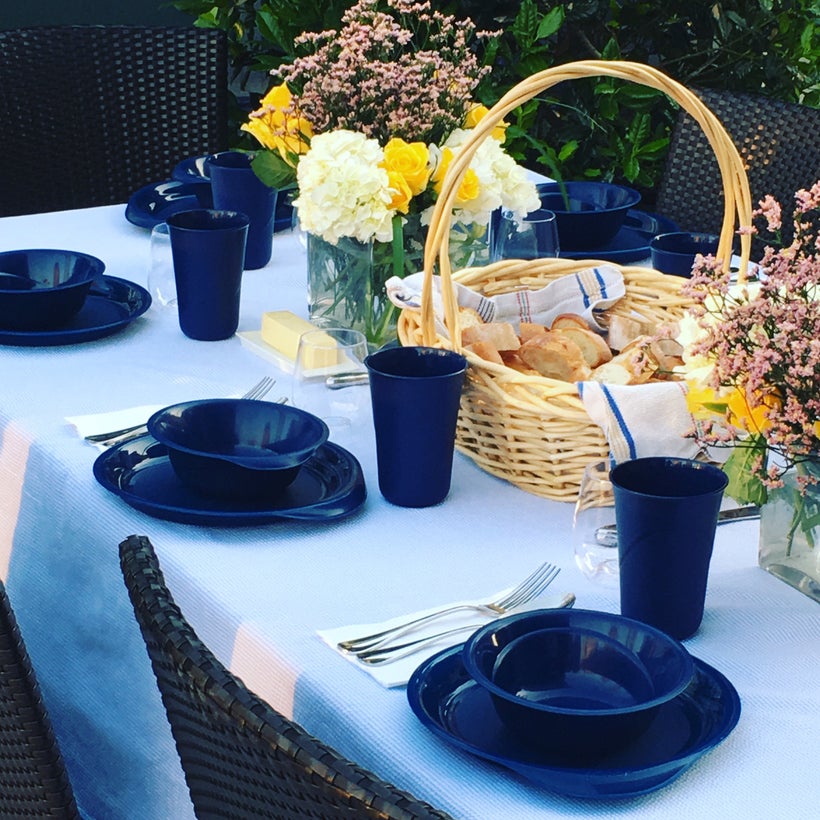 Since we would be serving lobster, I sought out a crisp sauvignon blanc from Shinn Vineyards on the North Fork of Long Island.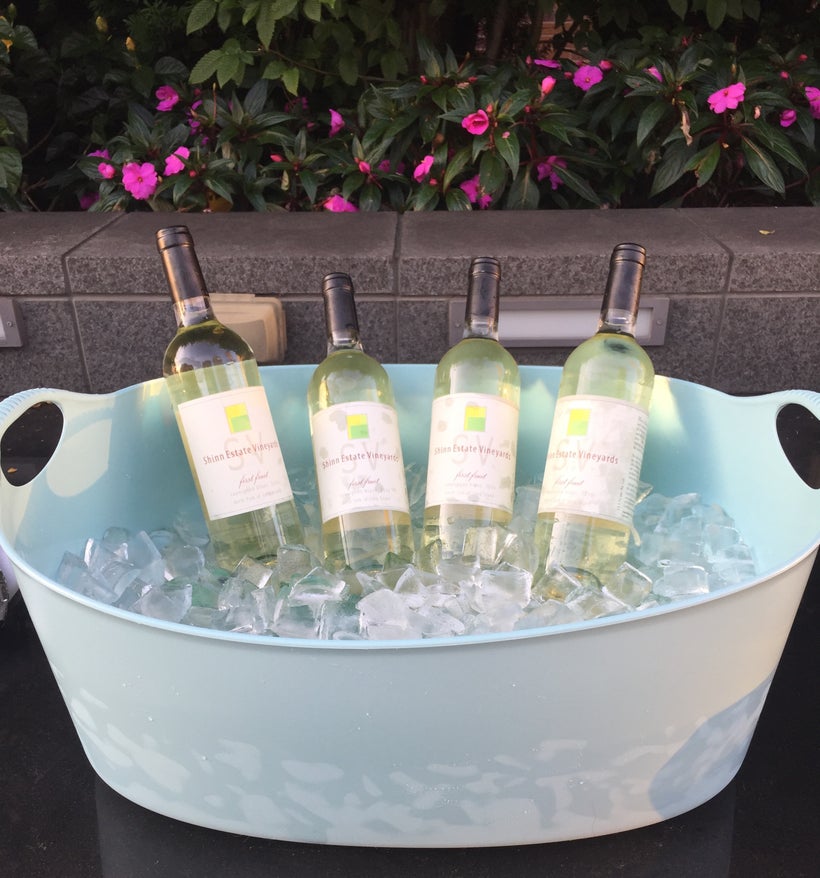 And the icing on the cake... lobster overnighted from Maine! I was thrilled to find a company called The Lobstah Box that offered a package meal as opposed to just the lobster. New England Clam Chowder, and a home baked blueberry pie would soon arrive at my door nestled beside the soon to be eaten crustaceans.
The day of, I headed over to Whole Foods for some last minute prep items. I picked up fresh flowers, which I often purchase here because out of all the flowers I have ever bought or received, these seem to last the longest and they are priced well. Guys, hint hint... no excuses for not bringing your love a bouquet now and again :).
I also decided to incorporate a little pre-game cocktail hour before settling in for our al fresco lobster bash with Naragansett Lager for the guys and strawberry thyme vodka lemonade for the ladies. I grabbed some salt and vinegar chips and pulled together a lemon tarragon crabmeat dip for guests to nosh on. Something to enjoy, but light enough to not ruin their appetite.
The temperature was 70 and sunny skies persisted. As the lobsters were being prepared, we served the clam chowder, which was one of the best I have ever had.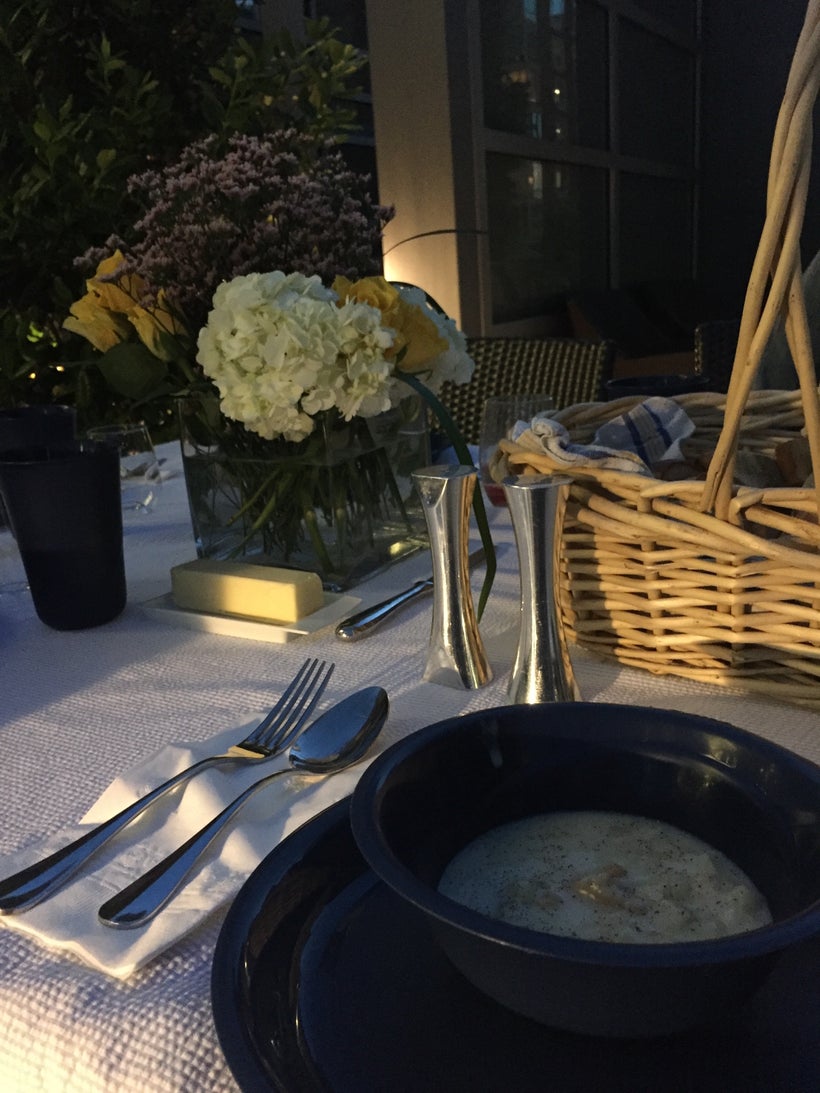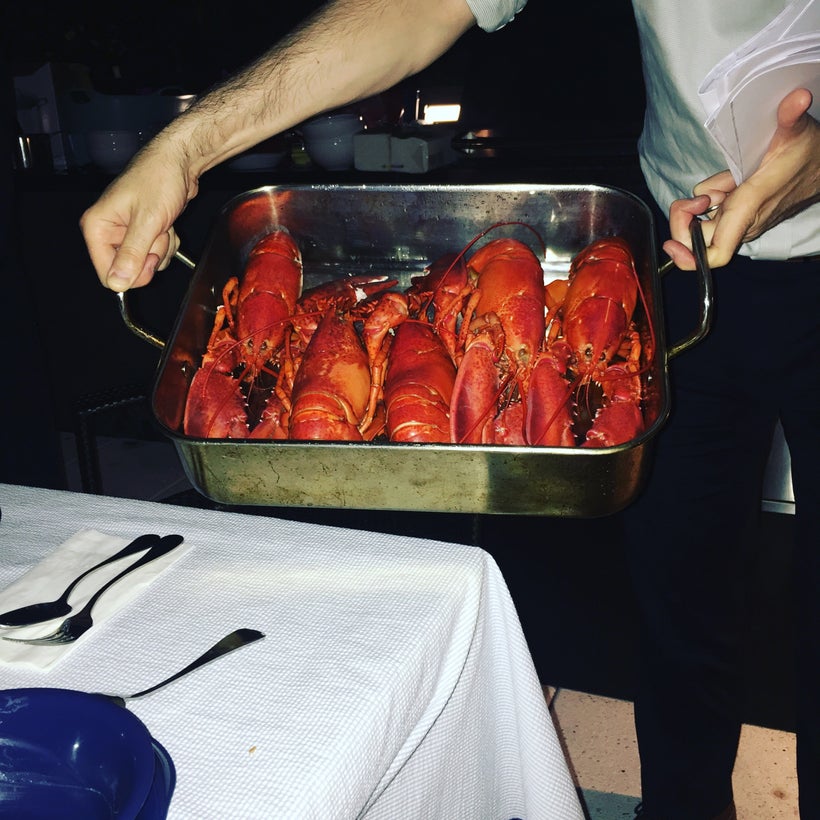 The lobsters were the absolute freshest I have tasted in all my life... unanimously everyone agreed! Several hours later we continued with conversation and laughter under the moonlit sky. We finished the night with dessert, birthday cake and one too many drinks!
So if you ever ask me what I received for my birthday in 2017, I assure you I will have no clue, but I most definitely will not forget how I passed the time. My lobster dinner in the sky will remain a fond memory in my mind forever.
This post was published on the now-closed HuffPost Contributor platform. Contributors control their own work and posted freely to our site. If you need to flag this entry as abusive,
send us an email
.