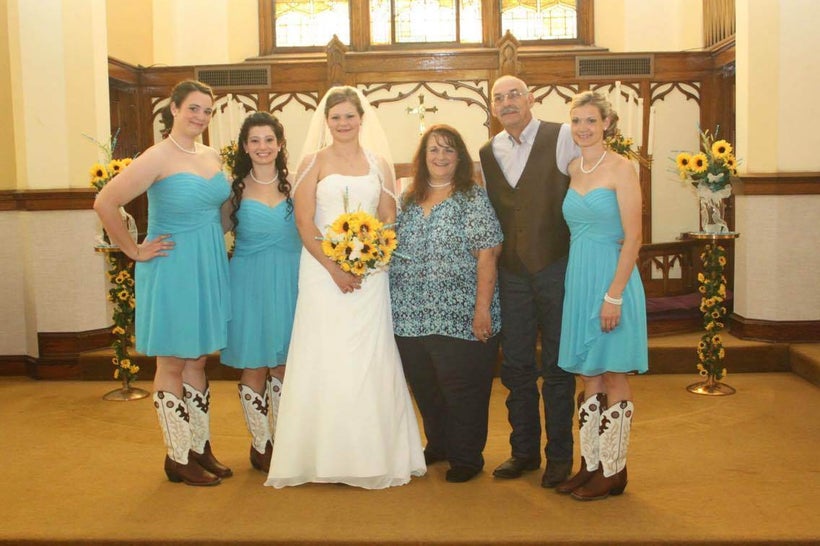 Sunlight in the state of Kansas has material presence, safeguarding the unique character of the moment. Indeed, light binds stronger to time on the breadth of the plains.
In the small farming community of Assaria (population roughly 415), Lori Heimer, 57, woke up on June 25, 2016, with the radiance streaming through the farm house window.
Animal lover, grandmother, mother of four, the wife of a spry Kansas farmer in his mid-60s, she enjoyed the stillness and peace of another Saturday morning in the countryside. Dotted with deeply connective family farming roots, oil refineries, blue-collar factory jobs, 4-H lessons, and small cafés serving cherry pie and fried catfish dinners, in Saline County, Kan., friendliness is still a value and thought still a condition of civilized life.
By all accounts, Lori was not only friendly, but she was well-liked, with a softhearted light illuminating her everyday activities, which included babysitting her grandchildren and raising teacup and toy poodles for her dog breeding business, Lori's Poodle Patch, in addition to caring for her own poodles. In spite of that, something dark, inhumane, was also in Assaria sometime that day between roughly 3:30 p.m., when Lori's final confirmed communication (a Facebook post) was made, and around 7:30 p.m., when she was discovered slain among her puppies.
Lifelong Love of Animals, Family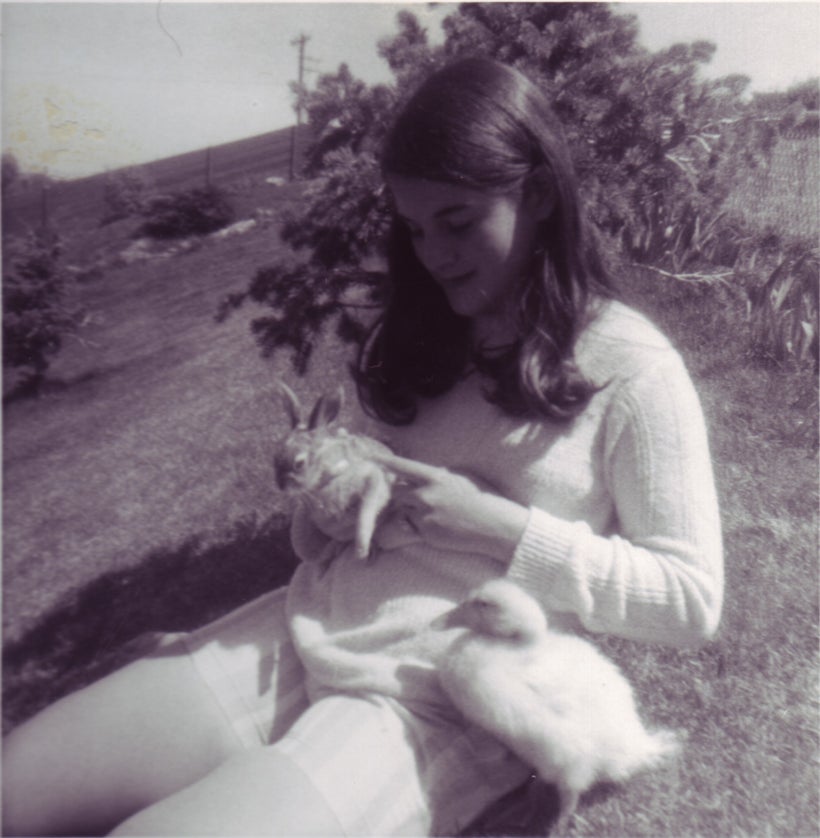 Lori J. Heimer was born on August 1, 1958, in Loma Linda, California, the oldest of three children. Her father was a traveling salesman and ex-supply clerk at Schilling Air Force Base (in Salina, Kan.,), who once served in Libya, and she was raised in Denver, Colorado. In her early 20s, she moved with her family to rural northcentral Kansas, to be closer to her mom's aging parents. There is a recurring, even overarching pattern in Lori's life: a love of animals. There is the image of her as a youngster bottle-feeding a colt; another, at approximately age 5, caressing a lamb; at age 10, she is holding a rabbit in her hand and a duck is nestled at her side. Whether clasping a rabbit tightly in her loving arms as a teenager, or sitting proudly in the saddle at the county fair procession as a young adult, some kind of animal was never too far away from Lori. Indeed, Lori was never too far from a horse, a dog, a cat, or, even at one period, a pet hawk. She even sensed beauty in rats; one in particular, which was given to her by her school bus driver in Colorado, she'd even allow to cozy up and sit on her shoulder.
There is a joyful black and white photo of Lori, undated, but most likely at age 7 or 8, missing her upper top teeth, straw hat on her head, effervescent smile, with a kitty-cat cradled weightlessly in her arms. The photo, almost ageless – this magical little person full of mischief with a sparkle in her eye – was taken around Easter time.
In her early 20s, Lori met Ronald Heimer, a true and tested Kansan who came from a lengthy bloodline of farmers. They first made eye contact at a party in Salina, but they weren't formally introduced until they had been fixed on a blind date months later. Ronald was a few years older, but that was inconsequential. Reserved and quiet, of Swedish stock, he seemed a good compliment to her talkative, more outgoing inclinations. Ron's father had died when he was only age 18, which left the young man with the responsibility of taking care of his mother and brother. They were engaged five months later and married in a park in Salina on June 2, 1984. True to her essence, Lori had six horses brought into town and ended the wedding riding off in a buckboard carriage with her new mate.
While Ron headed a small dairy operation, Lori spent several years working as forklift operator at Tony's Pizza Plant, in Salina. Genell, the first of their four children arrived in the world in 1986, and three more girls subsequently joined. As a mother, Lori affirmed her love and confidence in her girls at every turn.
The Heimers moved slightly south to the farm at 10525 S Hopkins Rd, a couple of miles outside of Assaria, in 1991, and after the dairy industry tottered, Ron diversified with beef cattle production, which, in due course, allowed for the purchase and expansion of supplementary acreage and the planting of wheat, corn, alfalfa, hay, sorghum, and occasionally sunflowers. A born tinkerer, he was intrigued by the challenge of making old hay grinders and automobiles work again. Using one of the hay grinders that he reconstructed from a salvage yard, Ron traveled across rural Kansas renting out the machine and his cutting services. "Ron is a sun-up to sun-down hardworking kind of guy," said Lori's sister Cheli Johnson. Testament to his dedication, Ron's hobbies are few, for much of his life's purpose originates and evolves in the seeds and the soil of Assaria. "Assaria is the kind of place where we have picnics together," said Lori's daughter Joni Alexander. "Everyone watches out for one another and we have each other's backs."
Detached By Darkness: June 25, 2016
Lori J. Heimer had mentioned to her husband that she was expecting a possible customer that afternoon, June 25, 2016. Ronald Heimer said in a public statement that he "filled the water jug" and "made a sandwich there about 11 o'clock in the morning on my way to the combine in the harvest field." After lunch, Ron went back to harvesting crops on their 80-acre allotment; that evening, one of the Heimers' daughters, Katie Eberle, and her husband, Austin, found the body. Sometime in the late afternoon something light – a dog breeder, a mother, a grandmother – was removed from this life by something opposite. Someone luminous – a former teacher, an educator, a glowing woman who used to dress up as Mother Goose at local daycare and childcare centers and couldn't go to the grocery store without finding somebody to have a long, long chat with – was detached from the earth by an instrument of darkness. About 1,000 people showed up to pay their respects at Lori's funeral, "standing room only," described one family member.
Murder at its most exasperating is a master of privacy and secrets, evoking dangerous and sinister psychologies. While life carries with it the sense of impermanence, an unsolved murder gets suspended in time, ceaseless hanging on the brink for Lori survivors, her children, her parents, and her community.
Her loved ones want answers. Her children want profit from their prayers that a breakthrough is close at hand. Out of despondency emerges fresh resolve. Still, for Lori's daughters, what light there is here now must struggle valiantly to pierce the shadows, and when it does it at times remains cold and austere. Memories sometimes waft them into a dark and alien void, far beyond the capacities of human navigation. Murder's presence evokes not only fear, but an acute awareness of the turbulence and incompleteness death carries with it. Her children's worst fear is that the memories of the flesh could someday fade and that the significance and attention required to solve this case will run dry.
"This situation has become all consuming," said her daughter Joni Alexander, "even though all along I've been told to not allow that to happen. Right, wrong, or indifferent, I eat, sleep, and work mom's homicide. It is always at the center of my thoughts. We carry so much weight right now. It would be impossible to put a price tag on justice."
Sharing Lori's Living Spirit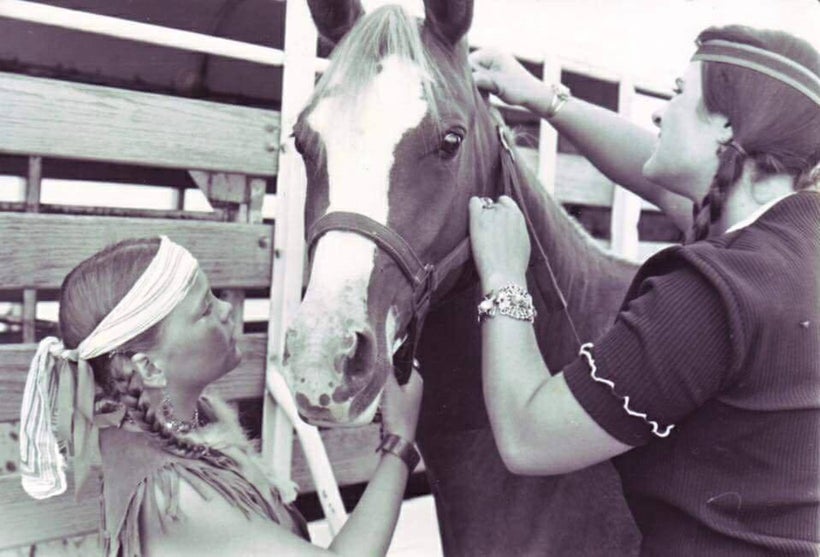 Overriding her death, there was a more humane and more living spirit to Lori. She liked to go four-wheeling in the summer time and she cooked a memorably delicious batch of cinnamon rolls, baked scrumptious pecan pies, and could put together a cheese-crammed lasagna dish that, in her father's words, "included all the cheese that you could find, forty dollars' worth of cheese." She constructed a cake for her daughter Katie's wedding, one that could aptly be described as appetizing artwork: sunflowers, horseshoes, and a motorcycle kicking up mud.
"She liked the country and she liked the country life," said her sister Cheli Johnson, of Wichita, who was her sister's delivery coach for three out of her four girls. "We were the opposite in that manner… She was always scared to be out driving in a car in the city and I was always afraid to be out there driving in the country."
Cheli recalled how Lori and she once went to England together as Lori enrolled in a British literature class; it was a month-long excursion which included a visit to their mom's ancestral land of Cardiff, Wales, and a trip on a sleeper train to the medieval market town and Shakespeare's birthplace of Stratford-upon-Avon. But it's the Sunday morning phone calls of sisterly banter and mundane minutiae that Cheli misses most dearly.
No Rationale; Potential Leads; Reward Established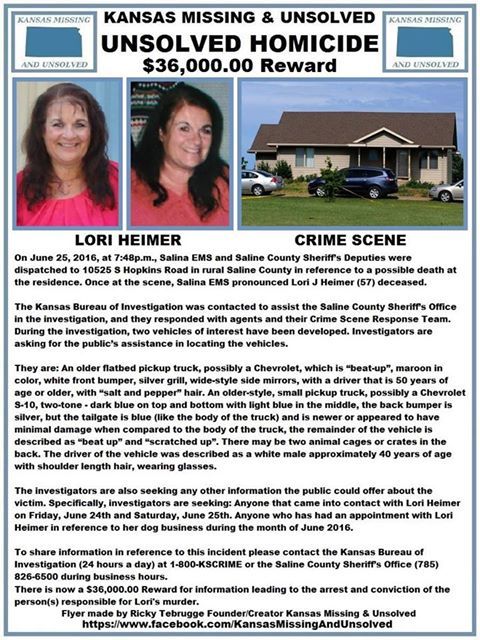 What is known is that her death has been labeled in a police press release as a "brutal" act. No acknowledgement of dread, panic, pain, or any other feeling. No rationale for the action. Just the facts, but they are incomplete and ultimately deeply disturbing.
Possibly it was the large sign in the vicinity announcing Lori's Poodle Patch that somehow contributed to her death. As it turned out, an unidentified man showed up unannounced at the Heimer residence (their closest neighbor resides approximately a half mile away) around one week before she was murdered. According to family accounts, Lori politely yet firmly had asked the stranger to schedule an actual appointment and Lori had intended to meet with someone, perhaps even the same individual, to display her poodles at around 5:30 p.m., on June 25, 2016.
Nothing of evident value has been officially documented or noted as being removed from the premises; the property did not appear to be rummaged through. Since the family wasn't involved in Lori's business, it is not known whether one of the animals she had bred was stolen.
Detailed descriptions were released of two unfamiliar pickup trucks (one of which may have had animal cages in the back) and their drivers observed by area residents at the time of homicide. A neighbor witnessed a truck speeding on nearby Ohio Street before turning east on Assaria and then vanishing into a swirl of dust. During harvest season, unfamiliar custom cutters and workers were in the vicinity helping with the cutting, making it unclear whether the men in question were involved in Lori's killing. To make matters denser and the suspect list wider, Lori's clientele and advertising spread from the bigger cities in Kansas to neighboring Oklahoma and Colorado.
Moreover, there is a campground close to the Heimer residence called Lakeside Family Resort which could factor into the investigation. (Country roads surround Assaria's serenity, a bucolic maze of potential escape routes fragmenting in quite a few directions.)
Conceivably this case has nothing to do with the men, the trucks, or the campground, and, on the contrary, someone was involved who knew Lori and was familiar with her and her family's typical schedule. Perhaps her death reveals the cold reality of a town that is a little less innocent and a little more threatening than it first appears to be?
The criminal justice system can alleviate the pain but never get rid of it entirely. Yet, the Heimer family look forward to a resolution; a widowed farmer anticipates his crop and silently buries himself into the harvest, his long nights punctuated by thundercracks and lightning streaks; the $37,000 reward and information posters stay taped to the gas station doors, restaurant windows, and community centers; and fittingly the rubber wrist bands manufactured in memory of Lori Heimer bear the insignia of a puppy paw print.
Nine months later, the rays in the spring fields of Assaria, like ethereal halos, cast their peculiar glow. Indeed, Lori's specter glows amidst the tears of a family still in mourning, unable to find balance between beauty and ugliness.
Lightness – a woman wandering up a dirt road toward a farmhouse in the company of her dogs, grandchildren, pecan pies, and a life – this vision of infinitude freed from all tethers of ground and horizon.
In the distance, however, the darkness attained shelter.
Lori's death is being investigated as a homicide by the Saline County Sheriff's Office and the Kansas Bureau of Investigation. To place a tip and learn more about reward information, please call 1-800-KSCRIME or visit Prayers for Lori Jon Heimer on Facebook.
This post was published on the now-closed HuffPost Contributor platform. Contributors control their own work and posted freely to our site. If you need to flag this entry as abusive,
send us an email
.