A recent propaganda video out of Pyongyang has South Korean authorities investigating whether a North Korean defector was kidnapped and taken back across the border.
Lim Ji-hyun, 26, who defected from North Korea in 2014, fled to South Korea and eventually appeared in several TV shows there, gaining a following in the country. On South Korean television, she sometimes told audiences about life under North Korean leader Kim Jong Un and once visited a talk show in a North Korean military uniform, laughing with hosts about her experiences.
But on Sunday, a woman resembling Lim and identifying herself as Jeon Hye-sung (the name Lim used when she was in North Korea) appeared in a propaganda video posted on the North Korean state-run website Uriminzokkiri. In it, she denounces South Korea and claims she has returned to the "bosom of the fatherland."
South Korean authorities believe Lim is indeed no longer in South Korea, and are currently investigating the circumstances that might have taken her back to North Korea.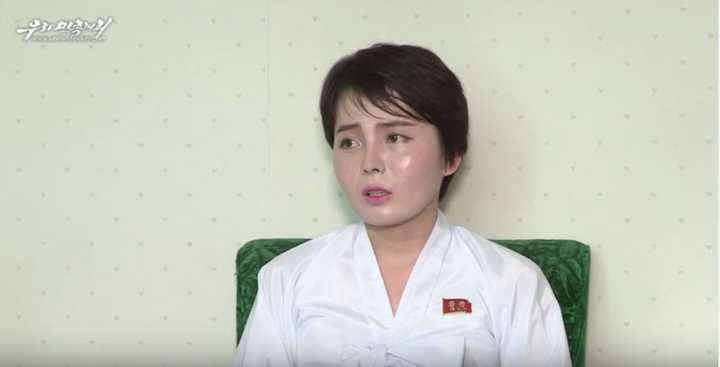 The woman in the nearly half-hour video sits with former defector Kim Man-bok and an interviewer to discuss life in South Korea, which she describes as "hell." She also says she was forced to slander Pyongyang during her time there.
She adds that she was lured to South Korea by the "fantasy" that she "could eat well and make a lot of money," but became lonely and missed her family. She also criticizes South Korea's capitalist society and speaks of her struggle to find work there. She says she is now living with her parents in her hometown, Anju.
It is still unclear whether Lim's apparent return to North Korea was forced or voluntary. Twenty-five defectors have returned to the country since 2012.
But most people who make it out of the authoritarian country do not return, despite facing a difficult path in adjusting to life outside of Kim's totalitarian regime. Around 30,000 North Korean defectors are currently estimated to live in South Korea.
Lim's story is unusual not only because defectors rarely return, but because nothing about her life in South Korea seemed publicly amiss. It's unclear when she went missing or whether anyone alerted authorities about her disappearance before the video's release.
South Korean newspaper JoongAng Ilbo reported that Lim had thanked her fans in April and called her birthday "possibly the happiest birthday of my life."
There was even an online fan club dedicated to Lim, which has now been shut down following her apparent return to North Korea.