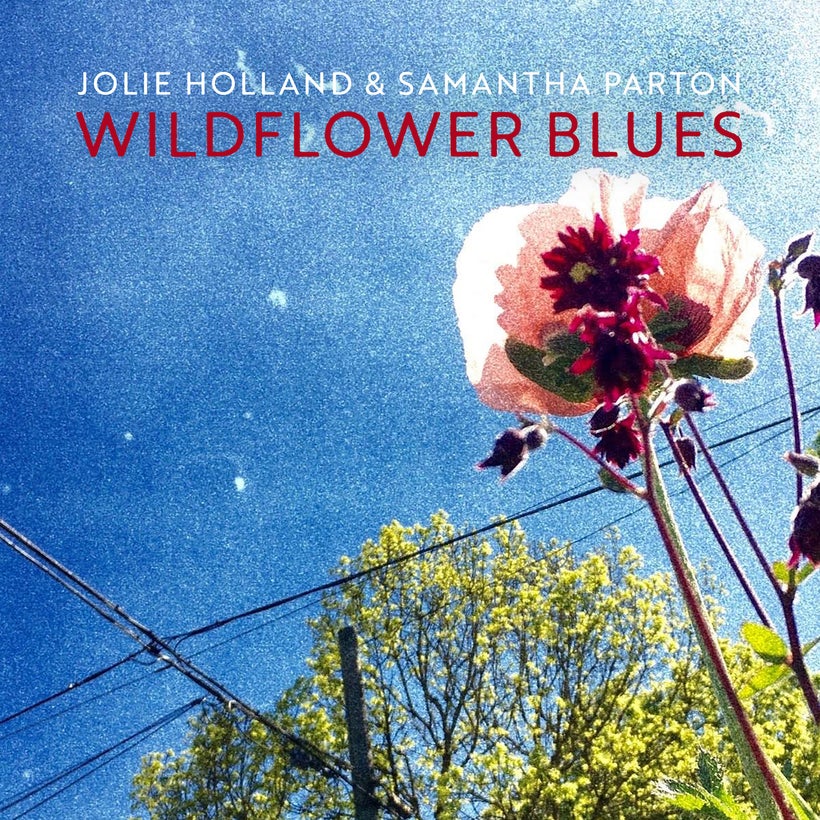 Sometimes things click when they need to click, as is the case with Wildflower Blues: the exquisite new album from Jolie Holland and Samantha Parton, founding members of the Be Good Tanyas, reuniting for this brilliant collection of songs everybody must listen to immediately — and good news: you can! Wildflower Blues, right here:
Theirs is a tale of winding roads, varying pursuits, and a well-timed phone call. They hadn't worked together since the Be Good Tanyas millennium-launching first album, Blue Horse, yet felt promise for the future. And here they are — following Jolie Holland's tour for her sixth solo album, Wine Dark Sea, and in the midst of Samantha Parton's complex recovery from two serious car accidents. Their return to form counts as a triumph — Wildflower Blues is brimming with subtleties and resonant emotions, featuring smartly-layered songwriting across several styles, gorgeously delivered — and it's my pleasure to speak with both Ms. Holland and Ms. Parton,
"I was in this wilderness," reveals Samantha, "and I didn't know which way to go, and whether I could play my instruments anymore — in terms of what's required to have a music career, which is a lot of touring. I just didn't know if I had the stamina for it. But on the other hand, I felt really determined to get out of the place that I was in, and I needed to get some joy and meaning back into my life. That's when the phone call came — it seemed a little bit like a miracle."
"Aw!" intones Jolie, and the two share a laugh. "You know, for me, my band is all these really nice boys, who are incredible musicians, and just naturally supportive, lovely people, and so I was gathering from the people I work with, and explaining the situation, to try to get together people who would be super-supportive, and let Sam do whatever she could do at a given moment. Sam is just a really hard worker, and we had to remind her many times: 'Put down the amplifier. Don't try to load up the van.'"
"Jolie was just somebody who knew me really well, and super-generous and understanding, and kind," adds Samantha, happy to return to her art.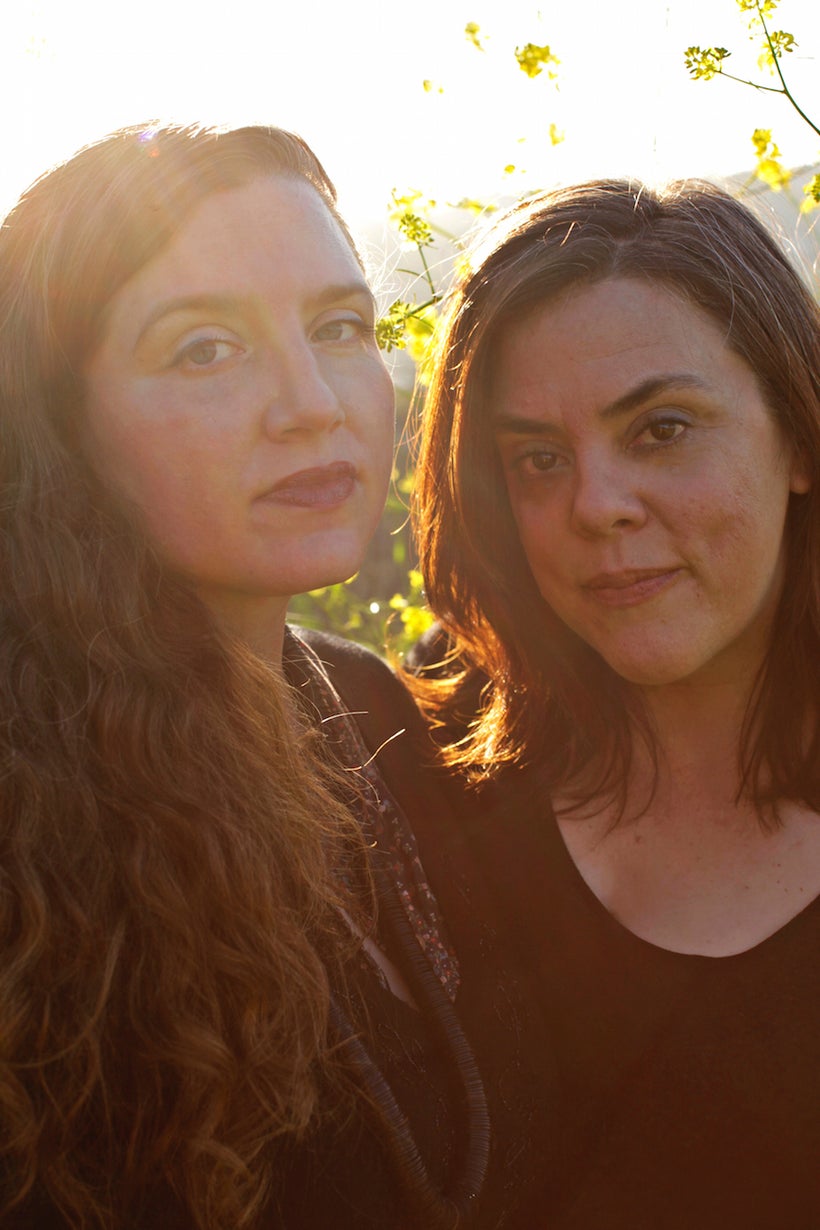 With respect to her friend and fellow songwriter Samantha, Jolie fields my question about opening Wildflower Blues with their cover of "You Are Not Needed Now."
"It's something that I had been playing before we put this band together," explains Ms. Holland. "One of the reasons we're doing it with this band is that it's just such a great medium for harmony. It's got all those different choruses -- it only repeats itself twice -- and interestingly enough, Sam introduced me to Townes Van Zandt. I'm a seventh-generation Texan, and my best friend in Houston was teenage hippies with Townes, and of course I knew 'Pancho & Lefty,' but in my early 20s, when I met Sam, I really didn't know who he was.
"My circle of friends," continues Jolie, "no way we were listening to stuff like that. We were into the Bug, and Negativland, and the Residents. We were just not into what could be considered 'Americana' -- hardly at all. Sam played Townes in the tour van on the first Be Good Tanyas tour, and it was such a big deal for me. There's this loop back to Sam -- even though I should've known who Townes was."
Bookending, I ask about the album's rollicking closer, "Gooseberry Rag," which I indulgently liken to a Pacific Northwestern honky-tonk track one would hear upon entering the Brick, from Northern Exposure. Ms. Holland of course has more insight on the piece -- including the surprise that it was recorded in four minutes: the amount of tape they had left at the end of the session.
"It's a song that I wrote when I lived in Vancouver, in my early 20s," reveals Jolie. "I loved Blind Willie McTell so much, and it's definitely got all these Blind Willie McTell-isms in it. It didn't have a name, it was just some guitar thing that I had written a long time ago, and never did anything with, but we named it that as a reference to Nashville Skyline. There's that silly song where Dylan's talking about eating all this food, and it's totally ridiculous. I have another record I need to make -- and it's incredible to see how close Nashville Skyline and New Morning are to each other. I was listening to them together and going, damn, there's so much filler on here. We need some filler."
Samantha cracks up recalling the "we need filler" conversation -- the musicians just "showing off, and having fun" -- with Jolie promptly praising pianist Jared Samuel (of Invisible Familiars, also playing with Yoko Ono, Cibo Matto, and Ghost of a Saber Tooth Tiger), who apparently ties the room together.
The two allow me to puzzle over the label of 'Americana.' Is there a 'Canadiana'?
"Well, Canada's part of America," opines Jolie.
Samantha adds: "I've been asked this question in various forms before, just because I did grow up in Canada. Canadian music, I think it's informed by a couple of things: one is American music, in a big way, because of the radio; it's also informed by the landscape — a lot of spaciousness, and a lot of dark winters. We've put a certain kind of introspection into Canadian music, in terms of its sound, while at the same time being expansive. I always feel like Canadian music comes out of the woodlands and the prairies. There's this kind of earthiness, but it doesn't announce itself that way; it's just very organic. I love Jane Siberry, and I love Daniel Lanois as well, and of course Neil Young, and I hear all of those things in their music."
Considering Holland & Parton in the context of such peers, I highlight the experience of really listening to an album -- which Wildflower Blues assuredly is (available on vinyl!) -- not merely some arbitrary, post-iPod mp3s on one's phone; but rather the feeling of being transported through a variety of moods, within an integrated work.
"We paid a lot of attention to the tracks' order, the sequence of the songs on this album," offers Samantha. "But it was also the easiest album to sequence -- because there was such a sense of cohesion already there with the songs. It felt absolutely correct for the album."
"I'm glad to hear that," adds Jolie, "because I have been worried that it's sort of too chill -- but I think the sequence really helps, because there's no kind-of 'upper' songs on the record. It gets to a chill mid-tempo, basically -- but that's so much about the fact that's it's focused on lyrics, and that kind of composition."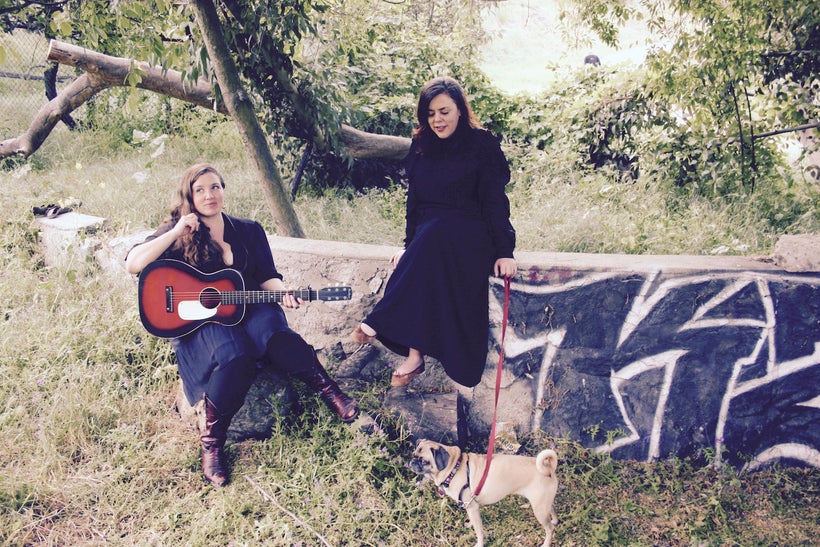 We close by discussing the new album's title track, "Wildflower Blues":
"Paul Rigby is playing electric guitar at the end of that song," notes Samantha. "It's not exactly a solo, but he fills the end of that track with this really weird, crazy electric-guitar part that I buried a little bit in the mix. I want to give him credit for that. He plays with Neko Case, and Garth Hudson; he's just a really fantastic guitar player."
"Yeah, I love that part, it's so great," enthuses Jolie. "I didn't know what it was, at first. I thought it was a keyboard sound or something, like with a pitch shifter. It's a great sound."
"Paul came over and set up his pedal board and went crazy at my place," laughs Samantha. "It was really fun."
"That song," she continues, "when it was in its most naked, earliest form -- there was something about it that felt very, very fragile, and I really wanted it to reflect more of what I felt the song was about -- which was resilience, and toughness, and a certain irrepressibility, and anger -- it's kind of a kiss-off song, so yeah, I'm really glad it came out as tough-sounding as it did."
The musicians laugh knowingly.
Catch Ms. Holland & Ms. Parton on tour in the U.K., Ireland, and U.S. this fall.
This post was published on the now-closed HuffPost Contributor platform. Contributors control their own work and posted freely to our site. If you need to flag this entry as abusive,
send us an email
.