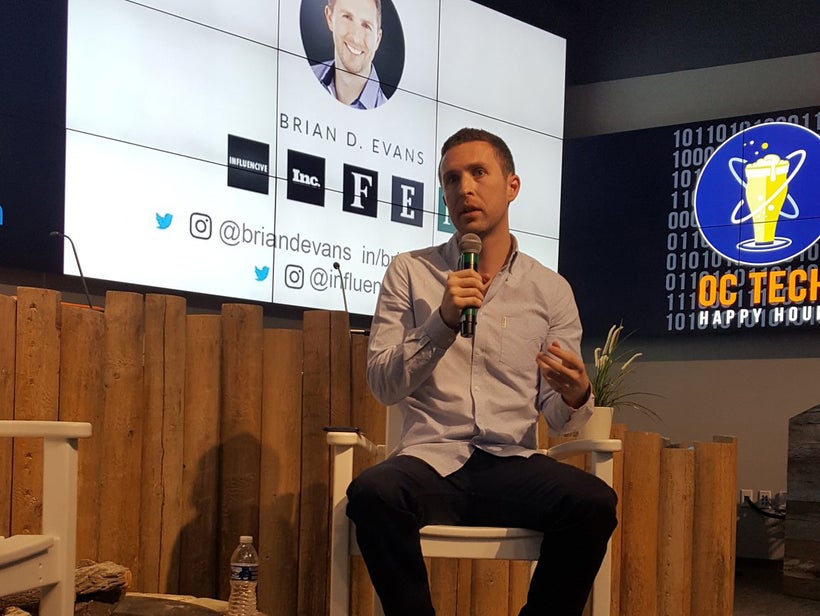 When it comes to building a meaningful brand with a beyond-loyal following, there are few people who know the road to getting there as well as Top 25 digital marketer (Forbes) and CEO of Influencive.com, Brian D. Evans.
His list of accolades speaks volumes: Founder of one of the fastest-growing digital marketing agencies in America, an Inc 500 entrepreneur, an acclaimed branding consultant, a social media influencer with hundreds of thousands of followers, and now he is at the helm turning Influencive.com into the next big publication for young people looking for content to help build themselves into thought leaders and influencers.
I sat down with Evans to pick his brain a bit on the importance of branding, and what advice he could share with others—companies and thought leaders alike—looking to forge a space of their own and build a loyal following.
1. The best way to build a brand is to build your personal brand alongside it.
Building a successful company is one thing. Building yourself into a thought leader while simultaneously building a successful company is entirely another.
One of the things that sets Evans apart from many other entrepreneurs is his strong personal brand—which he has used as leverage to rapidly grow his current business venture, Influencive.
"The two are synonymous, and that's good for both brands," said Evans. "When people think of Influencive, they think of me. And when they think of me, they think of Influencive. That's the real value of having a personal brand, or having someone with a voice in the industry at the helm of your company. The two can play off of each other, and help each other grow."
2. One dimensional is boring. Show more of your personality.
"I work with a lot of thought leaders and people with very established personal brands, and I find myself saying the same thing to all of them: don't be one dimensional. Let people get to know the real you," said Evans.
Companies and thought leaders alike all seem to struggle with this idea of trying to be "just one thing." While you certainly don't want to be stretched across so many different industries and interests that people are entirely lost as to what you do, you also don't want to box yourself in and be robotic in your offerings.
"The best brands are built around missions, intentions, messages," said Evans. "And those things aren't tied to any one medium. They can be expressed in a lot of different ways, and shown through different types of conversations."
The example Evans used was Gary Vaynerchuk and his affinity for the New York Jets.
"Gary isn't trying to position himself as a sports analyst. He just loves the New York Jets and wants people to know that. And even if you don't like football, you know that about him because he mentions it in his content. It makes you feel like you know him better, which makes his brand more relatable. If more people did things like this, they would build a much more loyal audience," said Evans.
3. You can't judge success in a day, a week, or even a month. You have to judge it over the long term.
"It astounds me how many people try something for a few weeks and then give up. Building a brand isn't a sprint. It's not something you pick up, try for a bit, and if it doesn't blow up overnight then you give up. It's a long term investment, and something you're committing to for the long haul. In most cases, it's years before a brand really establishes itself in a market," said Evans.
These are wise words coming from someone who has spent years building and refining both his own personal brand, as well as his suite of companies.
Too often, people forget that the thought leaders you see dominating their industries today, actually started putting one foot in front of the other many years ago. And while it may seem like they popped up out of nowhere, they have been knocking down doors for a long time—and are now seeing the fruits of their labor.
"The truth is, it tends to come down to a patience game," said Evans. "You have to be willing to take the time to establish yourself the right way. Going viral isn't a strategy, nor should it ever be the goal. What you want is to turn yourself into a media channel. Somewhere people want to go on a regular basis because you are delivering them value. If you can do that, you've built yourself a successful brand."
This post was published on the now-closed HuffPost Contributor platform. Contributors control their own work and posted freely to our site. If you need to flag this entry as abusive,
send us an email
.