Lothar Baumgarten at Marian Goodman Gallery: Culture and Nature
By Elizabeth Sobieski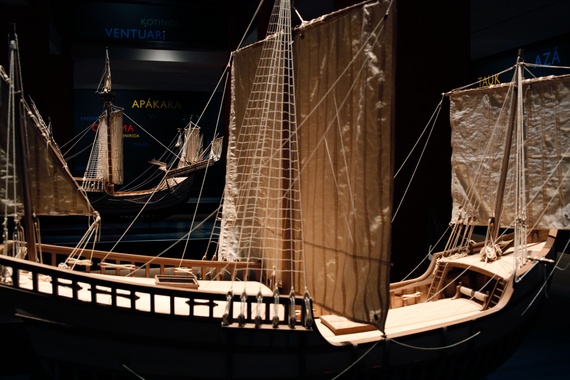 LOTHAR BAUMGARTEN
ship models (C. Columbus) 2011-2012
Courtesy of the artist and Marian Goodman Gallery, New York/Paris
Cerebral and conceptual, yet surprisingly sensual and often exquisite, the work of Lothar Baumgarten resists categorization. Despite producing numerous books of photography, and having been educated at the Kunstakademie Dusseldorf (the creative birthplace for such stellar photographers as Thomas Struth, Candida Hofer, Andreas Gursky and the Bechers), Baumgarten is not primarily a photographer. His photography just seems to capture his other art, which often tends towards the ephemeral: A scarlet macaw feather replacing a missing board in a European parquet floor, two pink lilies that are actually shoe trees, small pyramids formed from granular blue pigment, a table setting partially created from Amazonian artifacts. But this is not to denigrate his photography: His AIR series of black and white photographs of the ancient brick chimneys of Venice presented almost as a musical score is extraordinary, as are recent shots of foliage and clouds along and above the Hudson River in Dutchess County, New York. Often his shows include a mixture of media: films, projections, photographs and recordings. And unfamiliar names of geographical destinations and indigenous societies mounted on walls in myriad fonts. Baumgarten might seem like an anthropologist or ethnographer, an architectural historian or a purveyor of typeface, as well as an artist, but he only lays claim to the last. He is probably best known in the United States for his 1993 show at the Guggenheim, AMERICA Invention, (1985-88), in which 75 names of native North and South American societies in geographic order were printed on the interior of the museum.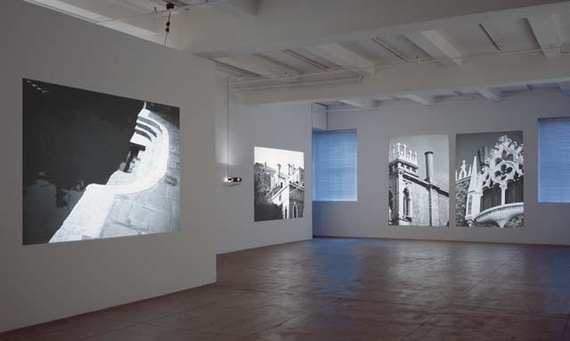 LOTHAR BAUMGARTEN
How to see Venice, 1983-84
slide projection and wall drawings, Marian Goodman Gallery, New York
Courtesy of the artist and Marian Goodman Gallery, New York/Paris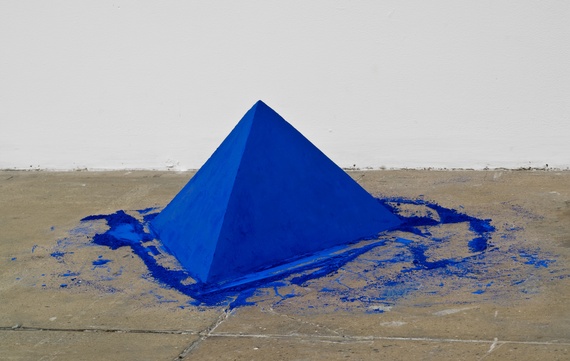 LOTHAR BAUMGARTEN
Tetrahedron, 1968
10kg cobalt pigment stacked
Courtesy of the artist and Marian Goodman Gallery, New York/Paris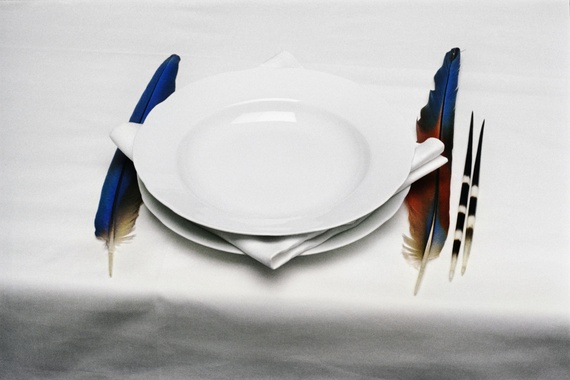 LOTHAR BAUMGARTEN
Origin of Table Manners, 1971
Chromogenic print
Courtesy of the artist and Marian Goodman Gallery, New York/Paris
Opening April 23, the German artist's latest portrayal of the junction between culture and nature, fills New York's Marian Goodman Gallery. The walls of Goodman have been painted black and marked with the native names of South American rivers. The gallery's columns are hand-stained with Onato seeds, which creates the pigment used as body paint by many Central and South American indigenous people (the reason Native Americans were referred to as Red Skins). Six of Baumgarten's films, in both black and white and color, and four projections fill other spaces. And there are stunning 1/20-scale models of Christopher Columbus' sailing vessels. Lothar Baumgarten has been showing with Marian Goodman for 27 years and this exhibit is not only visually and materially intriguing, but aurally stunning as well. Viewers will be listening, enveloped with a unique hypnotic soundscape.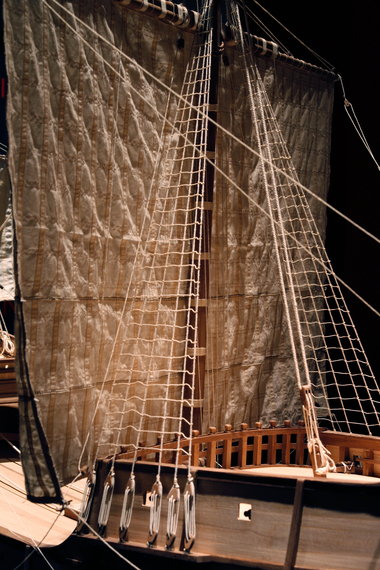 LOTHAR BAUMGARTEN
ship models (C. Columbus) 2011-2012
courtesy of the artist and Marian Goodman gallery, New York/Paris
Last month, I met Lothar Baumgarten at his calm 5,500 square foot Chelsea studio/living space, before he flew back to Germany, where the artist and his family also maintain a home in Berlin. He played some of the sounds that will be featured in the show and explained, "The audio piece is eight hours long divided in 15 minute pieces: 15 of the Caribbean Sea, 15 from the Renaissance, 15 different Sea Sounds and 15 of the Yanomami."
In the late 1970's Baumgarten had dwelled for 18 months with these indigenous people in the forests of Venezuela and Brazil, with only cameras, film, art supplies and whatever else fit into a single backpack accompanying him, having no contact with the outside world. He had shared his paper, pens and watercolors with the Yanomami and over 500 drawings emerged from people who had never encountered the modern world. Baumgarten recorded and filmed them, native people who are vanishing as culture overtakes nature and their habitat is destroyed. He explains, "There are ambient sounds for forest rituals, among guests and hosts, commercial exchange dialogue, which is dramatic and exited. They don't have money but they do meet and promise to exchange things. They are always repeating. It's very elaborate. All the things they do they repeat every day, their Shamans' chant, as they have no written language." To my ears, some of their exchanges sound like intriguing but taunting and danceable rap.
Baumgarten's hours of recordings and film of the Yanomami were stored under a bed in Germany for 33 years, because when the artist had returned with the footage, "I didn't have the money to make copies. Somehow, they survived and I got a grant to start to clean and digitize."
The films are startling, beautiful and shockingly violent. His reason for living with the Yanomami was that, "I thought I couldn't reflect my own cultural context without knowing a other one. It was the last chance to get engaged to a place not touched by society." He adds that as an artist, "My tools allow me to talk about things differently than journalism does. Or anthropology does."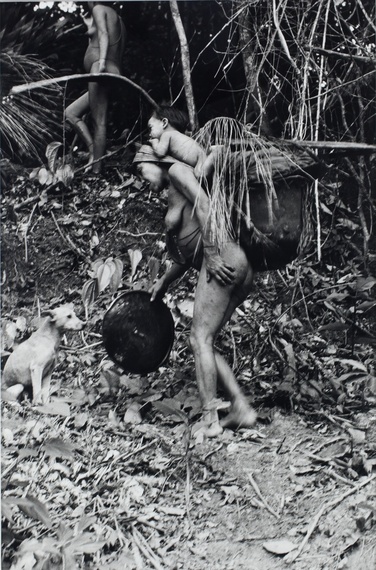 LOTHAR BAUMGARTEN
"Makunaima (River Crossing)," 1979
black and white gelatin silver print
courtesy of the artist and Marian Goodman Gallery, New York/Paris
Though we are seated on western chairs, I do notice inviting traditional hammocks in one corner of the Baumgarten home. Baumgarten is very courtly, and as we admire an extraordinary skylighted view of the Empire State Building, he offers me rare Japanese tea and some wonderful chocolate covered coffee bean, both very aromatic. And the artist often speaks of the aroma of various subjects: "the aroma of geography" or "the aroma of memory," almost like he has a form of synesthesia, where he can smell intangibles. But when questioned about his approach to fragrance, he says, "I wouldn't say I'm focused on scent only. But sometimes the materials have an aroma. Certain colors. Natural products. Although it is not my aim to focus on this. I use aroma as a metaphor. You can see the aroma of names; they contain language and not heard language."
He also mentions what he calls "the circumstance of space," in which he explains that each exhibit he produces is very dependent upon the individual gallery or museum space or the location where the work is being shown. And the passage of time. He says, "Your own work develops and you have a different view, perspective....Sometimes you develop a piece somewhere else, not made for the gallery. But you have to rethink it. Paris is different. London will be different. Many times it is refurbished and remodeled in its configuration...I just decide then which medium is appropriate to say what I want to express. I have a story and want to say something with typeface and it always changes. Each typeface represents a different time related to architectural forms."
Often he returns to themes of colonialism, Europeans and Americans juxtaposed with native societies. For this latest installation, he focuses on Columbus's voyages. "I decided to make a show about the engineering of the four ships: the Nina, Pinta, and Santa Maria and a first one called the Coca. The piece combines the four ships of the time and native river names, rivers Columbus encountered on his second or third voyages. These names have only survived in our maps...There is a disappearing of languages and dying of cultural elements."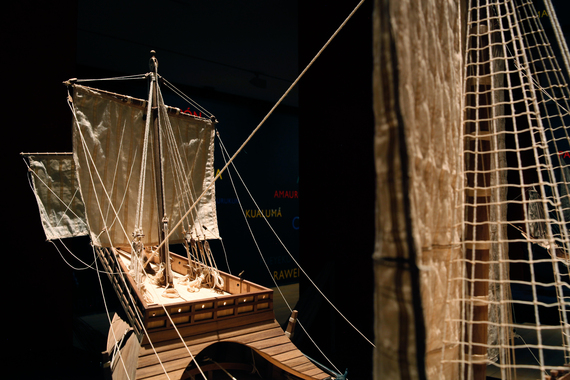 LOTHAR BAUMGARTEN
ship models (C. Columbus)
courtesy of the artist and Marian Goodman Gallery, New York/Paris
When he mounted AMERICA at the Guggenheim, he was intrigued by Frank Lloyd Wright's building and saw it both as a "pumpkin with no right angles" and a Theosophic structure. He remembers, "When I was invited, I said I'd like to transform it into a globe and fill it with continents. Make it equal: the north and south. And also a political statement to represent an equal south and north. It was very site-specific, involving an analysis of a place and space. If the Guggenheim had been in Europe, I wouldn't have done this piece. It was really bound and ground in America."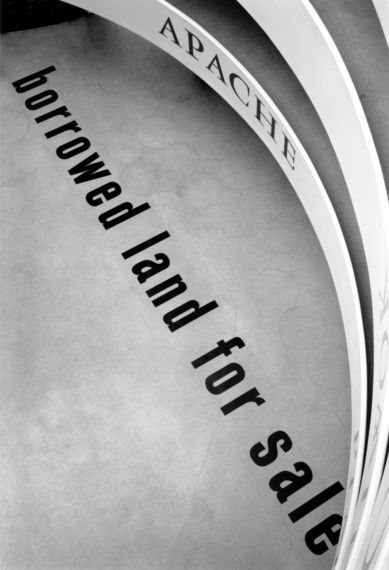 LOTHAR BAUMGARTEN
AMERICA Invention,, 1985-88, painted site specific installation, Guggenheim Museum, 1993
Courtesy of the artist and Marian Goodman Gallery, New York/Paris
Lothar Baumgarten was born in 1944 and he recalls a childhood, "When there was no food after the war. I was in Cologne, a bombed city." He adds, "Finally, growing into this, you understand what happened. It's unspeakable. A big torment to realize what atrocities took place."
His cited influences include the anthropologist Claude Levi-Strauss, the architect Ludwig Mies van der Rohe, the philosophers and theorists Walter Benjamin and Roland Barthes, the photographers William Henry Fox Talbot and Walker Evans and the artist Marcel Duchamp .
Baumgarten became a student of the mythic artist Joseph Beuys in Dusseldorf and for the last 15 years, he has shared his unique brew of artistry with students in Berlin. He says, "You can't teach art...The main thing is that they find out who they are."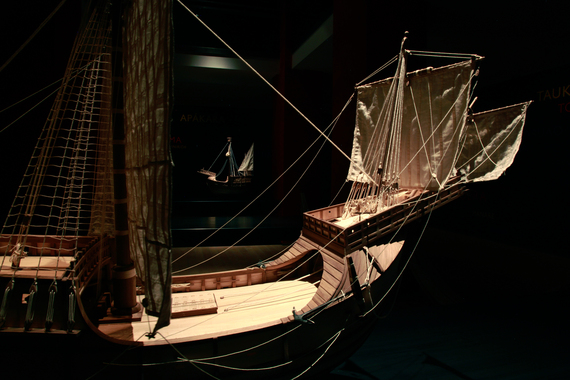 LOTHAR BAUMGARTEN
ship models (C. Columbus) 2011-2012
courtesy of the artist and Marian Goodman Gallery, New York/Paris
Lothar Baumgarten: 'Los Arisocratas de la Selva y la Reina de Castilla'
(April 23-June 14)
Marian Goodman Gallery
24 West 57th Street
New York, NY 10019
212-977-7160