There's far right, Mr. Right, right of way, right as rain, human rights, civil rights, women's rights, bragging rights. And then there's the WAINwrights.
It's a family that needs almost no introduction. But here it is anyway.
It started with Loudon -- a musical legend -- and continued on to Sloan, Rufus, Martha, Lucy, Lexi, Suzzi...and, well, you almost need a genealogy chart, or at least a timeline, to map it out.
In honor of his slide into another decade, Loudon Snowden Wainwright III (turning 70 in September) had a happening: Meet the Wainwrights - Loudon Wainwright III with Friends and Family.
Who? The whole mishpucha (Yiddish for the entire family, "and that's with an M, not a G," clarifies collaborator Chaim") joined him in a sort of post-Father's Day, pre-birthday celebration. Where? CityWinery (http://www.citywinery.com/newyork), a New York City venue: a mix of music, wine, dining, and camaraderie. They even offered a tasting of the new Loudon Wainwright Sangiovese wine.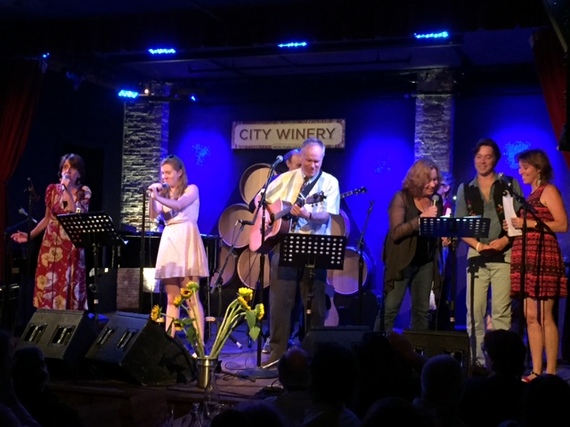 The Wainwrights - Friends & Family at CityWinery
Photo Credit: Kara L. Fraser
The patriarch of folk music's first family, the father of all folksies, descendant of Peter Stuyvesant, and son of a Life Magazine editor, Loudon is a dry-witted blend of Garrison Keillor, Jim Gaffigan and Dick Smothers, with a dab of Buck Henry...and a smattering of Lenny Bruce.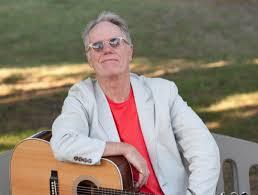 The humorous singer/songwriter (The Man Who Couldn't Cry, Motel Blues, The Days that we Die, Unrequited to the Nth Degree, Therapy), invokes the sounds of John Hiatt, Randy Newman, and Arlo Guthrie -- with the whimsy of Tom Lehrer, Dave Frishberg and Bob Dorough.
Photo Credit: Hugh Brown
The Grapes of Wainwright
The Family Wainwrights are the epitome of kinship, conviviality, and camaraderie. And what better way to wind down (and rev up) one's psyche; to soothe the savage soul amidst a world filled with anxiety and international chaos. Yup, I was inundated with Brexit overkill, FBI investigations, crooked candidates, cable news pundit analyses; exhausted by vapid campaign promises and pallid presumptive nominees, warnings of zica and Rio Olympic dangers. After all, who can deny the tranquility factor of fine music, fine ambience and fine wine. I yearned for the simple joys of sipping a sweet grape, listening to sweet harmonies, munching on fresh kale caesar salad http://media.citywinery.com/media/wysiwyg/NY/menus/concert.pdf and divine flatbread concoctions.
I was oh-so ready to get my Loud - On.
Loudon of All Trades, Master of Fun
Let's just say Loudon is not a niche kind of guy. Seems like whatever skill he's met, he's conquered, from songwriting to swimming, folksinging to fathering. And above all, with humor. Larger than life, he mingles Ogden Nash, Robert Frost and Edward Lear -- a wandering minstrel who stops now and then to strum and spread his comical, political, musical, philosophical and poetic words to a devoted audience. His instruments? Vocals, guitar, piano, banjo, ukulele. You might have recognized him singing a haunting version of Carrickfergus on the HBO hit Boardwalk Empire. He's performed with Kate (1st wife) and Anna McGarrigle, Chris Smither, Chaim Tannenbaum, Spinal Tap, Bonnie Raitt, Fairport Convention, Aretha Franklin, Nina Simone and The Roches, just to name a few.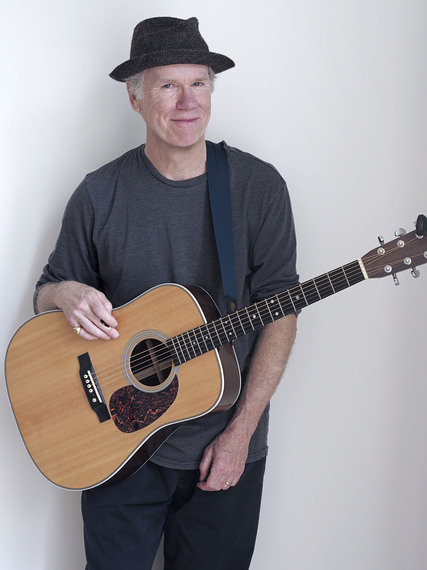 Photo Credit: Ross Halfin
A. B. C.'s of A.mbience B.arrels & C.ellar
So I happened in on a recent Wainwright gig, Loudon with Family & Friends at CityWinery -- the first fully operational urban winery in New York City. Just to fill you in, it's like going to your week-end country home without fighting traffic. Citywinery is the brainchild of CEO Michael Dorf (impresario, founder of iconic Knitting Factory and ingenious creator of the "Downtown Seder"); they even sell barrels to Wired and NBC. The perfect fit for Loudon, Mr. Epitome of Imagination, since CityWinery (like Dorf) is the essence of downtown, low key, and urban hip. Not to mention the ingenious pairing of palate and music: CityWinery's mantra is Indulge your senses -- the essence of listening to Loudon.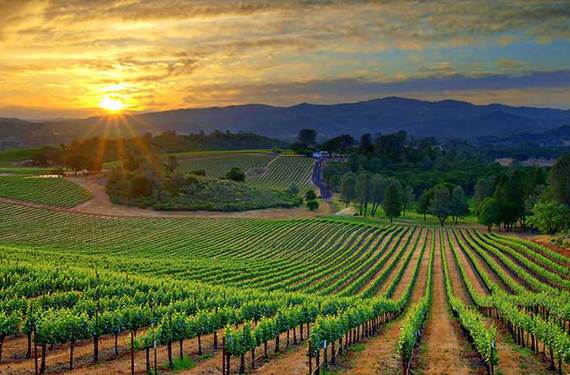 Photo Source: www.cliffsresort.com
The quintessential spot for great music in an intimate environment, the 300-seat space has seen and heard the sounds of Patti Smith, Boz Scaggs, Bebel Gilberto and Lou Reed. If Wainwright himself is a blend brand, so is CityWinery, combining a wine cellar (220 barrels of fine wine), a restaurant, tours, tasting room, private events, a cozy concert hall and, of course, the wines. Everything from Cabernet Napa Valley kosher to Pinot Noir Bacigalupi Red. It's a mixed sensory celebration, a musical wine country experience in the middle of Manhattan.
Here's .....Loudon!
Like a polished hippie talk show host, Loudon narrates the show with all the subtleties of Carson, Conan, Cavett, Carlin, and Colbert. It's The Daily Show meets Woody (Guthrie, not Allen). As comic wunderkind Judd Apatow (director of Loudon's latest video project, I Had a Dream) says: "In my head, Loudon Wainwright is Bono."
You can almost touch and taste the savvy in each song flying through the room, sifting through the space like pulverized grains of wit and grit, shooting through the air to our eager listening ears. He has an uncanny way of swooping us into the family glories and michigas; of exploring the familiar lands of crises, landmarks, transitions, stages, temporary passages and significant landings in life.

Wine, Women & Wainwright
And it makes perfect sense to have Loudon's family and friends perform at CityWinery, since Michael Dorf made his first barrel of wine in California with his brother Josh and winemaker friend David Tate. Even the website's images of clusters of grapes reflects an image of the cluster of friends and family that Loudon "brings to the table." And then there's the parallel between the "pure raw stuff" of wine and Wainwright: one can drink wine from the tap before it's bottled, just as the Wainwrights' music is natural, pure, untouched, "unbottled." Forgive me if I'm stretching the metaphor, but hearing master winemaker David LeComte talk about preserving the freshness of the berries matches Wainwright's passion for preserving the refreshing legacy of family bonds and tradition, from his ex-wives and lovers to his sister, daughters, son, and parents.
VENI, VIDI, VICI, VINI
Yup. The gig (with apologies to Verizon), was all about Friends and Family. Actually it was mostly family; the rest were friends.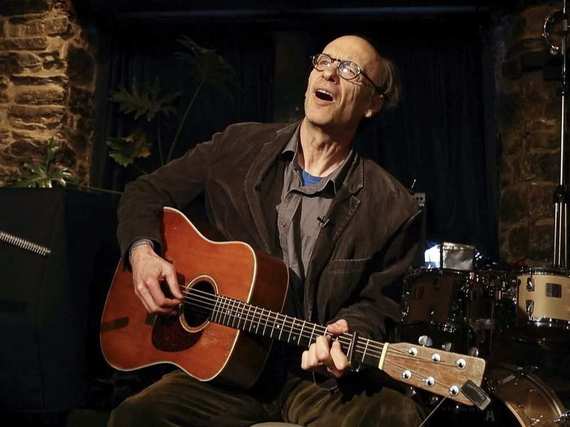 Chaim Tannenbaum
Photo Credit: John Kenney
The two comrades?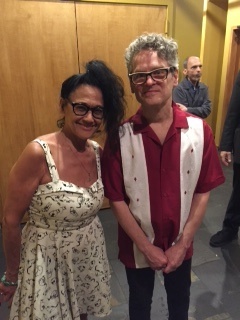 Lean, lumbering philosophy professor/guitarist Chaim Tannenbaum (a young, Jewish Pete Seeger mixed with storyteller Jean Shepherd).
And then there's the priceless mandolinist/guitarist/accordionist David Mansfield, a dashing, boyish blend of Buddy Holly and James Dean.
The Everyman Family theme of struggling, coping, coming, combating, colliding and conquering is immediately universal and accessible. After all, who doesn't want the ties that bind...who doesn't crave the basic connections with kids, siblings, and parents? Who doesn't pine for a smooth road, a calm lulling wave in the family ocean? Who doesn't identify with the ups and downs, the arguments and the make-up sessions, the riffs, the regrets, the rewards of family harmony and dissonance? Yes, the gig was certainly about the Wainwrights, but at least a portion of the show reflected my own family memories.
David Mansfield
Photo Credit: Kara L. Fraser
Back-Strokes of Fortune
The opening number (ironically, my personal favorite),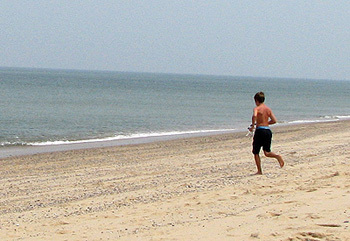 The Swimming Song, catapulted me back to memories of exuberant family swims: summers in Cape Cod, splashing in the calm waters of Gull Pond; in the ocean waves at Race Point; watching my Mom work her strong arms, doing her confident crawl in the tranquil bay behind Bull Ring Wharf.
Race Point Beach, Provincetown
Photo Credit: Cape Cod Times
I even flashed back to our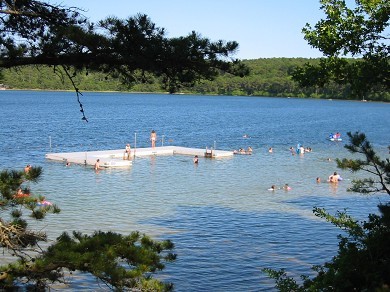 kiddie pool in Bayside, Queens, and to a recent college memory -- wearing my tight-fitted white bathing cap and red tank suit, doing laps in the Olympic-sized pool at Cornell University's Helen Newman Hall every night at 11:45pm, traipsing back from campus for a nightcap swim.
Gull Pond, Wellfleet Photo Source: www.ineedavacation.com
Truth be told, the lyrics of Loudon's simple swimming song always baffled me:
"This summer I went swimming/this summer I might have drowned/but I held my breath and I kicked my feet/And I moved my arms around."

Was it just about doing the backstroke, or did it "dive" deeper into the realm of life's dilemmas? After seeing the Wainwrights' live performance, I decided on the latter.
This summer I swam in the ocean
And I swam in a swimming pool
Salt my wounds
Chlorine my eyes
I'm a self destructive fool, a self-destructive fool
Seems like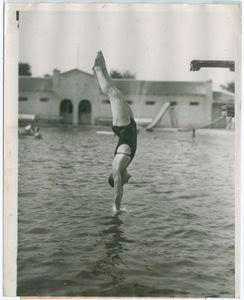 there's been a whole lot of Loudon ups and downs, of forward and back-strokes, delicate butterfly wing flappings--multiple marriages, intermittent father/son and father/daughter riffs. After all, life is a series of syncopated episodes filled with silences, pauses, arguments, minor chords and harmonic revelations....and lots of kicking feet/moving arms around behavior.
Photo Source: www.coachhatch3.blogspot.com
At the end of the song, Loudon summarizes his swimming (and life) behavior with the ultimate fluid dynamic splash: I interpret that as his philosophy of risk-taking, of going out on a limb, being adventurous, and grabbing life by the horns.
"This summer I did swan dives/And jackknifes for you all/And once when you weren't looking/I did a cannonball, I did a cannonball."
All in the (W.) Family
Apparently Loudon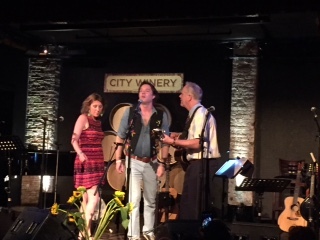 has raised a brood that's sensitive, hilarious, offbeat and family-conscious.
Every song on the program depicted the chaotic insanities of life -- melancholy and madness threaded with the sparkle of Friends and Family.
Martha, Rufus & Loudon
Photo Credit: Kara L. Fraser
From the heartfelt Being a Dad ("can make you feel sad") where "desperation is the father of innovation" and heartbreak is inevitable ("in the end, every kid wants his mother") to the rhyming political parody I Had A Dream about the fantasy of the Republican nominee becoming President:
I had a dream/Don't know what it meant
When I dreamed Donald Trump was our President
And it wasn't even close/He won it in a landslide
Our new hot first lady was beaming with pride
If you think that's cool don't fool yourself
He made Ben Carson Secretary of Health
And Sarah Palin Secretary of Stealth...
I'm So Lonesome I Could Scrape By
Onstage, in a Wainwright heartbeat, on a winding Loudon road, lanes merge from satire to solitude.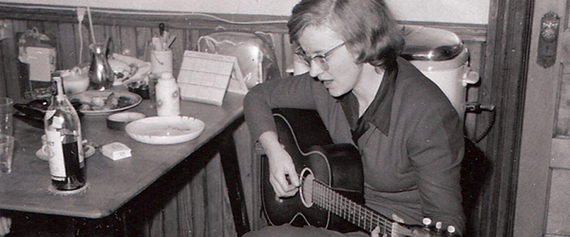 Suzzy Roche ("once upon a time I slept with the father of Lucy Wainwright Roche") folds gently into the fabric of resilient Wainwright-ism, weaving tales of loneliness, starting with a Marty Robbins song about ending "the dark lonely day without you." What follows is a tune by Connie Converse, a 1950's Greenwich Village songwriter, whose lyrics quietly croon "in between two tall mountains there's a place called Loneliness."
Connie Converse
Photo Source: www.pqmonthly.com
Zigzagging that Lonesome Road, when the going gets tough, the tough get funny. Suzzy introduces the next song with a story about spotting a mouse in her apartment; she travels to L.A. to meet Loudon; they discuss author E.B. White over lunch; he buys her the book Stuart Little, which she reads on the plane. By the time she returns home, she's got an entirely new relationship with her apartment mouse guest.
Finally, the set winds down with a Ricky Nelson song about a "Lonesome Town where broken hearts stay." Life with Loudon swerves from silly to solitary in a blink of a Wainwright eye.
The Zen of Mothering
And then there's feisty Sloan Wainwright ("I'm the life coach of the family"), fingers dancing as she sings, spreading her motherly wisdom in song camp workshops like The Swannanoa Gathering and Cape Cod Songwriters Retreat. "Jump on in," she coaches, speaking of "dipping into the waters of creativity" and "swimming in the river of your song" (www.sloanwainwright.com). Like her brother Loudon, Sloan sprinkles the evening with nostalgic patter and remembrances of their parents. The siblings share a profound flair for keeping the past alive, while pushing forward with grit and exuberance. A gutsy, girly blend of Mary Travers and Patsy Kline, Sloan gracefully introduces another female family member -- mother Martha -- into the gig. "My Mom was a slogan sayer: Inch by inch/life's a cinch. Yard by yard/life is hard. Want a loan? It's good to want things." Zen Martha, according to earthy, like-mother-like-daughter Sloan, would say, "If you wanna be happy, keep your mind off your thoughts." It's a savvy segué into her original tune, If You Want To Be Happy. Sloan's sultry, smoky-voiced, blues-y blend of Bonnie Raitt and Alison Krauss rocks the crowd, lifting a virtual glass in the spirit of guru Mom Martha.
Loudon glides away from the pragmatic Mom to the eclectic Dad, who wrote the Life Magazine column The View From Here.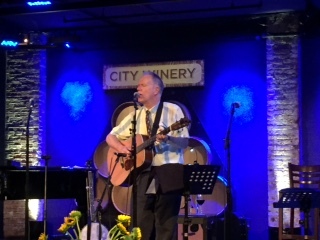 Loudon's "here" deftly blends his father's words with his own lyrics, veering us away from regrets, towards the path of thinking ahead: in Chasing Away the Ghosts of Christmas Past," change is possible ...we need a realigned model/Not what we were or think we were...but what we will become."
Photo Credit: Kara L. Fraser
Lift Your CityWinery Glass ... L'Chaim!
Enter singer/philosophy professor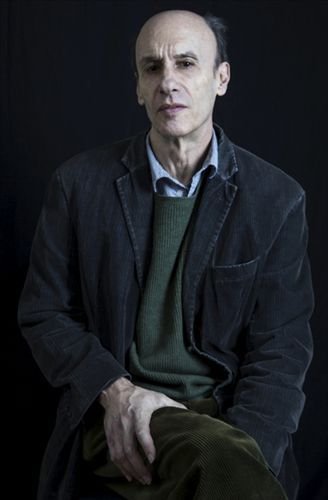 Chaim, a lanky, poetic blend of Hank Williams, Henry Fonda, and Jimmy Stewart. Add a pinch of Leon Redbone and Marcel Marceau. A longtime Loudon collaborator and family friend, who admits to having "lots of dirt on Loudon," Chaim half-kiddingly invites the audience to ask him questions. When there's a mysterious lull in the program (guitarist/mandolin player David Mansfield has momentarily vanished), he quips, "This must be the right time for Q & A."
Chaim Tannenbaum
Photo Source: www.allmusic.com
Chaim sails swiftly into a bay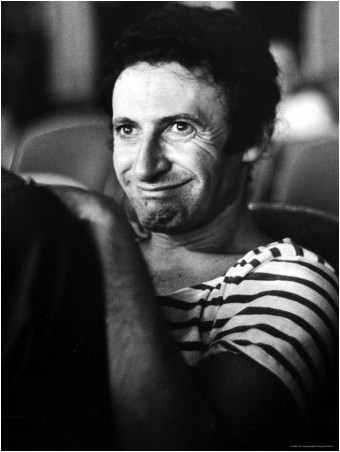 of melancholy, singing Brooklyn 1955 with the soulful voice of folk balladeer Gordon Bok, sweeping into a plaintive Talk to Me of Mendocino: "And the trees grow high in New York State/And they shine like gold in the autumn/Never had the blues from whence I came/But in New York state, I got 'em... Closing my eyes I hear the sea/Must I wait, must I follow/Won't you say come with me."
Tannenbaum could be singing folk, blues or sea chanties; it could be Brooklyn's Ebbets Field, or Maine's Wiscasset Schooners. Either way, his clear, wistful voice sends you off into a Land of Longing. It's no wonder he's a member of the Wainwright clan.
Marcel Marceau Photo Credit: Ralph Crane
Sibling Synergy
The mishpucha plays on. Even quirky daughter Lexy ("Im the academic one...just graduated from Pomona..with a thesis on religious studies") gives us some friendly advice through the grandmother in Pippin, belting No Time At All with her page turner by her side. She even insists this is not a debut ("I don't want to see any #hashtag debut because (a) I've done it before; and (b) I'm not doing this again. It's the bee all and end all performance." She merrily warbles, "One thing to be sure ...there's nothing to be sure of," then bops offstage to give her sister the limelight.
Next up? Daughter Martha ("I didn't go the college route - I went straight to music - just turned 40 with I'm-giving-it-a-go" gumption).
A smashing combo of Nina Simone, Amy Winehaus, Donna Summer, Bob Dylan, Linda Ronstadt, Jewel, and Katy Perry, she even prances around the stage in a Beyonce/Cheryl Crow swishy, folksy style. Her snappy duet with Loudon ("you never phone/you never write/chick a wah wah") segués into a sad ballad about the perennial artist's struggle:
"Watch out for the night sky/Playing tricks on your mind...Been around the world and back again/Still can't get these cards to win."
When brother Rufus appears, the two enchanting siblings banter and kibitz ("Dad hated when we spoke in French").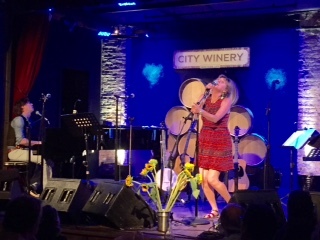 So naturally they proceed to croon a plaintive Piaf-esque tune -- a French version of Josephine Baker's Moon over Miami in their own Wainwright-ish persona.
Rufus & Martha Wainwright
Photo Credit: Kara L. Fraser
Viva la Viva
In a sort of elegant breaststroke form, one of the pinnacles of the night was Rufus' haunting song Montauk -- singing to his daughter Viva about acceptance...teaching her pearls of wisdom on the fragility and continuity of life.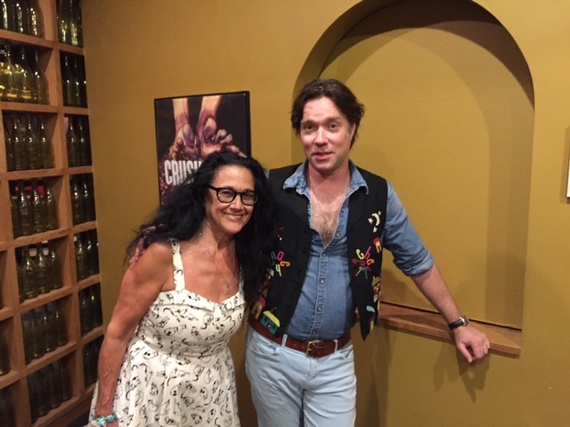 Rufus Wainwright
Photo Credit: Kara L. Fraser
Rifts, Drifts, Gifts & Uplifts
Rufus keeps the theme of family angst going by admitting troubled waters of arguments he'd had with Loudon. His drift? That life is a love story, amidst the parting and the pouting...and Rufus claimed his next tune, Dinner at Eight, as perhaps the best love song he's written.
Why is it so
That I've always been the one who must go
That I've always been the one told to flee
When it fact you were the one long ago
Actually in the drifting white snow
You left me
But 'til then no, Daddy, don't be surprised
If I wanna see the tears in your eyes
Then I know it had to be long ago
Actually in the drifting white snow
You loved me...
Towards the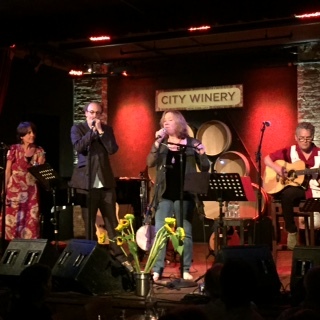 show's close, Loudon bluntly and blithely admits the anxiety of family togetherness, chuckling "this concert is a family contest...I'm nervous about what's going to happen in the dressing room."
Life's a Brimming, Swimming Song
So in fact, it's like learning to swim. Loudon's got it right -- families are a "work in progress can't you see/And the why wherefore is a mystery"... "When family fights you go next door/No one wins in a family war/Forgive forget and finally see/The forest from the family tree."
Suzzy Roche, Chaim Tannenbaum, Loudon Wainwright, David Mansfield
Photo Credit: Kara L. Fraser
The encore jingle, which recounts Loudon's trip to Alaska, weaves together each family member's role in the stream of life...all swimming, kicking in the waves, along the rapids, in the deep end of the pool, backstroking, doing the crawl, flailing and "moving our arms around" to stay above water.


Photo Source: http://www.binghamton.edu/campus-recreation/aquatics/lessons.html
With apologies to Esther Williams and Michael Phelps, we're all occasionally susceptible to salt in our wounds, chlorine in our eyes, as self-destructive fools...doing impulsive swan dives and jackknifes, then stopping to take stock of ourselves, dripping wet with wonder, and re-connecting the crucial dots...or water drips...of life.
In this messy marvel of life, Loudon emerges the stunning lifeguard, teaching us all simply how to stay afloat.
------------------------------------------------------------------------
Please Note: An earlier version of this post had an error in the Zen of Mothering section. It has since been corrected. Credit goes to Sloan Wainwright, not Loudon, for describing their mother Martha as a slogan sayer.