I love romance! I love weddings, romantic movies and happy marriages. Heck, I even love Valentine's Day -- though really, isn't life better when we celebrate love and romance every day? In certain circles, I am fairly well-known for my love for and support of romance novels. (I even write about the genre for NPR. My favorite essay? "In Defense of Romance.")
But love and romance are for everyone. And just as I believe we all have the right to read what we love, free of judgment, I also believe that every single person on this planet has the right to love who he loves, marry who she wants, and live in peace.
In a recent article in the New York Times on the progress of gay rights in our country, Northwestern law professor Andrew Koppelman noted, "It is becoming increasingly clear to judges that if they rule against same-sex marriage their grandchildren will regard them as bigots."
For those of us who know that while homosexuality only manifests in 10 percent or so of the U.S. population, it is still as natural and normal as heterosexuality; it's a welcome perspective. Rather like the scene in the great movie Milk, where Harvey tells his friends and neighbors that the best thing they can do is "come out" to their loved ones, making them aware that homosexuality isn't the threatening, nebulous "other," but is, in fact, them. And that they are sons, brothers, daughters, sisters and friends.
We are much more likely to consider something "normal" if we see it within the context of our own experience. And if I am heterosexual, I may not "experience" homosexuality myself.  However, understanding that people around me are gay -- people I know, interact with, care for -- helps me perceive it as normal. 
As a vocal romance novel fan as well as a less public but still ardent gay rights advocate, I have been delighted to notice that more and more, bestsellers in the romance genre are including gay and lesbian couples as part of the landscape. Noteworthy on every level, but since the mainstream romance genre is sometimes considered conservative, and is very popular with many socially conservative readers, I find this new aspect to the books both fascinating and potentially influential.
If you follow the genre at all, you're probably aware that Suzanne Brockmann has been a real trailblazer on this issue, with her wildly popular Troubleshooters series and the crowd favorite gay character Jules. (I wrote about it for Kirkus Media here.)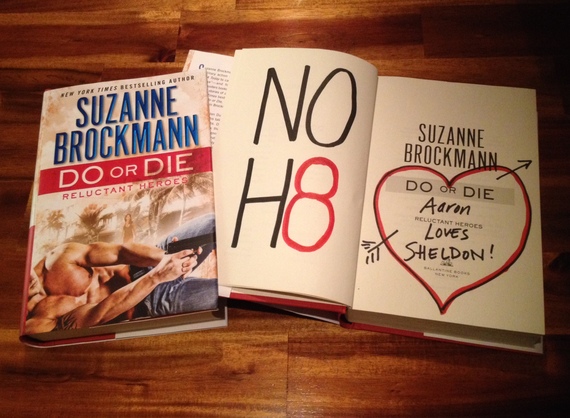 But gay and lesbian characters seem to be everywhere in romance these days. Increasingly, mega-bestselling authors are writing gay characters into the casts of their popular series and giving them their own happy-ever-after story lines. JR Ward, Sherrilyn Kenyon and Lori Foster are three huge names in romance who've done this (with Foster being especially notable to me, since on most issues she is vocally conservative). 
Also interesting, though, are the authors who matter-of-factly write gay and lesbian secondary and tertiary characters into plot arcs. In her last bestseller, The Great Escape, Susan Elizabeth Phillips had a middle-aged character admit she was a lesbian after a lifetime of repressing her feelings. Jayne Ann Krentz, who routinely tops bestseller lists, often includes gay and lesbian couples in her world-building. In her recent River Road, the heroine's aunt has been with her lesbian partner for at least twenty years. And in Evening Stars, the most recent book by the hugely popular author Susan Mallery, the heroine's mother has also been in a long-standing lesbian relationship.
What is striking to me in reading so many of these novels is that, more and more, these characters are becoming the landscape. I used this term before, and I'm repeating it on purpose. It's important, because by using these characters as "landscape" or "backdrop," these writers are subtly creating a world where gay and lesbian characters are normal.
It's par for the course for a romance series to revolve around a group of men who find their mates, and how natural that one of those men happens to be gay? Bonus that the author decides to write his romantic arc, too, but really the not-so-groundbreaking news is that those guys have a gay friend to start with. And, oh, look, this heroine or that hero happens to have a mom/aunt/sister who's a lesbian. Nobody in the book questions whether or not there's something wrong with that picture, so why should the reader? (And if the reader does, then it's because their point-of-view is a contrast to the picture painted in the book.)
In her interview, Suzanne Brockmann made the powerful point that getting her readers to know Jules, to like him, led many of them to accept him. Now it seems that romance novelists are creating a world where gays and lesbians are just there. The fact that they are gay is just another character element -- like gum-chewing, the tendency to curse or not being a morning person.
And really, how refreshing is the normalcy of that?
Bobbi Dumas is a freelance writer, book reviewer, romance advocate and the founder of ReadARomanceMonth.com.