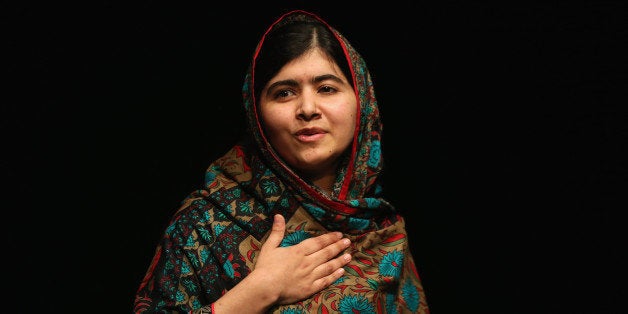 Last winter, as I reported in Pakistan on the plight of religious minorities increasingly under attack in the Muslim-majority country, there was one question people shot back at me in nearly every interview: "Why doesn't the media cover anything good?"
A disproportionate amount of reporting on Pakistan is about the bad. There's sectarian violence, the Pakistani Taliban, bombings of churches, honor killings, political instability and widespread poverty, to name a few of the issues that grace the front pages of American and international newspapers.
Each deserves attention, and this week, the country will make front pages again. But, for once, Pakistanis are celebrating. A homegrown hero to many, 17-year-old human rights activist Malala Yousafzai, has become the the youngest person to receive the Nobel Peace Prize. She shares it with Indian Kailash Satyarthi, who the Nobel Committee also recognized as a fighter for children's rights and education.
On Twitter and Facebook, the streams of commentary from my Pakistani friends and sources have sent a clear message: pride.
"Pakistan without its bold and brilliant women is nothing. No bloody room for extremism in Pakistan," Razeshta Sethna, a Karachi-based editor and writer for the Herald, a political magazine owned by the largest English newspaper in the country, wrote on her Facebook page. Yousafzai has "courage, intelligence and wisdom."
Later, in a conversation, Sethna expounded on what the international media often sees in her nation. "Those so-called bad stories sell more, don't they? ... Positive stories that show hope, courage, strength don't make it into the international media as much as they should," she told me. "The obsession with militancy and extremism has got the media big time."
Malala's story, of course, is both the bad and good. After penning an anonymous online diary for the BBC in 2009 about her experience as a girl under the violent grip of the Pakistani Taliban in the Swat Valley, where extremists wanted to ban girls from attending school, she quickly became international spokesperson for girls' rights. She also became a target. In 2012, at age 15, a gunman shot her while she was seated on a school bus. Still under threat, she's now finishing her education in Birmingham. The Pakistani army has since wrestled Swat away from the Taliban, though stability in the region still ebbs and flows.
"It's really an honor for the country," said Zia Ur Rehman, a 33-year-old Karachi-based journalist who writes for The New York Times. As someone who specializes in covering extremism, Rehman agrees that Pakistan is usually seen through a terrorism-tinted lens. "But those are big stories that are happening, so we have to write about them," he said.
Rehman, who hails from the town of Khwazakhela, just 14 miles northeast of Yousafzai's home in Mingora, described her as a "symbol of the entire society of Swat -- and Pakistan -- that has struggled against the Taliban and extremists."
Like many Americans, most people in Pakistan will never directly experience terrorism as it's reported in the media. In Karachi, where Sethna and Rehman live, people are more scared of rampant gunpoint muggings than bombs or kidnappings. A Pew Research Center survey released in August found nine out of 10 Pakistanis listed rising prices, electricity shortages, lack of jobs and crime as the biggest problems facing the nation. Others included health care, public schools and food safety.
It's those kinds of issues that make Lahore resident Aziz Sohail sometimes consider leaving the country altogether. But Friday was "one of these crazy moments when I feel proud to be from this crazy, messy, ridiculous and complicated nation," Sohail, a 24-year-old visiting assistant professor at National College of Arts, wrote on Facebook. "Today, I am proud to be a Pakistani."
Still, not everyone is celebrating.
"Some people believe it's all a conspiracy theory. They think this was a staged drama by Americans -- the attack on Malala -- to make her famous in the West," said Rehman.
When it was released last year, Yousafzai's book, I Am Malala, was banned in Pakistani private schools for not showing enough respect toward Islam. Students in Yousafzai's hometown protested a school being named after her.
On the other hand, there are Pakistanis who praise Yousafzai, but believe others are more fit for a Nobel prize. Many point to philanthropist and humanitarian Abdul Sattar Edhi, who since 1951 has run the Edhi Foundation. The globally recognized nonprofit, which was the subject of a well-received American documentary last year, has more than 300 centers around the country and is best known for offering free ambulance, drug rehabilitation, medical and orphan care services.
Yousafzai is the second Pakistani to win a Nobel prize. The first, awarded 1979 for physics, was given to the late scientist Abdus Salam and two Americans for their work on subatomic particles. Like Yousafzai, Salam lived in England when got the prize. He had resigned from a prestigious Pakistani government position and left country years earlier after the nation passed a law declaring Ahmadiyyas -- members of an Islamic sect that believe in an additional 19th century prophet after Muhammad -- to be non-Muslim.
"Can we take pride in people like Abdus Salam, Malala, Edhi and all the other good people of our country?" Ali Kazmi, a 27-year-old teacher in Islamabad wrote on Facebook, echoing a conversation happening among many Pakistanis and in the Pakistani media. "They should be our heroes and our inspirations. This is our country. We live here and our kids will live here. People like Malala want to make Pakistan a better place to live in," he wrote.
"Only a complete moron would deny that Pakistan's a rough place to live in. People get killed here all the time over nothing. Malala's someone who's doing what little she can to change that."