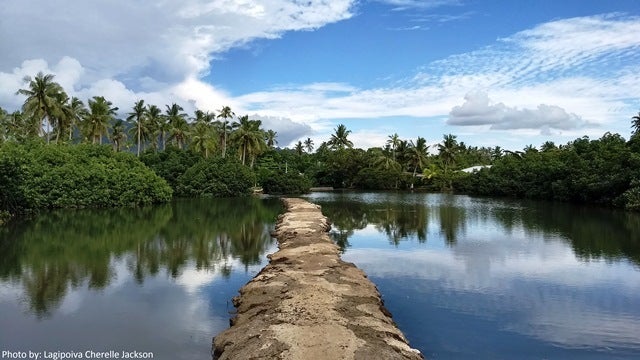 It is World Mangroves Day, and what better time than now to appreciate the contribution of this under appreciated coastal plant in our lives and ecosystems.
Mangroves protect shorelines from damaging storm and hurricane winds, waves, and floods and they also help prevent erosion by stabilizing sediments with their tangled root systems.
Mangroves in Samoa have been threatened due to increasing coastal population, development and settlement. In the last five years, the Mangrove Ecosystems for Climate Change Adaptation and Livelihood Project in Samoa published some key findings in their work on one particular site, Le Asaga Bay in Samoa. According to the report Le Asaga Bay has the third biggest mangrove cover and the biggest mangrove estuary of all mangrove stands in Samoa. It also affords the most essential ecosystem goods and services which highly contribute to upholding the environment and sustaining people's livelihoods. Such a significant area in a fairly healthy condition deserves effective management which includes sustainable utilization of resources. Even that need is urgent with the impacts of climate change that can be attributed to prolonged spring tides submerging and stressing the mangroves, eroding the coast and gradually reducing mangrove cover.
According to the Secretariat of the Pacific Regional Environment Programme (SPREP) Samoa hosts the largest intact mangrove forest forest in all of Polynesia.
Scientists note that the dense root systems of mangrove forests trap sediments flowing down rivers and off the land. This helps stabilizes the coastline and prevents erosion from waves and storms. In areas where mangroves have been cleared, coastal damage from hurricanes and typhoons is much more severe. By filtering out sediments, the forests also protect coral reefs and seagrass meadows from being smothered in sediment.
According to Samoas Ministry of Natural Resources and Environment mangrove forests are home to a large variety of fish and crab species. These fisheries form an essential source of food for coastal communities in Samoa. They also also serve as nurseries for many fish species, including coral reef fish.
Reports note that tropical mangrove trees are better at storing carbon dioxide than most other forests, and cutting them down unleashes more greenhouse gas than deforestation elsewhere.
Scientists have noted that mangroves are so efficient at keeping carbon dioxide out of the atmosphere that when they are destroyed, they release as much as 10 per cent of all emissions worldwide attributable to deforestation.
According to Mark Spalding, a researcher in this field: "Because on average, mangroves have double the living biomass of tropical forests overall. This means that if you want to slow carbon emissions, one of the first places you could look would be in the mangroves. Stop an acre of loss here, and you will achieve a much bigger win than in many other areas."
In addition to these ecosystem values, mangroves are also culturally significant with its leaves, bark and roots used for a variety of cultural activities. Most useful is the use of the root to produce the dye or paint that is used to mark motifs onto the tapa cloth, or traditional Samoan cloth.
Mangroves continue to be an essential part of Samoas coastal ecosystems, and village councils across Samoa are helping in spearheading the protection of the important plants.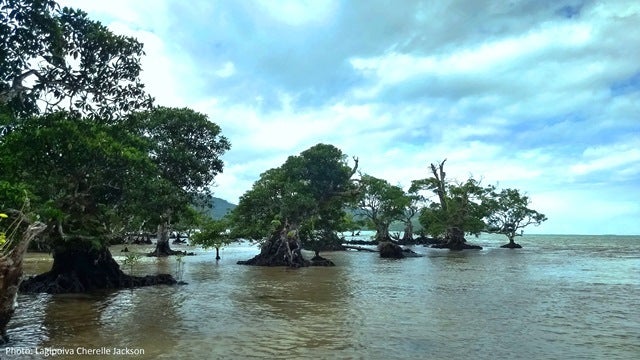 This post was published on the now-closed HuffPost Contributor platform. Contributors control their own work and posted freely to our site. If you need to flag this entry as abusive,
send us an email
.