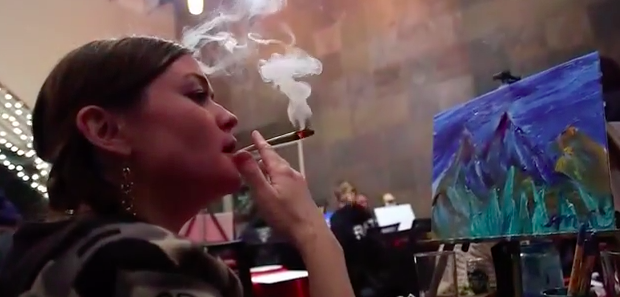 For some, marijuana can feel like a magical elixir, particularly when it comes to making art. Getting high can help alleviate stress and self-doubt, get the creative juices flowing and awaken budding artists to the the tactile excitement of making work, instead of worrying about the final product. 
This is the reasoning behind "Puff, Pass & Paint," a "4/20 friendly art class" now offered in cities in Colorado, Oregon, Washington D.C., Nevada and California ― all of which have legalized cannabis. The weed wizard behind this exceedingly chill vision is Denver-based artist Heidi Keyes.
Keyes leads two-hour art-making sessions for a maximum of 20 students at a time, all of whom must be at least 21 years old. She guides her students through a series of choreographed painting steps, in the style of "paint and sip" classes like Pinot's Palette. Yet experimentation and play are highly encouraged; artists are not required to strictly following Keyes' lead.
Participants are also not required to smoke, but the class offers a safe space for them to light up if they so desire. For some unfamiliar with their creative intuition, a few hits can help put the mind at ease. "Cannabis helps us break out of our shells and rediscover the childlike wonder that exists in making art," Keyes explained to The Creators Project, "in using our hands to paint and write and draw and play with clay."
According to The Creators Project, there is no typical "Puff, Pass & Paint" student. The classes usually draw experienced stoners and weed newbies alike, some people in their 20s and some in their 80s.
Keyes has donated vouchers for the class to veterans groups and other communities in need. "Just a couple of weeks ago, in San Francisco, a veteran had been gifted a spot," Keyes said. "And he came up to me afterwards with tears in his eyes to tell me that this was the first time he had felt relaxed since he returned from combat. This isn't just a class or a business for me — it's a movement."
Ultimately, the class' mellow and blissful atmosphere fights stigmas often associated with weed, showing how the plant's effects can be healing, stimulating and absorbing ― not all that different from the experience of making art. 
BEFORE YOU GO