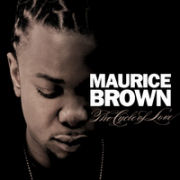 I've watched Maurice Brown grow up. Not in the traditional sense, but from the day I first saw him perform as a sideman in a New Orleans, all-star woodshed during Jazz Fest of 2004, to that very same evening where he held court as leader at the now defunct Funky Butt on Rampart Street, through the years of displacement after Katrina, Maurice Brown has taken immense strides as a musician, producer, and human being. And in the 6 years between his stellar debut, "Hip To Bop" and his long-awaited follow-up, "The Cycle Of Love," we've become friends. He's trusted me with his music, even in its precious, unfinished state, as well as personal stories of what it was like to be on the verge of something big, only to have it all taken away.
Growing up in Chicago, living in New Orleans, and now residing in Brooklyn USA, Maurice Brown has taken the best of those three cities and created music that is altogether original. With respect to the traditions of New Orleans jazz, the free-form sounds of Chicago, and dirty grit and groove of NYC, Brown's new record "The Cycle Of Love" is a powerhouse, a record that should change the way people listen to jazz, while converting those that don't.
Maurice Brown is a major talent, and I am not afraid to call him a musical genius. Maurice Brown is back. Here is part of our last conversation.
SN: "The Cycle Of Love" has been a long time coming, almost 6 years since your last record. What's been going on?
MB: Since the release of "Hip To Bop," I've been touring nationally, playing jazz festivals and performance centers. But the last two years have been consumed with touring and being musical director for Laura Izibor. It's been quite an experience and took up a lot of time, actually. I mean, I wasn't able to focus on my career and what I needed to do, so I had to wrap that up at the end of 2009 and get ready for all this work I had to do to get this album out. I've also been doing horn arrangements for Atlantic Records, working with Wyclef Jean. I'm on Talib Kweli's new album, Aretha Franklin's album.
SN: So you obviously kept busy. Now I know soon after your debut, "Hip To Bop" was released, you continued to compose new music, then like so many others in New Orleans, you had your plans pre-empted, losing your home, trumpets, and the music you had recorded. Did any of that music survive, either on tape or in your head, and if so, did any of it end up on "The Cycle Of Love?"
MB: Some of the tunes came from New Orleans. And yeah, I did lose a lot of music In New Orleans. But the majority of what you hear on "The Cycle Of Love" I wrote in New York.
SN: I've seen you perform in many different settings, small groups with you as both a leader and a sideman, big bands, your hip-hop soul collective Soul'd U Out, and whatever the setting, it seems as if the band feeds off of you and your energy. I notice this on the new record, as well. You definitely give each band member room to breathe.
MB: I definitely try to compose music to feature the members of my band and highlight their strong points. For example, a lot of guys on the album are not big jazz names, per se. Like Chris Rob my piano player was on the road with John Legend, and I thought that was a good element, a contemporary soul player, to add to the album. When I wrote "The Cycle Of Love," I wanted to write real songs. Not to say straight jazz isn't real songs...when I say real songs, I mean the form. I wanted to write in a pop form, catchy melodies. I wanted to make a jazz album that people heard, felt good, and walked away thinking, "Man, I heard this before," that kind of feeling, where you walk away singing the album.
SN: That's interesting. Jazz purists wouldn't be caught dead listening to pop music, and those that listen to "smooth jazz," a term I can't even say without cringing, wouldn't be caught dead listening to Ornette Coleman or even later Miles, for that matter. Yet on the new record, the songs are accessible enough so that anyone who listens to pop or soul and r&b, and even some hard bop and swing, can identify with what's happening, but the musicianship is so strong, it should catch the ear of those purists. It's the perfect crossover.
MB: I have to credit that with the experience I have being a producer and working with hip-hop and R&B artists. When you go on tour with someone like the Brand New Heavies or Questlove & The Roots, you are exposed to a whole different audience than what you're usually exposed to playing jazz. You learn how to rock that audience.
SN: You've played with many jazz legends, Curtis Fuller, Ramsey Lewis, Louis Hayes, Fred Anderson, and a lot of that experience can be heard on your debut, "Hip To Bop." But each subsequent time I've seen you perform, those straight jazz roots seem to get socked away in bits and pieces, while you subtlely incorporate the pop form you mentioned earlier.
MB: I don't think I'm putting my jazz roots away. I think they are very prominent on this album and with everything that I do. I mean, I am a jazz musician. There's no way around that, you know? But the thing I've noticed is that jazz...well..it's kind of stuck. It hasn't been able to progress like other genres have. I think part of that is that back in the day, when jazz was a more popular music, those jazz musicians were like modern day griots. They were telling the stories of the world and the community around them. They were basically giving you current events with their music. And now in 2010, so many jazz musicians are repeating history and not telling current events. Ya dig? The hip-hop and r&b scene seem to be more in tune with the community, and reaching people, and keeping them informed on what's now, what's happening right now! And I don't want to get what's happening now confused with what's hot, because that's not what I'm talking about. I'm not talking about what's hot. I'm talking about what's current.
SN: That's smart. I get that completely. You have this incredible ability as a composer at such a young age, to write songs that instantly sound like standards. When I first heard "It's A New Day" from the first record, I though it was one of those AM radio, crossover hits by Donald Byrd or Ramsey Lewis. The melody was absolutely heaven, so comfortable it was as if I'd been listening to it since the 60s. On the new record, the song that stands out for me is the ballad, "Lovely." It is heartbreakingly beautiful and it has this magic of sounding completely fresh, yet feeling like an old friend. Every song on "The Cycle Of Love" is hook-filled, without ever compromising. At 29 years old, the depth of your music belies your age.
MB: Wow. Thanks! That's a great compliment.
SN: Don't mention it. Ha!
This will be Maurice Brown's year. I implore you all to jump on "The Cycle Of Love." It's music for the masses. Get it HERE.