The third entrepreneur into the Shark Tank this week was presenting his business Meal Enders and was seeking $350k in exchange for 8% of the business. He has developed a lozenge that dissolves in your mouth and curbs you appetite naturally without any chemicals or stimulants. With it's "Reward Layer" that gives you a small taste of desert, it signals to your body that the meal is ending. With it's "Cooling Tingling Core" it cleanses your palate and takes your body's focus off eating.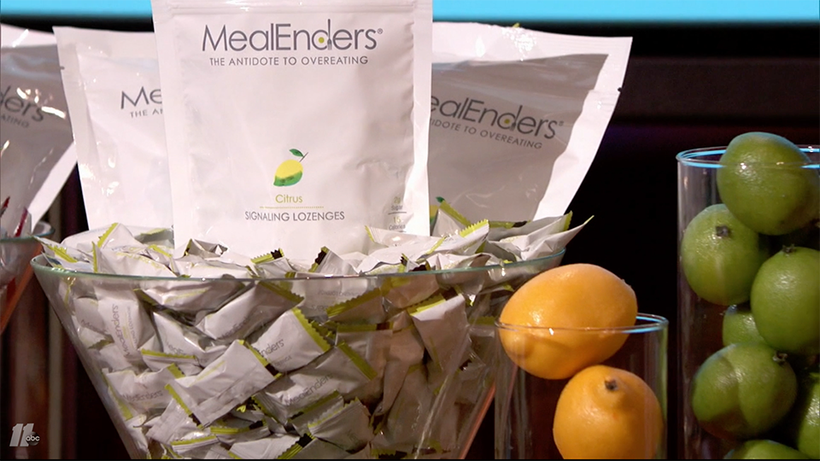 As for the numbers, he has seen $1.4Mill in sales in just a year and a half. This is all being sold on just his website and Amazon. One bag sells for $16.95, but you can also order in larger quantities that brings each bag down to $8.99. A total of $200k of family money has been invested into the business, and he has raised $1.1Mill in convertible notes. As of the filming of his segment, he was spending almost half of his monthly revenue on advertising.
I wasn't really sure what to think about this one. Even the Sharks mentioned that this is the first weight-loss solution that hasn't been ripped to shreds in the Tank. These kinds of products so commonly fall under the banner of pseudo-science, snake oil, and fads. Especially considering the Sharks' interest in it, I want to believe that there really is something different about this one, but it's hard to make a solid judgement having never tried it.
As far as the Sharks' thoughts on the business, I have to agree with Mark. This is not the kind of product where he should have to be spending 50% of his revenue on marketing. When it comes to weight-loss, there is a social and viral nature to the results that should keep the marketing costs much lower. I wish they had gotten more into what his marketing efforts have been, because I am pretty certain we would find some issues there. When you're clever and creative in your marketing strategies, there are some insanely cheap ways to get the word out. With tools like facebook, YouTube, and instagram, the options for low cost viral marketing are virtually endless. You just have to know where your audience is and what they want to see.
In the end he did not receive a deal, and despite this being an interesting product, I can understand why. With such a high valuation, a business that still has that many question marks surrounding how big it can actually get is definitely a risk. Even with the kind of impressive sales he has seen so far, the potential for this to just be a fad mixed with his current marketing issues would make any investor a little weary.
Anyway, I do still wish him luck! I could stand to lose a few pounds, so this is something I would love to try! It would actually be a fun product to do a hands-on review of, so if you are reading this right now and want to send a bag my way, I would love to review it for you!
This post was published on the now-closed HuffPost Contributor platform. Contributors control their own work and posted freely to our site. If you need to flag this entry as abusive,
send us an email
.