Veggie Queen Jill Nussinow and I have a lot in common. We're both vegan, we believe in the power of plant-based whole food and we love, love, love salads — all salads. They're so much more than lettuce. We both ordering salad the first time we met. When she said, "How could I live without eating something green every day?" I knew we would be BFFs. And so it has been, even though we live on opposite coasts.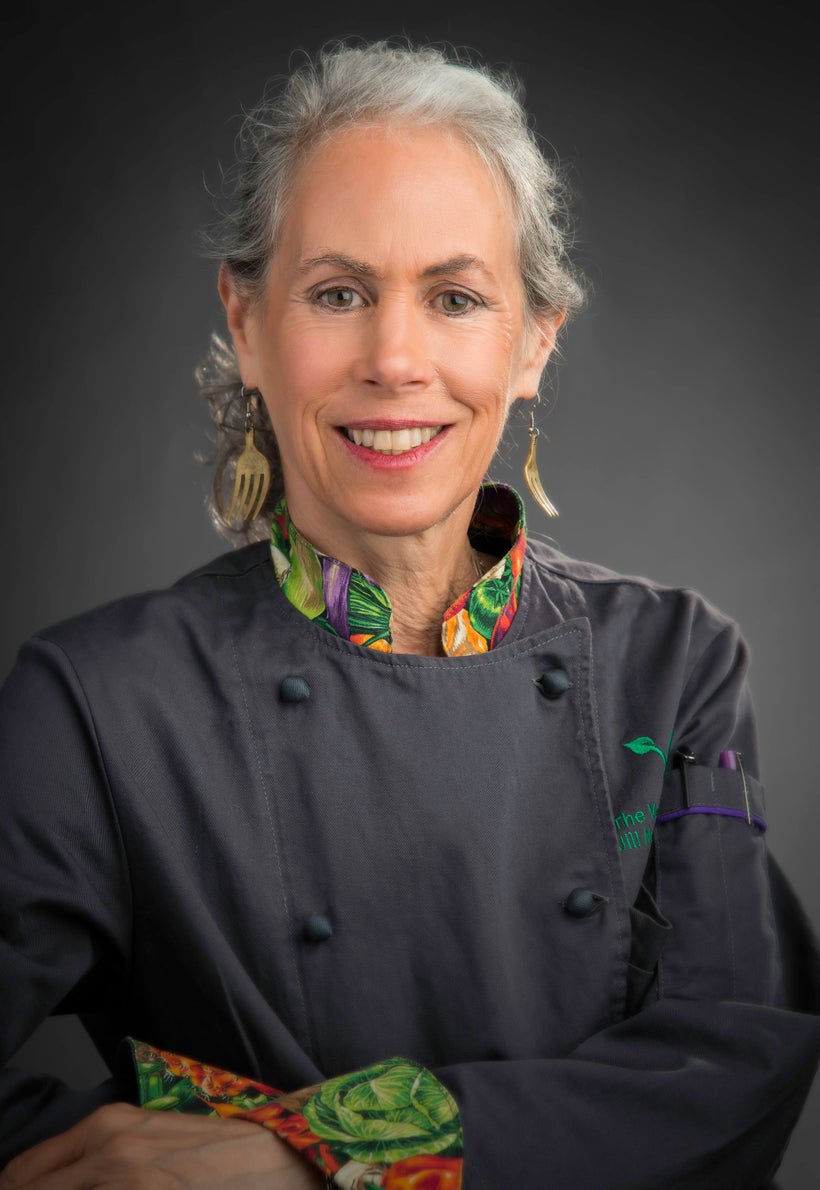 Another thing we have in common is that Nussinow, based in Santa Rosa and I, based in Miami, are feeling the heat. Say what you will, climate deniers, it's the hottest summer in history. Neither of us want things to get any hotter. Nussinow, a registered dietician and author of Vegan Under Pressure, even offers some cool things to do with the pressure cooker.
"When it seems too hot to cook, the pressure cooker does not heat up my kitchen, says Nussinow, fresh from her pressure cooking presentation at the Mother Earth News Fair in Albany, Oregon. "It allows me to have salad beyond the green type. A salad a day is what this RD recommends for better health and happiness."
Chickpea Broccoli Salad
Recipe from Vegan Under Pressure by Jill Nussinow, MS, RDN, copyright 2016, reprinted with permission by Houghton Mifflin Harcourt.
This simple, versatile salad can be served warm or chilled. It's a bright addition to any table. If you can find broccolini, or "baby broccoli," use it whole.
If your broccoli is young and tender, it won't require any pressure, just a few minutes sitting in the covered cooker. Otherwise, use larger broccoli florets and cook briefly at low pressure.
13 minutes high pressure, natural release;
1 minute low pressure, quick release
¾ cup chickpeas, soaked and drained
1 (3-inch) piece of kombu
½ pound broccoli florets or broccolini
¼ cup chopped fresh flat-leaf parsley
3 tablespoons chopped Kalamata olives, optional
¼ to ½ teaspoon crushed red pepper flakes, to taste
1 tablespoon fresh lemon juice
1 tablespoon red wine vinegar
2 teaspoons Dijon mustard
1 teaspoon minced fresh garlic
1 tablespoon extra-virgin olive oil or aquafaba
Put the chickpeas, garlic, kombu, and stock in a pressure cooker and lock on the lid. Bring to high pressure; cook for 13 minutes. Let the pressure come down naturally.
While the chickpeas cook, in a small bowl whisk together the dressing ingredients. Set aside.
Open the lid of the cooker, carefully tilting it away from you. Add the broccoli and lock on the lid. Bring to low pressure, cook for 1 minute, then quick release. (In an electric cooker, set to 0, bring to pressure, then immediately quick release.) Alternatively, you can stir in the broccoli, lock on the lid, and let sit until the broccoli becomes tender, 3 minutes for broccolini or up to 5 minutes for larger florets.
Open the cooker carefully. Remove and discard the kombu or save it for another use. Using a slotted spoon, transfer the contents to a serving bowl.
Combine the dressing with the beans and broccoli. Add the onion, parsley, olives if using, and red pepper flakes and toss. Taste and adjust the seasonings. Serve warm or chilled (if serving chilled, taste it when cold to see if you need to adjust the seasonings again).
This post was published on the now-closed HuffPost Contributor platform. Contributors control their own work and posted freely to our site. If you need to flag this entry as abusive,
send us an email
.